Project GNCC Championship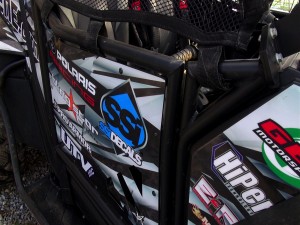 SSi Custom Graphics Kit
It made me happy to peel off the evasive green graphics from the plastic and apply a custom graphics kit from SSi. I know I know, the mission was to not spend any money on anything that wasn't absolutely needed to win a championship on the stock XP 900, but I couldn't help myself. This just had to be done, besides it provided a great way to display the logos that made the vehicle as great as it is. It also would protect the stock plastic from scratches since SSi uses thick high grade scratch-proof UV protective vinyl with really sticky 3M adhesive backing. As impressive as their decision to use expensive 3M products you'll really sit up in your chair when you see all the designs to choose from. And they will customize your graphics and provide proofs that you can adjust before printing. And they do it all, vinyl decals, vehicle wraps, it's one-stop shopping from a proven business that specializing in the off road industry.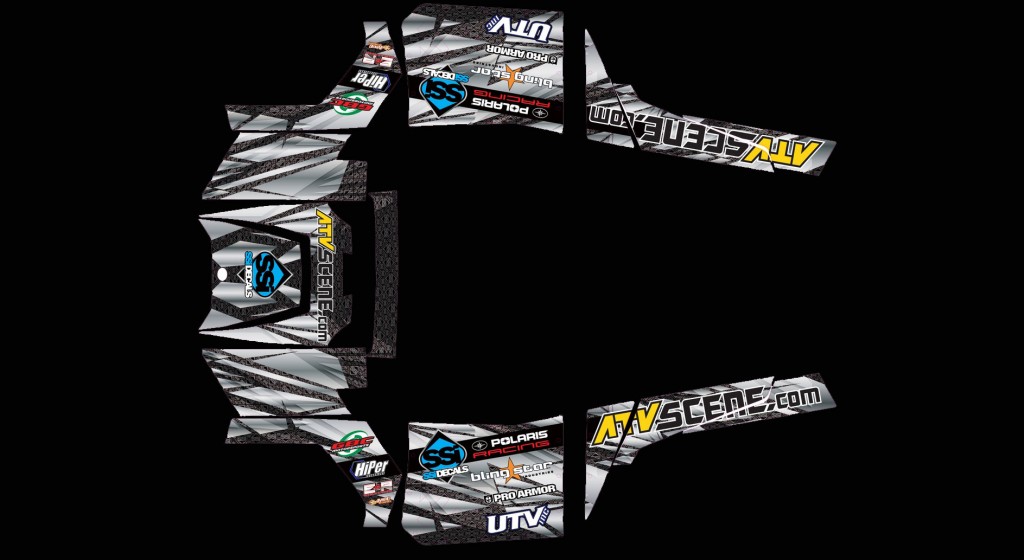 As thick as the stuff is you would think it would be a nightmare to apply, but the material is very pliable and goes down really nice without wrinkling. In a year's worth of abuse not one corner has peeled up and the graphics still look as new as when I applied them. I almost forgot, they also guarantee their products won't fade for five years! Check out the SSi site to get an idea of what I'm talking about. "They make your identity stick", how cool of a slogan is that!
Lazer Star Lights
Not needed for GNCC, (although I predict there may be a day when they will), Lazer Star Lights, out of Paso Robles, CA are the premium light solution in the off road industry. I needed lights to race the last two UTV Rally Raid events so I called on Lazer Star, they may have just as well sent me a chunk of the sun, that's how bright their products seem to be. Hundreds of feet of the course ahead of me was literally lit up like daylight. The lights put out so much light, you can't even look at the vehicle when all the lights are!
I went with two separate LED light bars. LED lighting provides just as much light than an HID light with less power. And no ballasts are used. The stock Polaris battery and stator handle the lighting with ease. The first unit is a big 40" Discovery 10 Watt LED Flood Light Bar, the second a 16" Spot LED bar with an Amber lens. The smaller unit, which bolts on the Pro Armor bumper, is needed in case the course gets really dusty. If so the big unit will amplify the dust – making it harder to see ahead. So the secret is to turn off the big light and run with the bumper mounted one with the amber lens. Both UTV Rally Raids were very wet, so dust wouldn't be a problem. The 40" bar provided so much light that I didn't even bother running the 16" one.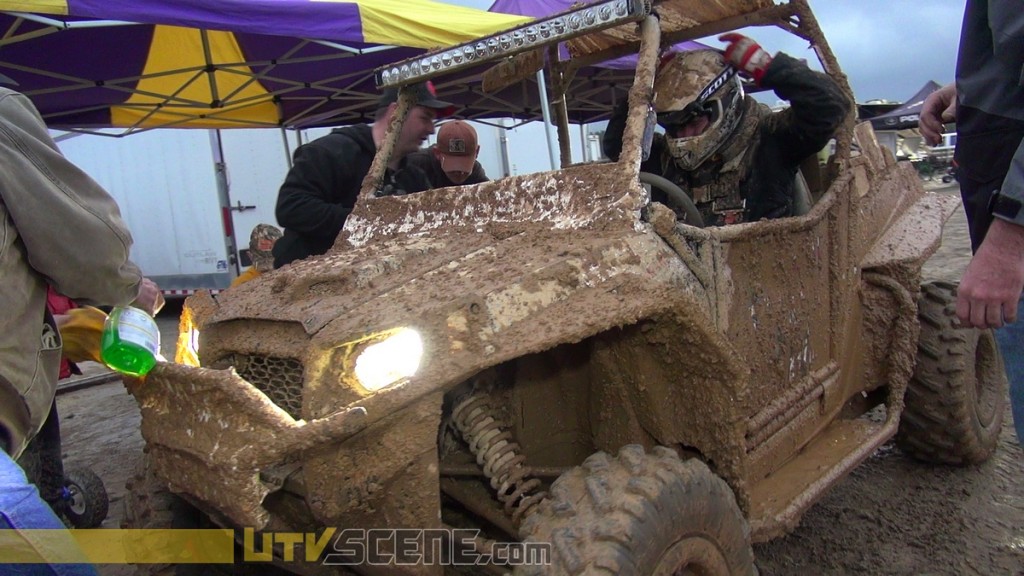 Don't be fooled by cheap made in China light bars. Trust me you will waste your money if you go that route. Look for a more detailed review on Lazer Star's quality lights in the future.
Odds and Ends:
A rear-view mirror is not required equipment in the GNCC rules, but I almost think it should be, especially if you're running the Stock Novice class and starting on row 17. It's nice to glance up and know if someone is coming up on you so you can get out of their way before they get impatient. It's GNCC racing, not trail riding around the property, so I went with the toughest mirror set up I could find and that's UTV Inc's version. It's machined from 6061 aluminum, the mount and adjustment system is very durable and doesn't vibrate or wobble around, and it provides a big panoramic view. I'm very happy with the choice.
Also mounted on the roll cage is a UTV Inc. sun visor. I figured since I was going to run the stock cage with no roof and we started late in the afternoon blinding sun could be an issue. Plus I liked the idea that it could double as a mud shield if I got behind someone roosting a lot of mud at me. It came in handy, but I wouldn't say you absolutely need this product for GNCC racing like I originally thought. I will say, since it's a UTV Inc, product it's made extremely well and features the nicest billet clamps you'll find along with a durable scratch resistant piece of tinted lexan.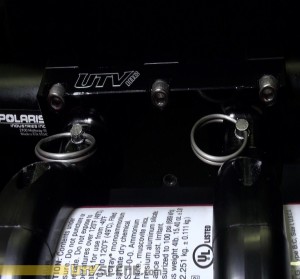 You will need a quality fire extinguisher mount and I'm here to say the UTV Inc. one is the best on the market. I'm not one for buying something twice, and that's what you'll do if you try to get away with a cheapy. GNCC racing is too extreme for anything cheap, especially something that can save two lives like this can. Simply put, a cheap one will break off, this one wont. It's made of 6061 T6 billet aluminum, and like all of UTV Inc's products it's available in a bunch of different anodized colors, but of course mine is black like everything else on the XP. You'll need to mount this in a spot where someone outside the vehicle can easily retrieve it. Also, don't skimp and just bolt on an old fire extinguisher you have laying around. I saw two UTVs on fire, it's a scary site, avoid getting burned – abide by the GNCC rules and you wont.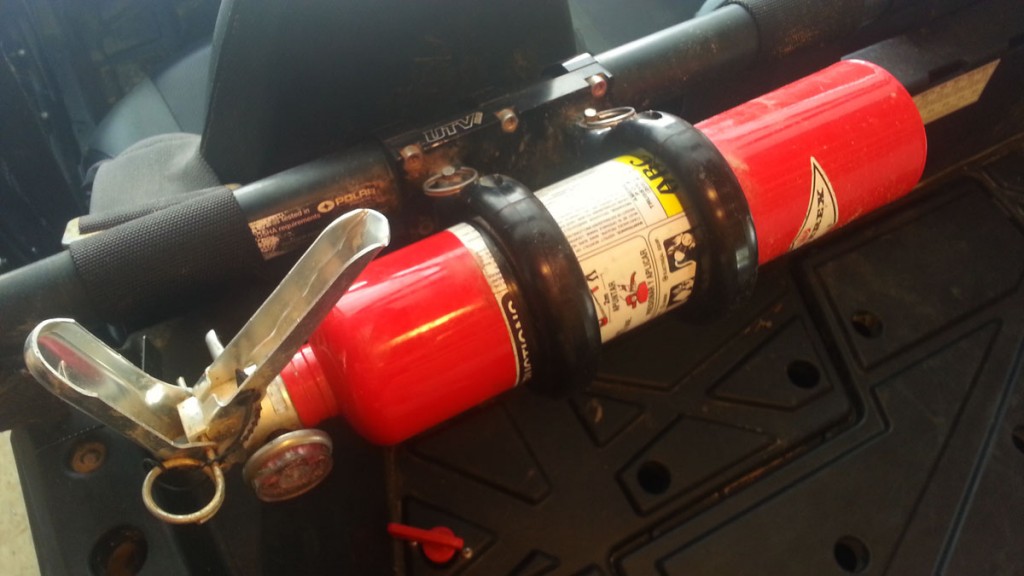 This is a tough subject to write about. GNCC rules say you must have a fully functioning kill switch in the rear of the car so someone besides the driver and passenger can kill the engine. This rule cost me a win at the St Clairsville, OH GNCC when the kill switch that I got at an auto parts store shorted out. I may be wrong, but I don't think anyone could catch up to a speeding UTV to kill the engine if the throttle were to stick? One of the two people in the vehicle should be able to get it stopped or steered away from danger, if not I can't see a kill switch in the rear helping, but like I said I could be wrong, maybe it could save a life, and that's worth everyone installing them for sure. I'm just bitter as I sit here reliving that frustrating moment when we pulled to a helpless stop on the side of the course, good thing we just barely got out of the way before the XC1 battle taking place behind me smashed into us, how ironic would that have been?
Back to odds and ends that I truly believe in. You'll need a good fire suit for you and your copilot. GNCC officials have gotten pretty strict on this and I don't blame them. Try to get out of your four or five point harness in a UTV with doors and nets while your frantically not thinking right because flames are rushing all around you. I imagine it would take a while. With that said stick to the rules and get an SFI 3.2/5 Dual-layer fire suit in either one piece or the pants and jacket, either is legal. They will also allow two single layer SFI approved suits if needed, as the 2-layer suits are pretty pricey. Here's the good part, there are hundreds of used ones on eBay. Why buy new? You're going to be covered in mud my the first turn anyway. You'll also need fire-proof gloves for you and your copilot. While you're on eBay get a couple fire retardant head socks, also called balaclavas and a neck roll. They're really not that much money and your worth it.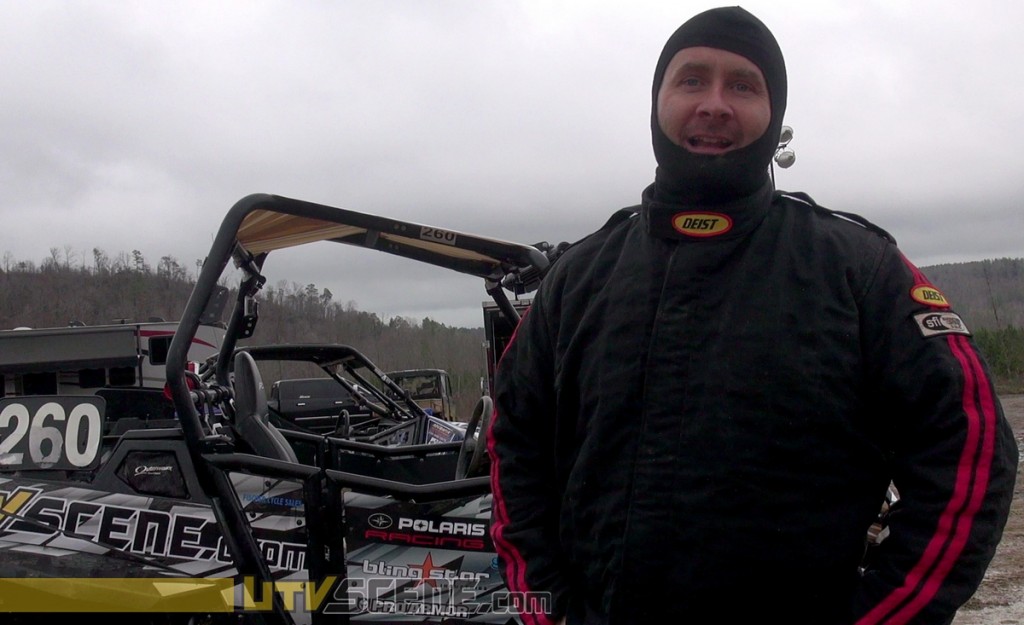 Comments
comments