Project GNCC Championship
Protection Products are Critical
As I've said, this build is all about the less is more concept. In other words I could have spent a fortune on aftermarket products and all kinds of time with fabrications, but the focus of this build was to use just the minimum items to insure I finished each and every race I started. And with that I felt I could run for the championship and feel good that the reason for winning wasn't that I outspent the competition.
With the above said, I felt I definitely needed protection from the gnarly courses that awaited and fellow GNCC warriors I came in contact with. UTV Inc and Pro Armor got the nod for what I feel are the best protective products in the UTV scene. First was the priciest item on my short list of protection, but it sure is needed. It's the UTV Inc UHMW Skid Plate. This bad boy is one big piece of plastic love. In fact it's so big it arrived on a shipping truck, too big for UPS. It's 3/8" thick, and makes the stock skid look like a template. As you'll see in our installation video, it fits like a glove. I love the one-piece design and the fact that it's plastic, not aluminum. It slips over mud with no friction and there's no irritating aluminum vibration. It's by far the best skid on the market and I feel the one-piece is worth the extra shipping expense, but you can save some money by going with a two piece system.
Next up on the build was a set of UTV Inc nerf bars. I got a lot of compliments when people saw these sharp-looking and very helpful nerf bars. They're made from 1 ¼" .095 Mild Steal and 3/16" mild steel plate. I went ahead and included them to the build solely for their ability to block trees from getting in front of my rear tires in the tight wooded sections. Their added cool looks were just a bonus. You'll also want to spring for a pair of UTV Inc's nerf bar UHMW Sliders. With this the complete under body of the machine is coated in slippery heavy duty 3/8" plastic. You really need to click to the UTV Inc site to fully understand what kind of company this is. I promise you'll be amazed at the projects they've created and the extent of innovative and pure quality products they have available, especially for the XP 900.
Pro Armor is the undisputed leader in bumper protection, that's even evident in their name. Both front and rear are important products to not only help protect the looks of the machine but the front is especially important as it will protect the radiator, it's a sitting duck without it. I went with Pro Armor's "Baja Pre Runner" front and rear bumpers. The front bumper has taken a lot of abuse from either mowing down trees while creating alternative routes around broken down competitors or politely moving someone out of the way. It has been mangled but bent back into shape plenty of times. Bud Fischer at Fischer Racing is quite good at manipulating metal, so my front bumper isn't as shiny and new but it sure has done its job. You don't want to race a GNCC without one. They're made from high strength aluminum, so they're very lightweight, and the bumpers bolt up nicely thanks to Polaris' pre-planned mounting points. You can get them in either a black powder coat finish like mine or brushed. Also worth noting is the fact that Pro Armor makes adding future lighting accessories to the bumpers simple by including mounting points. This could be especially important if GNCC UTV racing continues to grow and there becomes too many machines on the course at the same time. I could see them splitting the classes and having two separate races, which could extend past Saturday's available daylight.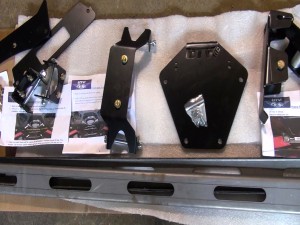 Frame strengthening
UTV Inc. makes a few well thought-out gusset kits, two in particular that I would recommend, the Front Bolt on Gusset Kit is just $120, and if you're really serious they make an exptensive bolt on kit for $532. I highly suggest you invest in at least a few gussets, especially for the front of the machine, it's where most of the abuse will take place. Everything bolts on nicely and these two kits require no welding. It's preventive maintenance that I would say isn't needed in any other series. The XP is tough, it's just that GNCC courses seem to be even tougher.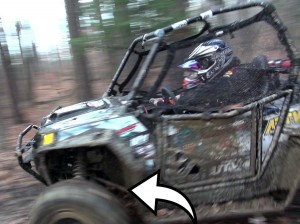 Thanks to crafty Bud Fischer at Fischer Racing, the front end of my machine is extra-sturdy. Besides the above UTV Inc. gussets, Bud provided additional strength to the front section of the frame, which is known to bend, by welding two chromolly steel braces from the frame members to the front frame rails. If done correct even 27" tires won't interfere with the bracing. This is added insurance in case you do hit a tree, as indeed several drivers do. I would hope we see Bud's handiwork as stock equipment on future models.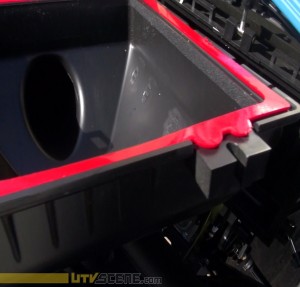 Desert Molding Concepts Super Sealer Kit
You may not think this is an important product and wonder why I added it to my short list of absolute must haves for GNCC racing, but trust me it is cheap insurance to a costly problem. When I heard that several XP 900 owners were having engine problems due to a not-so-good airbox seal, I immediately knew I needed to address this. I wasn't about to gamble that my seal wasn't quite up to par and end up ruining the engine, so I researched and found the best solution from a company you may not have heard of, Desert Racing Concepts. Their Super Sealer Gasket kit includes two gaskets, one for each side of the filter. The gaskets are made from a conformable polymer material that does a great job of sealing, this is a much better alternative to messy grease that some racers are using. Check out this page on their site for several other very innovative and quality products for the XP 900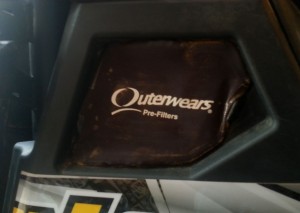 Outerwears Intake Booties
I prevented sand and dirt from making its way around the filter in the airbox with the Super Sealer Gasket kit mentioned above, next up in solving a problem before it becomes one is preventing water from entering the air intake boots. That's a simple fix. Outerwears makes a must-have product, especially needed for wet GNCC races. Their Intake Booties repel water from entering the engine's air intake system and clutch vent, but they don't hinder air from getting through. Bottom line, if you want a long-lasting engine and no DNFs, you need to do anything and everything possible to stop dirt and water from getting in your engine. Check them out at Outerwears.com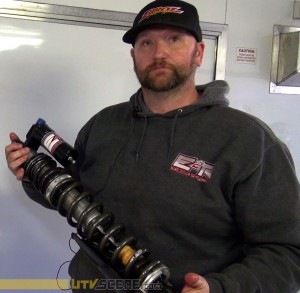 Double E Racing Shock Service
The stock Fox shocks are already pro-level equipment. Other than dialing in the shocks you really don't need to do anything further. As I said you may opt to swap the front springs with rear springs, but other than this small low cost mod, you're good to go. That is until the Fox shocks get tired from the abuse a GNCC season brings.
I ran the same stock shocks without getting them serviced for the entire series, and was amazed at how well they continued to take the abuse my right foot dished out, but I will say that I could definitely tell they were worn out by the last two rounds. Before entering the last UTV Rally Raid in Alabama I had George White at Double E service the stock shocks. Double E offers what might be the best secret in the UTV racing suspension industry! They upgrade the stock Fox shocks, which are already fantastic, and make them more on par with expensive aftermarket shocks! George has more suspension knowledge than you could believe. He and fellow suspension legend, Mike Hallock have together worked through a ton of testing and have the recipe to greatly improve the stock XP 900 shocks.
We will be doing a feature on Double E Racing's impressive shock service as well as their top-of-the-line Stage 3 Kit in the near future. In the meantime I would highly recommend you check out what he has to say on UTV Scene's Forums or talk with George on his Facebook Page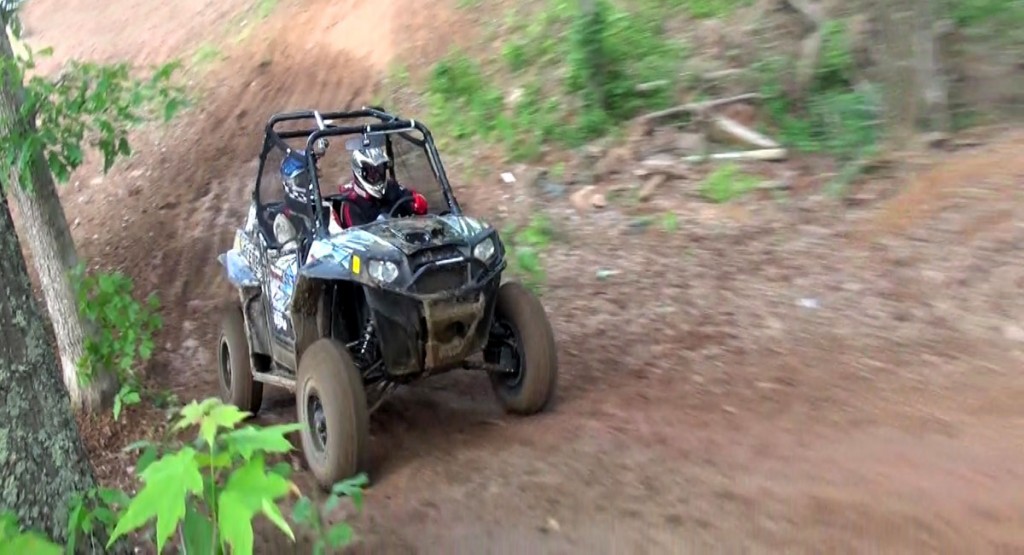 Comments
comments