Project GNCC Championship
The Right Upgrades

As I said, winning a GNCC Championship, two local events and nearly winning a UTV Rally Raid was done because I chose the RIGHT machine and the RIGHT upgrades. I will briefly talk of each of them here and in much more detail as most of the product on this machine will have their own stand-alone-feature.
GNCC racing is not your average trail-riding-terrain. If you have any question of this you need to walk a lap after a race. You won't believe the canyon-like ruts, exposed tree roots, mowed over vegetation, mud, rocks, water crossings and braking bumps that form and keep getting worse and worse with each lap, not to mention the leftover carnage of parts littering the course. All are evidence that GNCC racing is not for the timid UTVer.
GBC Motorsports Tires on HiPer Dual Beadlock Wheels
DNFs are common place in UTV racing and many of them are due to bad tire and wheel choices, so the first thing to go was the stock tire and wheel combo. I needed the best solution to combat this problem possible, as I feel this would be the most important modification of any. Trust me, you have very little chance of surviving an entire season with the stock wheels and tires. After researching and talking to many successful UTV drivers I arrived at the perfect tire and wheel set up for GNCC Stock Class competition, GBC Motorsports 8-ply tires mounted to 14" HiPer Wheels with dual beadlocks on a 5″-2″ offset, of course in black. I truly believe this set up was the secret to my success.
Size is important, I went with 27″x9″x14″ on all four corners. Many UTV GNCC guys go with 12" wheels and tires as this set up is less prone to the all-too-familiar GNCC pinch flat, but that set up will allow more body roll and the Polaris wont handle as well as it does with a taller tire. Since my GBC's have thick dependable side walls pinch flats are far less likely so I went with a 14" tire and wheel and couldn't be happier with the choice. At first I was sold on GBC's proven winning tire, their Dirt Commanders, but long time buddy and tire genius Kory Ellis at GBC talked me into starting round one on a set of their Grim Reapers. He said the lugs on the side act like paddles for good cornering and mud traction, yet the Grim Reaper's center rib is constant so it will ride smooth, unlike a mud tire. Long story short I liked the Grim Reapers so much I didn't switch to the Dirt Commanders until it was time to head to the last two UTV Rally Raids of the year. Not only did the 8-ply Grim Reapers allow the machine to handle great and pull me through anything and everything, they didn't wear as bad as a lot of tires would. I never got a flat or had one tire or wheel issue all year long. In fact the GBC / HiPer combo held the same 13 pounds of air all season, this is unheard of! Many fellow racers were shocked to hear that I didn't run Tireballs. I honestly feel you don't need to take on the added expense if you run with this set up. Click to learn more about GBC Motorsports and HiPer Wheels.
Blingstar Doors
The next order of business was making the car safe and GNCC-legal. I did my research and observed that very few Blingstar doors were used at the GNCC series, this made me want them all the more. I especially like Blingstar's doors because they're lower and allow great viability. Plus I think they look cooler than anything on the market. They're also lightweight at only 40 pound total and feature a quality slam latch system. Durability is key to GNCC racing so once I found that they're made from 1-3/8" tubing instead of 1-1/4" I was all over these. Also worth noting my PRP Window Nets attached to the Blingstar doors without any issues. Check out my install and review video feature on Blingstar's Doors. And click to the Blingstar site to order yours.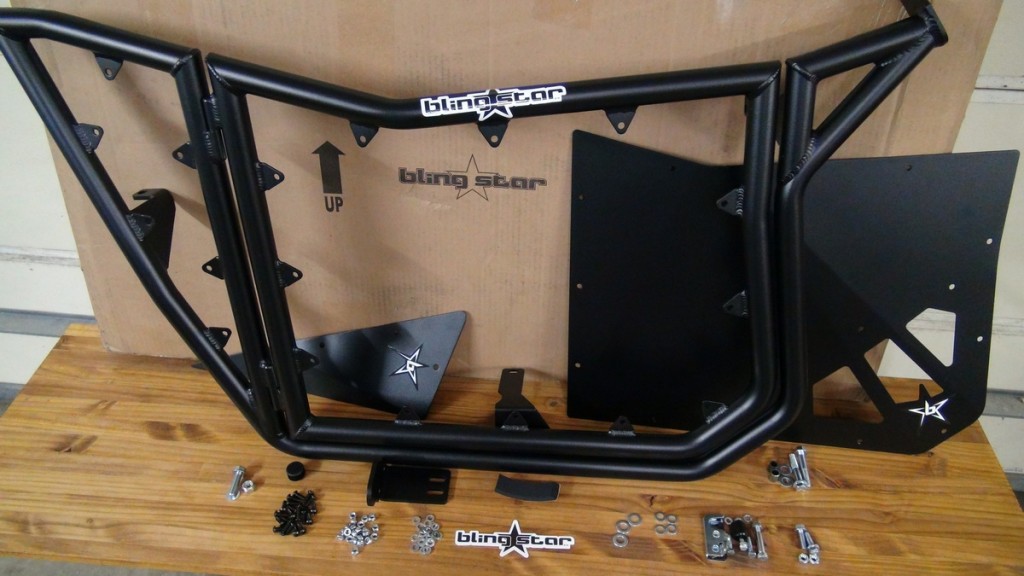 Comments
comments