2017 Yamaha UTV Lineup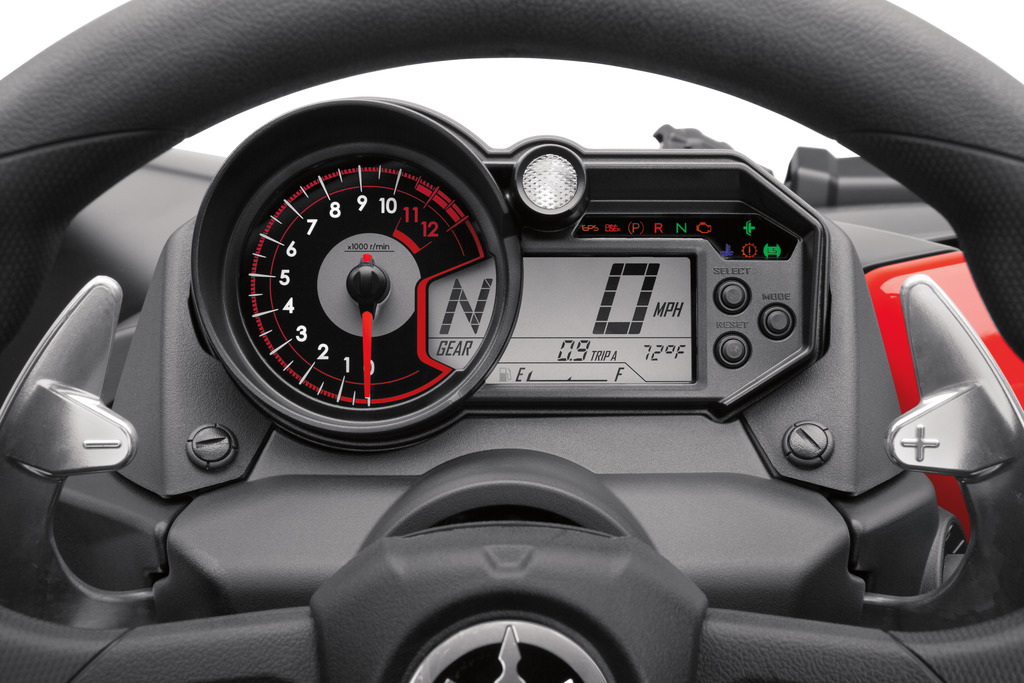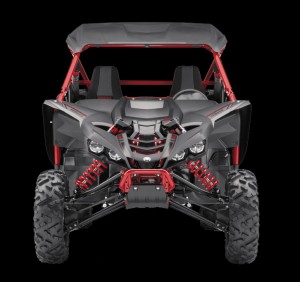 Okay I know what you're probably thinking. Yamaha noticed that many potential new buyers didn't want a manual shifting UTV like they thought they would, so they hurried up and offered something to win over the automatic crowd. Before that rumor gets started, I'm here to tell you that it is simply not the case. The new YXZ1000R SS (Sport Shift) was actually developed from the the get-go years ago. After learning more about the engineering and capabilities that are found within Yamaha's new high-tech paddle shifting option, it's obvious that their new YXZ SS could in no way have been developed in just a few months. Despite the tempting golf course right outside the door of the presentation, I didn't get to try out Yamaha's latest shift technology, the official ride intro will probably happen in August when the machines rolls off the assembly line, but I was invited to get a sneak-peak at their 2017 lineup and learned quite a bit about this interesting 5-speed sequential shift manual transmission that removes the clutch pedal from the equation and adds a set of pure-sport inspired paddle shifters.
If your interest is peaked, you're on the right site.
I will go over the entire UTV lineup (and you can click to ATV Scene for Yamaha's 2017 ATV Lineup), but first thing's first, let's dive into this exciting new shifting option found on the 2017 Yamaha YXZ1000R SS.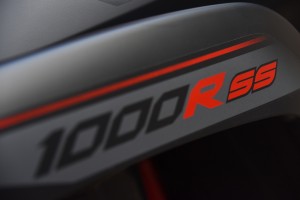 2017 YXZ1000R SS
Leave it to Yamaha to invent the first and only Side-by-Side vehicle to combine pure-sport performance with a high-tech paddle shifting driving experience like you would find in an expensive sports car. The SS version of the YXZ offers the same industry-first 3-cylinder 998cc engine and transmission, and you wouldn't think it would be possible, even the clutch assembly is us pretty much the same, but all this combined provides SS drivers with the same direct-connection to the transmission that the manual YXZ offers, but in a seamless "automatic" system. This, according to Yamaha, will appeal to a much wider range of enthusiasts. I get it, well played Yamaha!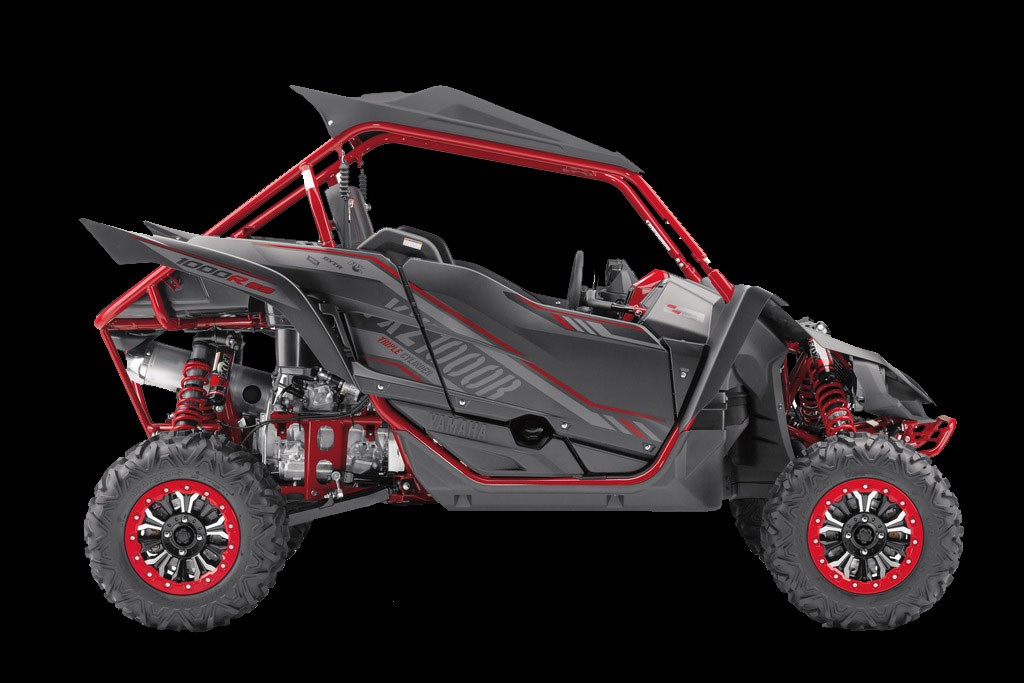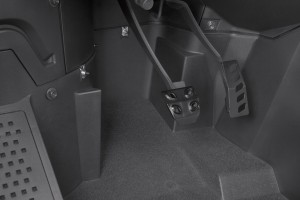 All-New Sport Shift Technology
The 5-speed sequential shift manual transmission YXZ1000R SS with new Sport Shift features pure-sport inspired paddle shifters mounted to the steering column for ultimate driver control and connection. The left is for downshifting, the right for up-shifting. Stay with me, it gets better and better the more you read.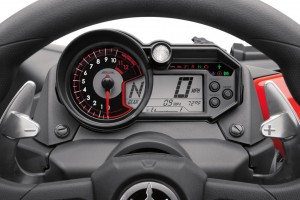 The paddles aren't cheap plastic, they're made from aluminum and have a quality rugged feel. As I said the SS uses an advanced automatic clutch system, eliminating the need for the clutch pedal, but that's only the beginning of this high-tech system. The paddles are big, long and easy to get at, almost inviting. Each paddle, which is said to be simple to replace (but I don't see anyone breaking one), is synched to Yamaha Chip Controlled Shift (YCC-S) technology, this is where the boys at Yamaha really impressed me. I'm told the system removes a lot of human error, even expert drivers admitted they were faster in the SS than they were in the standard transmission YXZ. I'm told the engineers focused on making shifting as seamless as possible, but at the same time were willing to go back to the drawing board if at any time an average driver was faster in a manual YXZ than an expert in an SS. In short the system allows a wide range of enthusiasts on a variety of off-road terrain to enjoy the pure sport performance and direct connection of the YXZ manual transmission but in a much less complex way.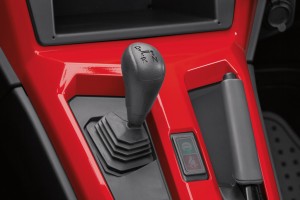 I'm told the shift sequence is highly intuitive for drivers, even if they are not familiar with operating a manual transmission. The Sport Shift system incorporates features that complement the paddle shifting variation and overall pure sport experience. Yamaha said that everyone that has driven the machine came back with a much higher level of expectation than they thought they would have, and that the word "seamlessly" couldn't be stressed enough.
I especially found this next part interesting – an automatic downshift feature assists by automatically downshifting to first gear when the vehicle comes to a stop, even if the driver has not done so manually. What's more it will downshift to whatever gear it senses you should be in if you don't beat the system by grabbing the left paddle on your own.
Another really cool and innovative feature on the YXZ1000R SS is the all-new "Launch System," which is exclusive to the Sport Shift experience and provides an exciting high-acceleration feeling from stop – similar to "dropping the clutch" in a manual vehicle with a clutch pedal. This is done by simple pulling both paddles while your foot is in the brake. You can even adjust the RPM level of launch mode. Bravo Yamaha, this feature should provide plenty of YXZ holeshots at many future races. I'm especially interested to see how fast Launch Mode can activate on dead engine starts. If it activates instantly when the engine fires look for plenty of Yamaha holeshots at the GNCC Series as well, you'll just need to put your co-pilot to work, since you'll need a third hand to turn the key when the flag drops.
The steering uses the same ratio as the manual trans version. Shift paddles do not turn with the wheel, but I was told that it's not hard to shift either up or down even while turning, but I would imagine a steering quickener would make easy even easier.
One last final word on the shifting of the SS. I was told it allows high performance enthusiasts to use their YXZ just like those did with manual transmission, but they can also enjoy the machine in a much more casual relaxed way at times, this in a nut-shell best describes the reason for the new Sport Shifting option. I'm a fan already.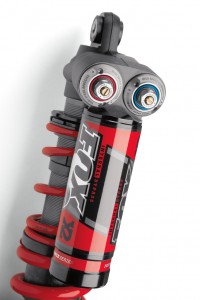 Uncompromising Suspension
The YXZ1000R SS models boast fully adjustable long travel FOX 2.5 Podium Shocks with 16-inches of travel in front and 17-inches out back. The piggyback reservoir shock absorbers provide confidence and comfort through tough terrain, over deep whoops, and throughout all-day off-road punishment.
Here's where the suspension gets just as interesting as the ability to paddle shift at wide open speeds…
New for 2017, the Special Edition (SE) YXZ1000R and YXZ1000R SS acquire industry-first twin-wall FOX 2.5 Podium X2 Shocks.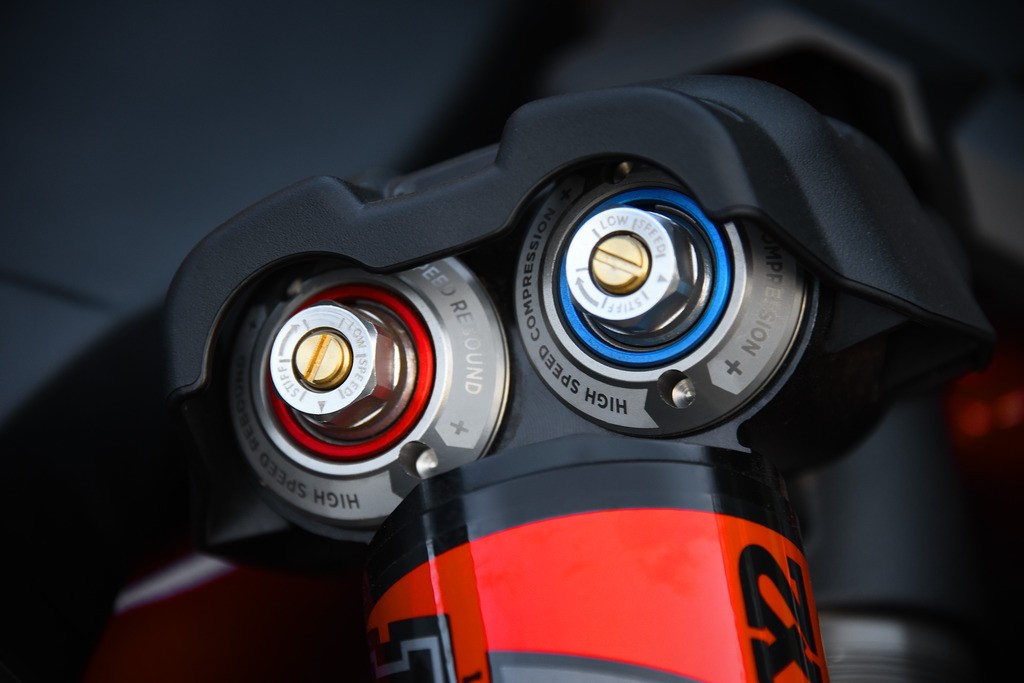 These unparalleled shocks were developed in tandem with Yamaha specifically and exclusively for the new Special Edition YXZ models. I'm told the shocks perform exceptionally well, and are noticeably better than the standard YXZ shocks, which are no doubt top shelf equipment. I'm told they provide the ultimate slow speed comfort without sacrificing performance during hard aggressive driving or racing, and they offer unprecedented adjust-ability to suit a variety of driving types and preferences. A new level of performance and comfort are achieved by creating completely independent high and low speed compression and rebound adjustment, combined with huge 16.2-inches of front and 17.0-inches of rear travel.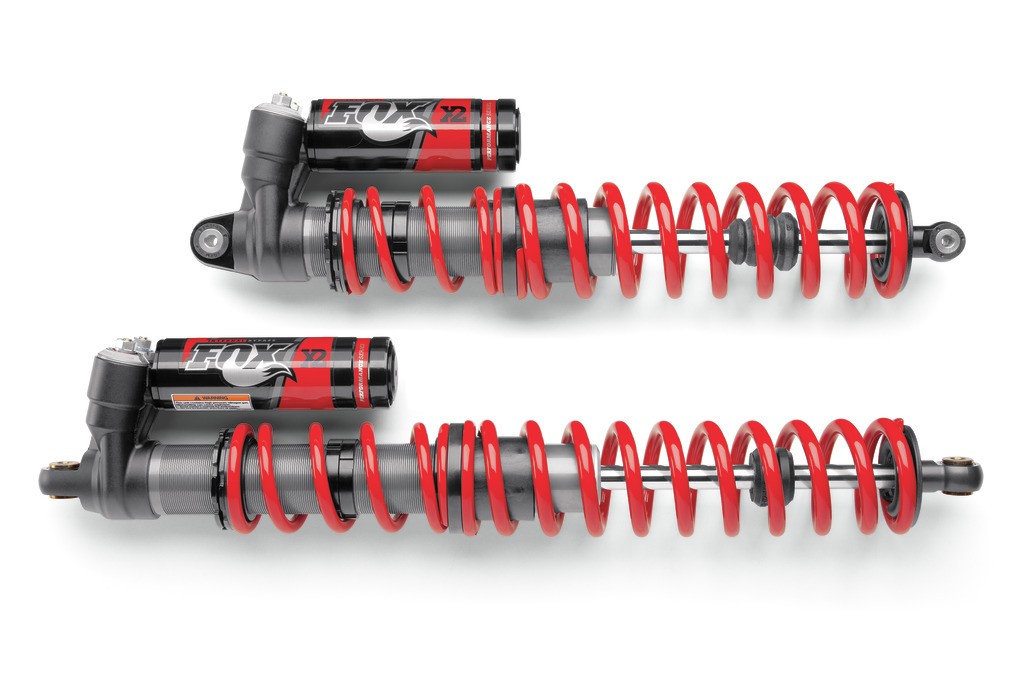 I suppose you could compare this Fox/Yamaha deal with the iPhone, back when you could only get it at AT&T. After learning about the new FOX X2 shocks, see the video below, I think, just like the iPhone, all carriers will want a version of this X2 technology, but for now they're only available at your Yamaha dealer. Additional features of the X2 shocks include dual adjusters on the upper cap and twin tube structure, dual springs with coupling and crossover adjustment, position sensitive damping, and more. Wow!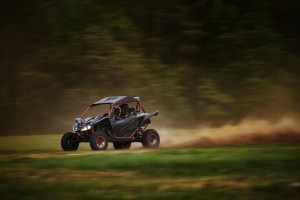 Pure Sport Power and Performance
The YXZ1000R SS brings the pure sport power and performance of its predecessor with the same industry exclusive 3-cylinder, 12-valve, DOHC, liquid cooled, 998cc engine, which delivers the most reliable and durable power of any 1,000cc-class machine. It boasts an aggressive 11.3:1 compression ratio and 10,500 RPM redline to facilitate the only pure sport SxS experience in the industry. Yamaha's proven On-Command® system provides 2WD, 4WD and 4WD full diff-lock options in a driver controlled system, eliminating any computer generated hesitation or slipping common in some competitive models.
The YXZ1000R SS also employs Yamaha's proven Electric Power Steering (EPS). Set in a compact and lightweight EPS unit, the optimized steering ratios provide precise handling through the best balance of assist and positive feedback from the terrain. This combination creates maximum comfort and confidence in off-road conditions.
Critical to superior handling is strong, smooth and predictable stopping power, and the YXZ1000R SS accomplishes this by featuring four-wheel hydraulic disc brakes with twin piston calipers. The resulting unmatched brake feel delivers added confidence during aggressive driving. Large 245mm rotors were adopted for enhanced cooling and reduced brake noise.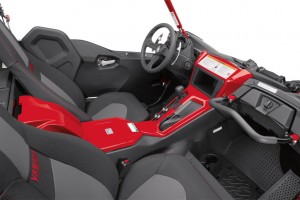 Superior Cab Ergonomics
The sporty cockpit-like cab in the YXZ1000R SS incorporates comfortable and convenient ergonomics, newly embroidered plush contoured high-back, cut-and-stitch seats, sliding adjustable driver's seat, a soft grip over-mold, tilt adjustable steering wheel with 147mm of vertical travel, and uprated cabin insulation helping to keep the cabin cooler, even when the engine is working its hardest.
Providing detailed information to the driver, the YXZ1000R SS features a new hybrid digital-analog multifunction meter with digital speedometer, analog tachometer, programmable shift light, readouts for 4WD mode, gear position, fuel level, trip meters, hour meter, coolant temperature warning and a clock. A new Launch System activation and other indicator lights are also adopted.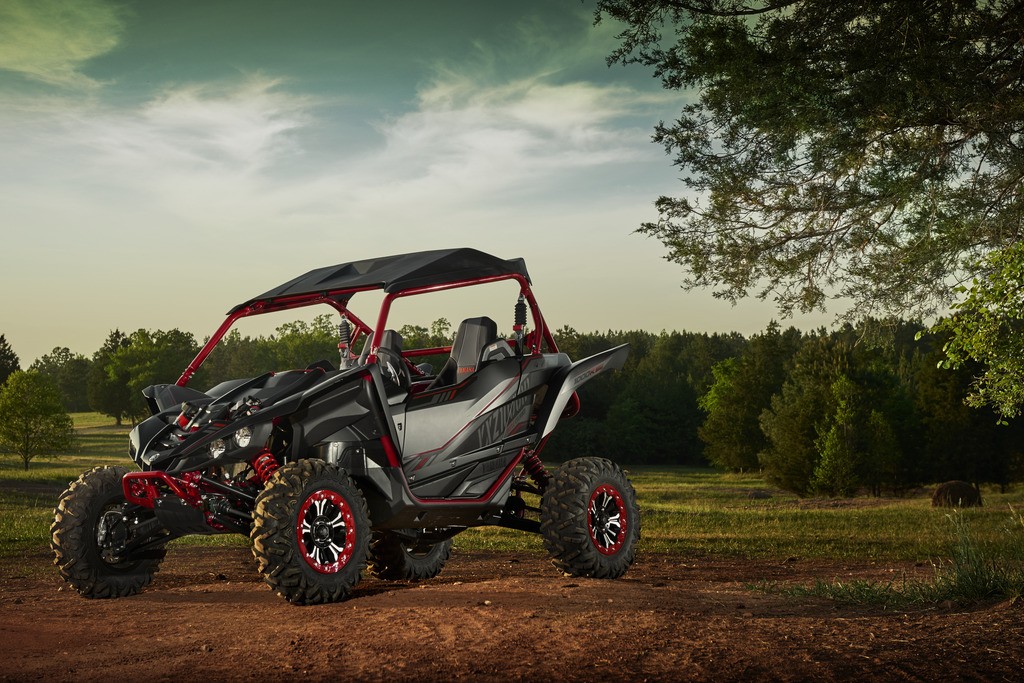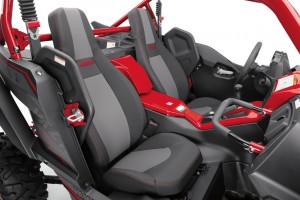 Industry Leading Durability and Reliability
Yamaha SxS vehicles have a reputation of being the most durable and off-road capable in the industry, and the YXZ1000R SS continues this tradition, bringing Yamaha reliability to the sport SxS segment. The sport-inspired frame of the YXZ1000R SS was engineered to provide the industry's most durable and reliable performance with nimble handling and a comfortable, secure-feeling pure sport SxS experience. Optimized frame dimensions result in the best handling sport SxS ever. Full under-frame protection covers the bottom of the vehicle from front-to-back and side-to-side while still incorporating easy access to service points. The under-frame protection employs lightweight and extremely durable Thermoplastic Olefin to provide the best impact resistance, flexibility and wear reduction, while simultaneously allowing the vehicle to easily glide over obstacles encountered on the trail.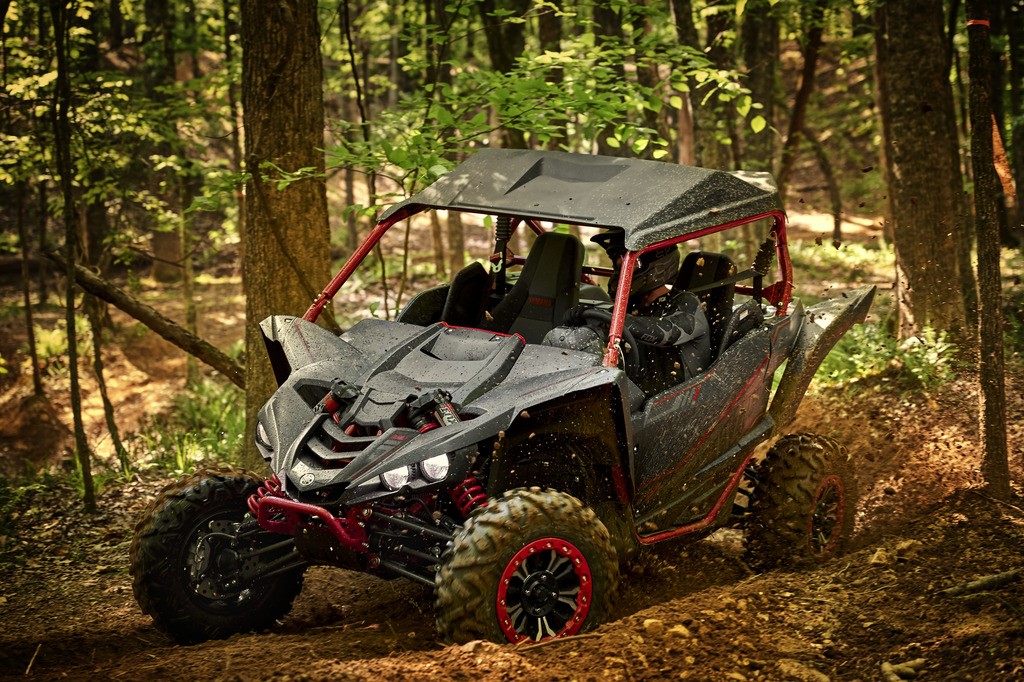 All YXZ1000R SS models come with a suntop and now feature colored seat stitching and embroidered seats at an MSRP starting at $20,599. Color options include Team Yamaha Blue / White with a color-matched Team Yamaha Blue suntop and race-inspired decals, Blaze Orange / Black, and the new special edition Matte Black additionally featuring painted bodywork, cast aluminum beadlock wheels and all-new FOX 2.5 Podium X2 Shocks designed exclusively for YXZ SE models.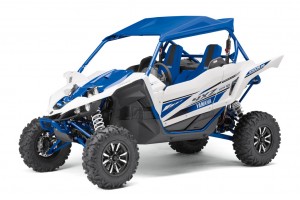 2017 YXZ1000R
Making its debut to the motorsports world in September of 2015, the wildly successful and highly anticipated pure sport YXZ1000R is available in exciting new color schemes for the 2017 model year. Augmenting the high-end look and feel, the Team Yamaha Blue / White now comes with a color matched Team Yamaha Blue sun top, colored seat stitching, embroidered seats and race-inspired decals. A new YXZ1000R SE in Matte Black shares the same great accoutrements as the YXZ1000R SS SE, including the FOX Podium X2 shocks, yet with the industry-first 5-speed sequential shift manual transmission for ultimate driver-tovehicle cohesion.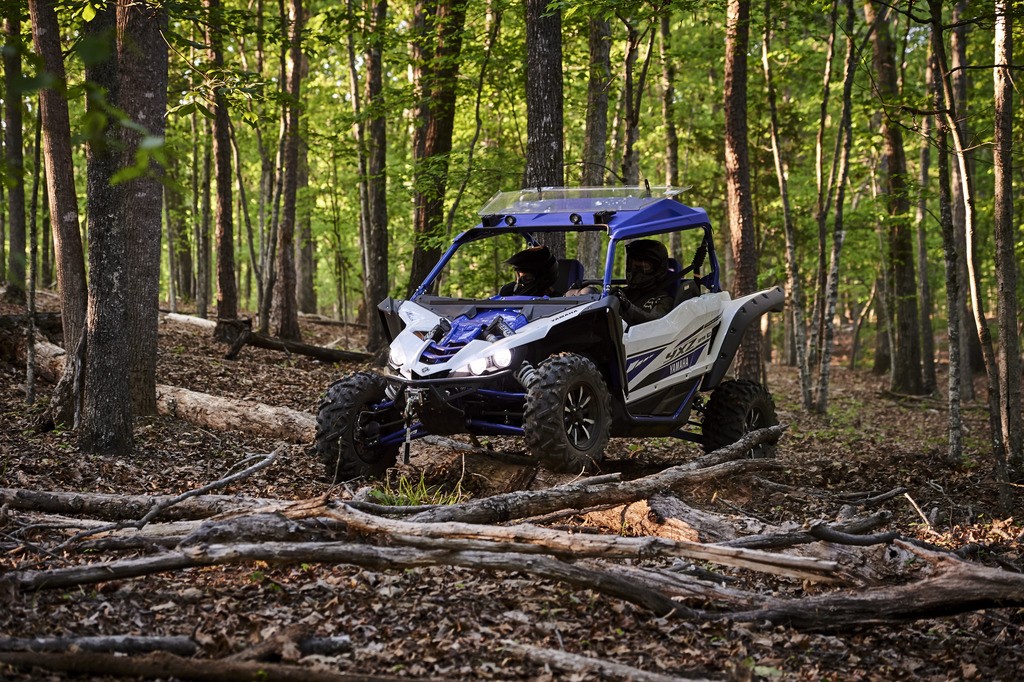 The YXZ1000R was the world's first pure sport SxS, combining the industry's first naturally aspirated three cylinder 998cc sport engine with the first ever 5-speed sequential shift manual transmission. The YXZ1000R is born of Yamaha's true high-performance DNA – creating a direct connection to the driver and serving up unmatched power and handling characteristics, resulting in a vehicle perfectly positioned as the only choice for the pure sport SxS enthusiast. MSRP on the 2017 YXZ1000R models will be announced this fall. Click over to read my complete review of this incredible new machine, the feature includes a high def video as well.
Read my review of the YXZ1000R Here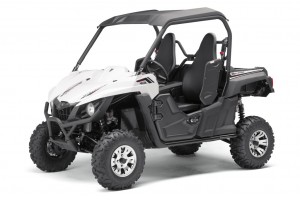 2017 Wolverine and Wolverine R-Spec
The new Wolverine R-Spec SE in Matte Silver features painted bodywork with color-matched seats and springs, convenient under seat storage, and durable injection-molded polypropylene overfenders for increased protection from the elements. Furthering the off-road capability and comfort of the Wolverine Rspec, the new SE adopts a stout yet lightweight full-length, full-coverage aluminum skid plate set – including the front bash plate, center, rear and side frame skids – aluminum a-arm guards, robust 12-inch true bead lock wheels and a new soft grip over-mold steering wheel with a design exclusively develo
ped for ultimate off-road control and handling. MSRP for the new Wolverine R-Spec SE is $14,799.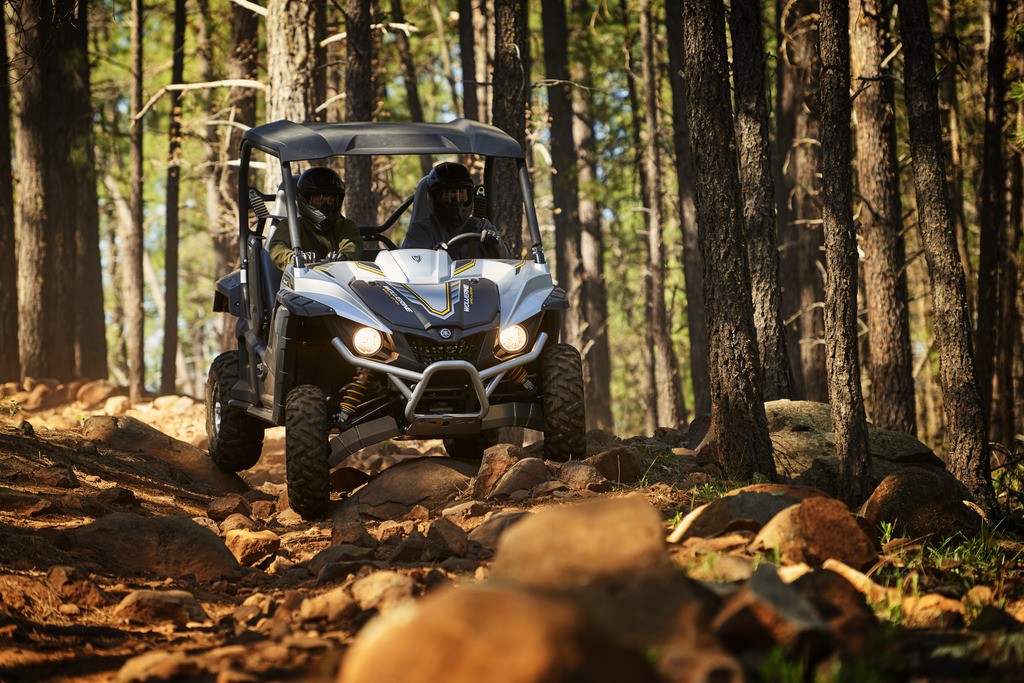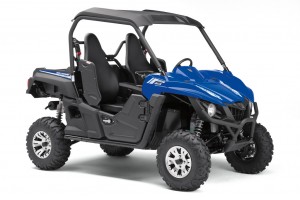 New for 2017, every Wolverine R-Spec now comes with Yamaha's proven Electric Power Steering (EPS), providing precise handling through the best balance of assist and positive feedback from the terrain. In addition to the new SE, the Wolverine R-Spec is now offered in Yamaha Blue with machined aluminum wheels. Returning colors include the Alpine White with machined aluminum wheels, Hunter Green and Realtree Xtra®. MSRP starts at $13,199.
The 2017 Wolverine is a fun, comfortable and off-road capable SxS for trail and outdoors enthusiasts. The Wolverine offers new and existing SxS customers alike a full-featured, supremely off-road capable option at a value-packed price point starting at $10,999 MSRP. Adding to the Wolverine's value-packed features, the 2017 is now offered with Yamaha's durable and reliable EPS system.
Setting the standard in off-road capability and class-leading comfort, all Yamaha Wolverine SxS models feature a new double overhead cam (DOHC), 708cc engine with optimized torque, power delivery and engine character for exciting recreational driving. The Wolverine's automotive-style cab is designed to provide maximum comfort and confidence for both driver and passenger, especially in extreme off-road environments. Designed and engineered for exploring extreme terrain, the Wolverine features a nimble chassis with a compact design, look and feel, along with Yamaha's proven core technologies: Ultramatic® fully-automatic transmission, On-Command® four-wheel drive and EPS.
Read my Review if the Wolverine R-Spec Here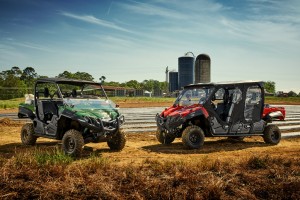 2017 Viking and Viking VI
With class-leading cab room and comfort, coupled with superior handling and off-road capability, Vikings are the toughest and hardest working utility-based SxS vehicles that are also fun to drive. The 2017 Viking and Viking VI are now offered in a new Midnight Blue Metallic SE with silver cast aluminum wheels, overfenders and silver seats.
Leading the 2017 Viking line is the premium Ranch Edition Viking VI in Copper Metallic painted bodywork with color-matched brown interior and soft sun top, silver cast aluminum wheels, review center mirror, mud flaps, overfenders, underseat storage, a rear bed grab bar, a heavy duty front brush guard, and unique Ranch Edition badging, bringing an all-new level of comfort and convenience to tough off-road work.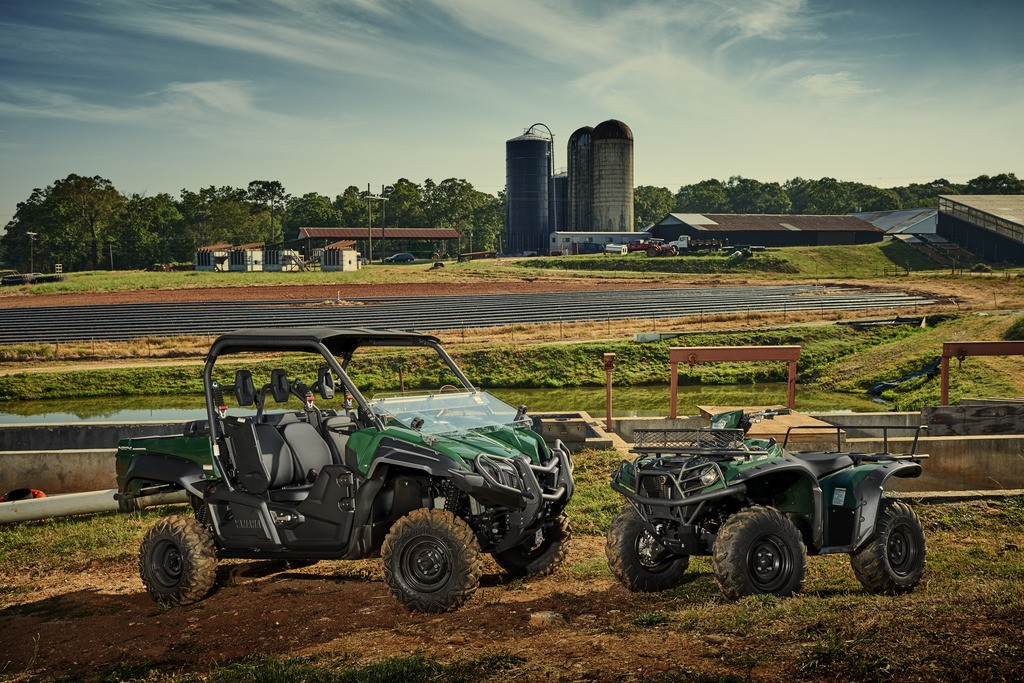 Viking enhancements carried up from 2016 include automotive-style two-stage door latches and a parking brake warning buzzer. Noise and vibration reduction features include new rubber damper plates, a more rigid chassis, additional sound dampening materials and an engine-mounted torque rod for a more relaxing quality ride at any engine RPM. The newly reinforced rear steel cargo bed now incorporates mounting points on the bed rails and a rubber cargo bed mat to further reduce sound and vibration, all while improving durability and cargo-carrying options and capacity. Large enough for a fully-loaded pallet, the assisted dump bed can pack up to 600 pounds of equipment and supplies. The standard two-inch receiver hitch is rated to pull 1,500 pounds.
All coming standard with a sun top and at an MSRP starting at $11,999, additional Viking colors include a new Steel Blue with cast aluminum wheels, Hunter Green, Red and Realtree Xtra®. MSRP for the 2017 Viking VI EPS starts at $13,999, with Hunter Green, Red and Realtree Xtra® rounding out the color options.
Learn more about the 2017 Yamaha line at yamaha-motor.com
2017 Yamaha Side-by-Side Lineup, 2017 Yamaha UTV Lineup, 2017 Yamaha YXZ1000R SS, Sport Shift. Fox X2 Shocks
Comments
comments