Super ATV's High Clearance A-Arms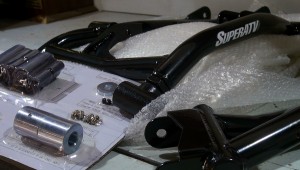 I like that Super ATV prints "Built for Battle" on their product boxes. This is so fitting. I walked a GNCC race courses or should I say "Battle Field" after a UTV National. Seeing all the broken parts scatted all over the course made me think how important it is to upgrade the weak points on a stock side-by-side. Looking at a broken A-arm poking out of the dirt made me think of the poor guy whose race ended in that very spot. All the time and money spent to only get to that far before being towed to his truck. It really made me understand how important it is to address problem areas of the machine before they become problems, in the long run that's actually cheaper than hitting the trails or race course in stock form.
Success has a lot to do with making correct choices. Our A-arm choice is a great one. These Super ATV High Clearance Arms are overbuilt. So much so that they come with a lifetime warranty. Break one or bend one and they send you a new one! I think you'll agree, it's hard to look the other way on a deal like this. For the price $300 for a pair it's hard not to take advantage of this deal. At 1.25″ DOM tubing, they're 25% larger than stock and made from chromoly steel. As you'll see in the video above for now we're just going to bolt them on, race testing this stuff will come in the near future, but based on the look and feel of the Super ATV arms (and the other Super ATV parts we're using) I think we're going to do well out there on the battle field.
The Super ATV high clearance front and rear A-arms gave our Project Mighty RZR (a 2017 Polaris RZR S 900) an additional 1.5″ of added ground clearance and 1.5″ of extended wheel base. They offer a unique bend design and are carefully crafted to maintain the factory steering geometry. I'm especially liking Super ATV's nifty adjustable pivot blocks which allow you to adjust the camber perfectly. This is especially nice if you plan to add bigger tires, long travel suspension or a lift kit.
This particular A-arm kit requires an axle upgrade, which is something we planned on doing anyway. We are now able to run Super ATV's Rhino 2.0 brand axles. Bent and broken axles are common, so we're looking forward to seeing how these heavy duty beasts hold up to the abuse we're about to put on them. Also, if you want to run massive tires, this arm/axle set up will allow you to run huge 32" tires, but note, if you go this route you may want to beef up your machine's CVT, but that's another story.
Another few potential problems have been addressed as well. We couldn't dare go this far and leave the stock steering system handle steering duties so we upgraded to Super ATV's heavy duty tie rod kit. It's amazing to hold stock parts in your hands along with Super ATV components, it really makes you understand the reason you spent the money when you can compare the level of improvement in this way. Another gamble that we're not going to take is with the stock ball joints. Yes the Super ATV A-arms utilize stock A-arm bushings and ball joints, but in our opinion these are two areas that need to be improved, so we upgraded our machine with a set of Keller Performance ball joints. And in an effort to get rid of the annoying squeaks we upgraded to Garage Product bushings.
We did find a few things worth noting when we bolted these A-arms on. This A-arm kit does not accept Polaris' new 2017 style bushings. So if you have a 2017 or newer you will need to make sure you get the correct bushings. Like noted above, we chose to go with a set of Garage Products bushings, which ended up working quite well, just be sure to tell them you're using Super ATV A-arms so they send the correct bushings.
The bolts that hold the rear arms to the rear carriers are bigger on the 2017 RZR S900/1000 so we need to drill a larger hole to accept the larger carrier bolt. Also the grease fittings that came with our kit (both front and rear) were a little too short on the lower arms so you can't get the grease gun to fit in there. We just swapped out the shorty with a longer 90-degree zerk fitting that we got at Napa Auto Parts.
Lastly, a trade off on good thick powder-coating is sometimes it's too thick. You may need to grind off some of the paint to get your bushing and/or ball joints to fit. We did NOT have that problem but you may.
So far we're very impressed with the quality and hard-to-believe warranty that come with Super ATV A-Arms. Our build is coming together nicely. Why not check out some of the other content we have available including the following review pieces: Super ATV Heavy Duty Tie Rod Kit, Super ATV Rhino 2.0 Axles, Double E Racing Shock Mods, Keller Performance Ball Joints, Garage Product Bushings… and in case you missed it guess what we call the Most Important Mod you can make to your machine?
And of course be sure to click over to superatv.com to learn more and order a set.
Comments
comments