2014 Kawasaki Teryx 800 Ride Review
I'm really excited to be able to tell you what I think of Kawasaki's new-from-the-ground-up Teryx in our new-from-the-ground-up UTV-specific website. As one of a few dozen members of the media that was invited to the legendary Hatfield McCoy Trails system, I got to properly test the machine on a 2-day point-to-point 100 mile journey.
As time and miles progressed while traversing the Appalachian Mountains, the more I appreciated the effort that went into the machine and the ride intro. So much so that I believe several people at Kawasaki, along with myself, just may consider the Teryx as one of Kawasaki's best products in the company's history! With that, let there be no side bar slot in an ATV-website for Kawasaki's flagship UTV. Welcome to UTV Scene.com, where we're proud to showcase Kawasaki's hot-new Teryx front and center in a site devoted to UTVs and nothing but UTVs!
And now let's get started on why I like the Teryx so much….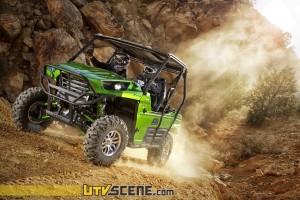 Engine and Drive Train
First off get it out of your head, this machine is so far from the original 2008 Teryx 750 that it could almost be called something else. In fact that may be the one and only thing I would change about the machine. I'm not in love with the name but boy did they get the important stuff right.
I'll start with my favorite upgrade, the Teryx's engine. It's a throaty fast-revving high-performance V-twin 789cc engine with high-flow four-valve cylinder heads and digital fuel-injection, which offers excellent throttle response and automatically adjusts for changes in temperature and elevation for optimum performance in a wide range of environments.
Trust me this baby performs. It churns out fun, usable power that seems effortless.. Up from 749cc, the new engine makes 26% more power and 12% more torque over last year's model. The power comes on strong down low where you need it. Mashing the pedal to get over obstacles, up hills, through mud and over rocks is a blast. The exhaust has a distinctive powerful sound that is downright addictive. I never pulled a trailer or ripped a stump out of the ground with the machine, but I got the impression that it would yank anything it was told to.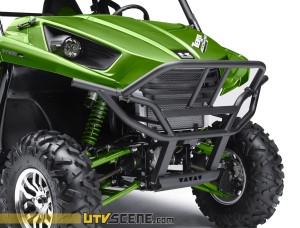 Kawasaki optimized the camshaft profiles, revised the Teryx exhaust headers and increased the compression from the old model, this allowed the Teryx to consistently deliver effortless power. And yet the added torque hasn't upset the Teryx's super smooth character in the least, as its 90-degree V-twin design retains perfect primary balance to help keep things comfortable for the driver and passenger during long off-road treks. And all this added power is actually more fuel efficient than the old engine. I was on the gas a lot during those 100 miles and used less than five gallons. By the way the Teryx holds 7.9 gallons of fuel.
Routing all that torque and power to the ground is done with the a old stand by CVT, Continuously Variable Transmission, a centrifugal clutch assembly and a three-mode electronically selectable 4WD system that features instant access to 2WD, 4WD and 4WD+Front Differential Lock modes for optimum gearing and traction simply by rotating a dash-mounted switch. Clutching offered instantaneous acceleration and not once did I feel any hint of slippage, even after traversing deep water crossings. The CVT is well-known for its quick response and direct engine "feel" in sportier riding situations, and its unique engine braking capability can increase driver confidence on descents, while turning and in rough conditions. So whether it's climbing a rocky uphill trail, negotiating a wet stream bed, hauling lumber for fixing fences on the farm, or just plain hauling down a wide-open two-track trail, the Teryx has an ideal drive train mode to handle it.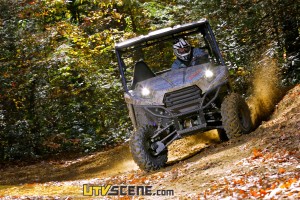 Electronic Power Steering (EPS)
I was impressed with how precise Kawasaki was in the steering department. At low speeds you can steer the machine with one finger, it's that easy, but as speeds increase steering is tightened up and the EPS system offers damping like a steering stabilizer would. This is very helpful when your battling rocks at higher speeds, so steering kickback and bump-steer is greatly reduced. The Showa-built system eliminates the need for a power-steering pump, it gets its assistance electronically from the battery so your steering isn't going to rob the engine the slightest. And it is only active when the engine is running, so there's never any battery drain. I fell in love with how well the machine handled and steered. Kawasaki's EPS system is pretty slick. Speed and torque sensors determine the amount of steering assistance you feel at the wheel. A lot at low speeds and less at higher speeds, just like a state-of-the-art sports car.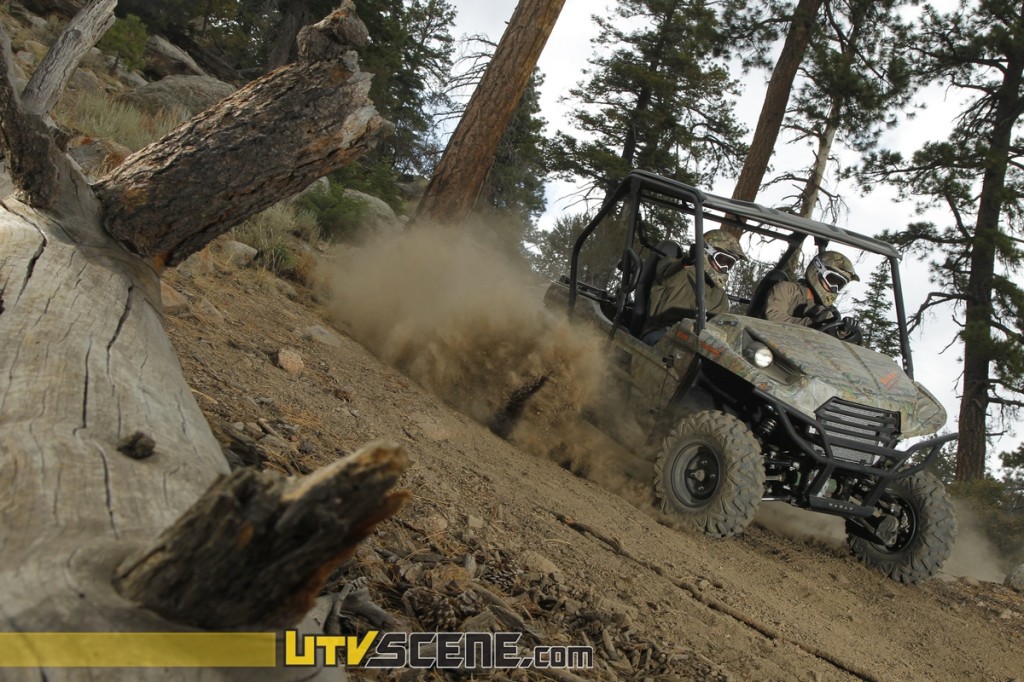 Comments
comments