Pimp My Rhino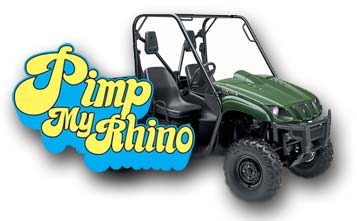 By Jorge Cuartas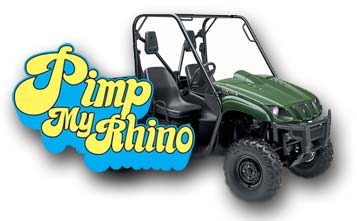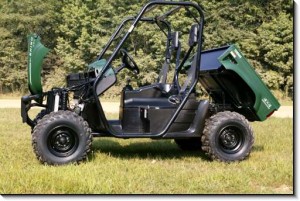 Even in stock form the Rhino is pretty trick. In this day and age having a pimped out vehicle is a must, just about every TV show that's worth watching revolves around turning ordinary vehicles into extraordinary ones. With this in mind we decided to "Pimp" a ride of our own. Choosing a vehicle was the hardest part, and after much debate we narrowed it down to either an ATC 70, an LT50, or a Yamaha Rhino. After weighing the options, and realizing that we'd probably look ridiculous rolling around on a pimped out mini, we decided to go with what we feel is the greatest pit vehicle to ever roll off of an assembly line; the Yamaha Rhino.
In stock form Yamaha's go-anywhere-Rhino is simply awesome! If you ever get a chance to drive one of these babies, go for it! You wont believe how well the Rhino takes on whatever you point it at. And don't get us wrong, the Rhino looks fantastic, but lacks pimp appeal.
Unlike the rust buckets that West Coast Customs and Jesse James get to "Pimp", we had the pleasure of starting with a brand new piece of modern day equipment. The beauty of not having to fix a single thing can not be put into words. Our project was purely a cosmetic make over with a little functionality thrown in to boot.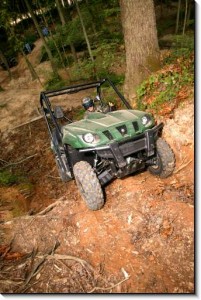 Assessing our needs and wants
Yamaha's Rhino 660 handles the rough stuff with ease. The primary goal with this project was to put the "FUN" back into function. Two things immediately came to mind; serious off roading & night riding. After all, the only thing more fun than trail riding, is trail riding at night.
Our secondary goal was to give the Rhino some much needed "Pimp Appeal" and a small dose of "Bling".
Nothing screams "Bling" like a set of big wheels and tires, and what pimp mobile would be complete without a plush interior, graphics scheme, and sound system?
Pimpologists
Once the plan was laid out, it was time to do the hard part. Finding the necessary parts and materials to complete the job.
Our first step was to enlist the help of "Bling Master" Craig Peterson of ITP, Steve Nessl and Andrew Bossenmeyer of Yamaha Motor Corp., & "Graphic Guru" Scott Althen (of Free Agents Fame). Mechanical Genius Brad Skelton would be handling the majority of the actual installation and implementation.
Yamaha Genuine Accessories Spotlight & PIAA Performance Lighting Kit
The PIAA light kit is awesome, the 60 watts of lighting don't sound like much, but when used in conjunction with the headlights, it's more than you'll ever need. The roll bar mounted spotlight gives you that cool rent-a-cop feel and comes in handy for blinding anything that gets in your way. The fact that you can unplug it and use it in your car or boat makes it even nicer. Installation was a breeze.
Yamaha Genuine Accessories Digital Meter Kit
The digital dash is quite possibly the coolest accessory on this vehicle. The multi function LCD instrument panel has indicators for both the speedometer & odometer, dual trip meters, a clock and hour meter, drive indicator lights for high and low range, neutral & reverse lights, a coolant temperature light, and a parking brake light. The best feature of the digital dash is that it plugs right into the Rhino's stock wiring harness. Dash pimping completed. Lets move on to the seats.
Yamaha Genuine Accessories Seat & Headrest Covers
When properly pimping your ride, there are only two interior fabric options; Leather or Crushed Velvet. Unfortunately neither fabric is very well suited for outdoor applications, so after some serious debate we decided to sacrifice some "pimp points" and go in a function over fashion direction. What the Rhino ended up with is a set of Yamaha's deluxe seat & headrest covers, in fashionable money green. The neoprene is way better suited for MX races than any other fabric. Installation was once again a piece of cake, all they required was velcro and patience.
Protect ya neck
Yamaha Genuine Accessories Molded Sun Top & Windshield
With the interior about finished, we decided to move towards protecting it by installing Yamaha's Molded Sun Top and windshield. The extra thick 6mm coated poly carbonate windshield installed easily and does a great job of keeping the dust and dirt out of your eyes while the top keeps the sun and elements out of your interior and off of your neck.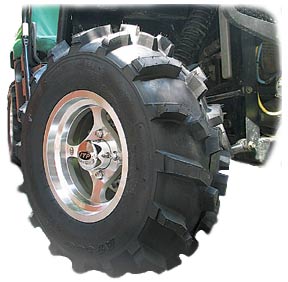 ITP 589 MS & ITP C Series Wheels
No ride has ever been officially "pimped" without the installation of high end wheels and tires, and when it comes to off roading it gets no higher end than ITP's amazing 589 MS tire matched to the incomparable C-Series Type 6 one-piece aluminum wheel. The 589 MS is ITP's revolutionary new Mud & Snow tire: it's the lightest high performance mud and snow tire on the market. Lighter weight means less horsepower loss and reduced wear and tear on your drive train! The wide-open, extra-deep 2-stage lug and aggressive, self-cleaning tread pattern provide unmatched traction and handling when the going gets rough (after all, you don't want to spill your pimp juice). The 589 MS combined with the of the incredibly strong yet light weight C Series wheels definitely set our Rhino off.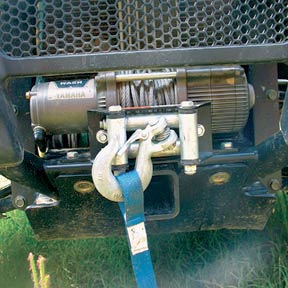 Yamaha Genuine Accessories Winch & hitch mount
There are few things you can install on your Off Road vehicle that are more important than a good winch. And no name is more synonymous with good winches than Warn. The 3000 Lb. Warn winch is unstoppable making the Rhino not only "pimped" but idiot proof as well. Chances are the ITP tires will render the winch useless, but it's nice to have a back up plan. The winch mount actually incorporates a 2" hitch receiver adding even more usability to the package. And if that's not enough, there's a remote.
Graphics, Sound, & trinkets – Godliness is in the details
In order to complete this project, we realized we'd be needing a few more outside the industry things. Mainly a sound system, and secondly a graphic scheme that would separate our Rhino from the rest. The first part would be easy, every Best Buy & Wal-Mart in the country stocks a full line of car audio accessories and boom boxes. The difficult part was finding someone to make us some cool graphics, after settling on a scheme we went to Scott Althen. Within 24 hours our vinyl was not only cut, but it was professionally installed. The Rhino ended up with a ton of other details, cup holders, hitch covers, and just about every trinket you can imagine was bolted on. In the end, we couldn't have done it without our friends at ITP & Yamaha.
Learn more about Yamaha's accessories
Comments
comments