Yamaha YXZ1000R Nearly Wins Overall at UTV Rally Raid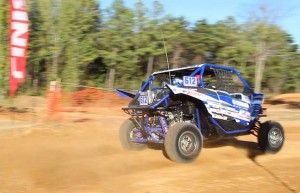 Round six of the 2016 UTV Rally Raid (UTVRR) Series was once again held at Hawk Pride Off-Road Park in Tuscumbia, AL. As stated in other race reports, this park is top notch and well worth the visit, even if you would just like to trail ride, and I highly recommend you come check it out for yourself.
The early spring and late fall races always seem to be the best, as it was for round five, this race was held on excellent track conditions and we enjoyed perfect weather. For this round, the park added an additional mile to the course and big improvements were made to one of the newer sections. The course was absolutely incredible! Kudo's to UTV Rally Raid and to Hawk Pride for providing us with a fantastic race course.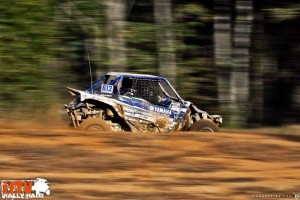 For those that have kept us with our team's progress on the all-new Yamaha YXZ1000R, you'll remember that we had a brake issue at the last round that cost us the win. Our brake problem ultimately arrived when the nut on the aftermarket axle we were using came loose for no apparent reason. This happened after replaced everything on the front end of the car, trying to eliminate any possible future problem. After going over the car with a fine tooth comb, Anthony Rick (our Crew Chief) nor I could find any reason for the axle nut to back off. There was dried Lock-Tite still on the threads and once we re-tightened the axle nut on lap three of the previous round it held with no problems. Regardless, everything was replaced on both sides (brake calibers, rotors, spindles, and ball joints). The only thing we didn't replace was the axles since both CV's were good and there were no visible signs of wear. We chalked it up to a fluke racing mishap. Both of us felt good about how well we meticulously prepped our Yamaha YXZ for round six. We decided to make no setup changes for this round. This meant we would be running the exact same setup for two consecutive rounds for the first time all season. Keith Little (my co-driver) and I both thought the car felt too incredible at round five to make any changes.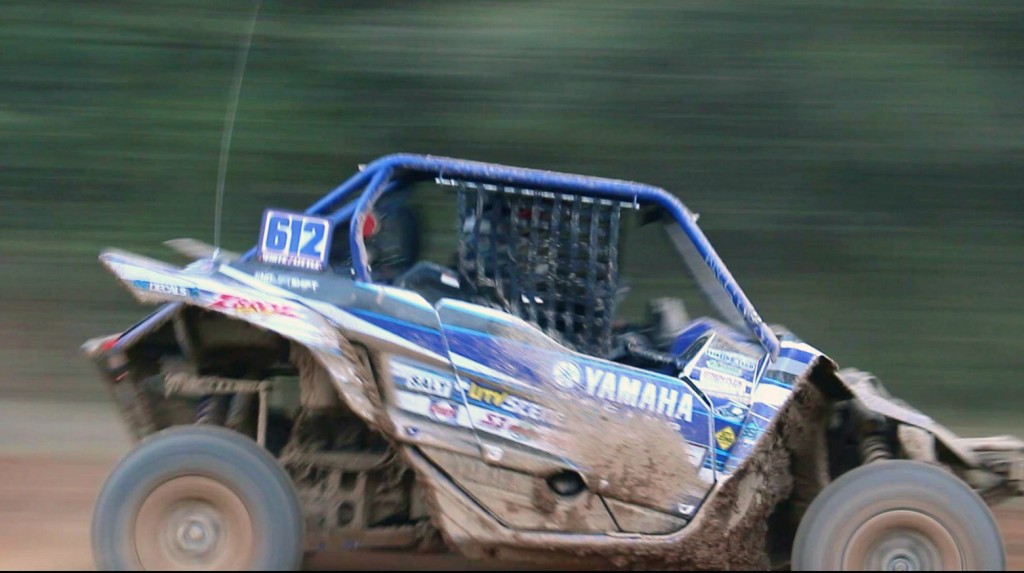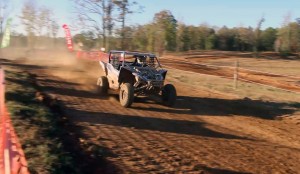 At the start of the race, I pulled the holeshot on fellow YXZ driver Mark Barnett, who sits in third place in the points battle behind us. The course was a little wet and slick in places, so I tried to be smart and set a decent pace but not try to set the world on fire. We were ten points out of the championship coming into this round and not only did we need to do well, but we couldn't afford anymore issues. Especially, self-inflicted issues. As I settled into a nice easy pace, I quickly realized how good our Yamaha YXZ was. What an absolute gem of a race machine! It has taken us all year to get it dialed in like we wanted, but I honestly (and I told Anthony this on the way home) feel more confident in this car and the way it handles than I ever did with our old Polaris XP1000. Considering I had two and a half years of R&D in that car and less than eight months in this one, that says a ton.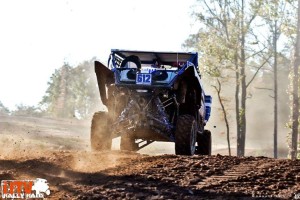 My next three laps dropped by over a minute as I began to push harder and harder. The good thing is, I was still not on the edge. The car was handling so well, my lap times dropped and I hardly realized I was going a ton faster than at the start of the race. Since the length of the course got longer, I had a lap less in the car than normal. At first I wasn't sure if I was just using more fuel than normal, because about the time I got really comfortable, it was time to pit.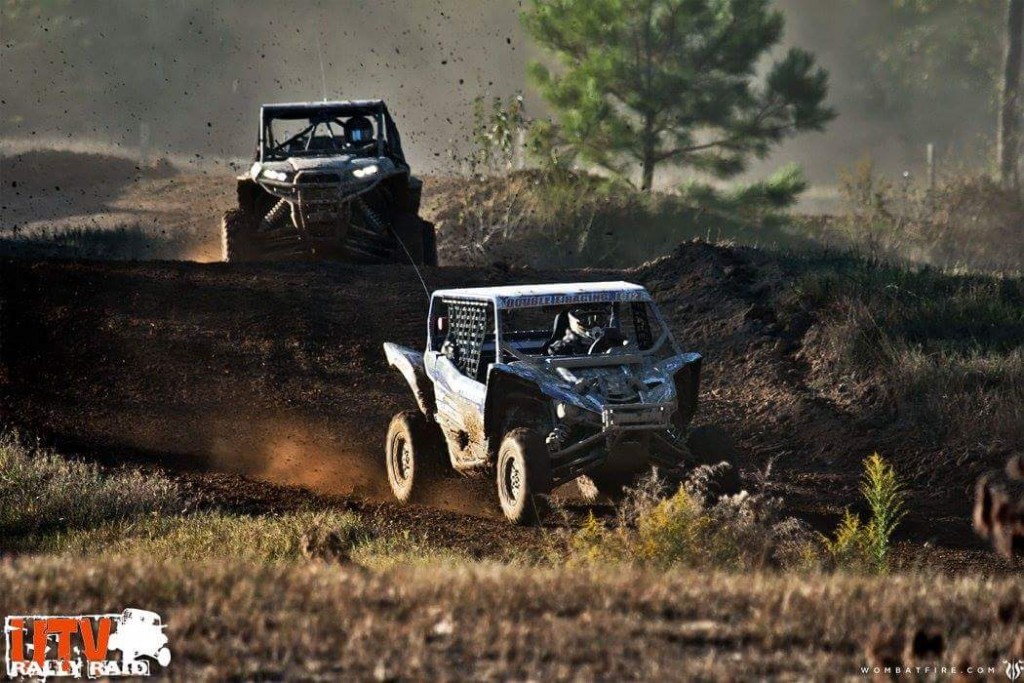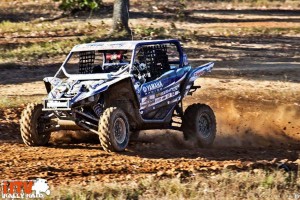 At our pit stop, everything went smoothly. As Keith and I swapped out of the driving seat, Anthony filled the car and Curtis Mattei (a new member of our team) checked over the car and cleaned the head lights for clear vision at night. Once Anthony gave us the all good, Keith took off and picked up right where I had left off. He sat set an extremely good pace and everything was going smoothly. At the three hour mark, we checked in on the times when he crossed the start/finish line and there was only six seconds separating him and Tim Farr, in his factory-backed Can-Am car, for the overall lead. We also had almost a 15 minute lead on the second place car in our class (which is the non-turbo class). There was plenty of nervous anxiety with Anthony and I both at this point because in the last two years, we have been in this position several times only to have something catastrophic happen. This is one of the reasons I have always believed winning a UTV Rally Raid Championship is one of the hardest Championships to win. A lot can go wrong when each race is four hours long, and I might add, especially in that crucial fourth hour.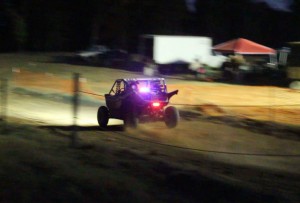 As Keith came around back in front of us, we could tell he had slowed down. Anthony, Curtis and I all had to take a deep breath as we all thought, "what now". Luckily, Keith radioed in and said he had a flat on the drivers' rear tire so there was nothing major wrong. Anthony let him know that he had a big lead and suggested to just ease it back to the pits so we didn't hurt anything on the car. As he made it back to the pits, Anthony and Curtis changed the tire, I put fuel in the car and made sure Keith was good to finish up with the win in our class. We let him know there was less than an hour left and he still had a nice lead. He took back off and when he popped out of the first woods section in front of us, everything looked great, – we were happy.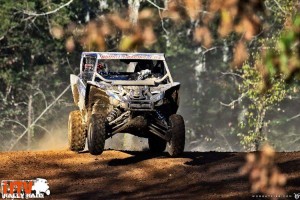 Then disaster struck! He radioed in several minutes later and said he lost brakes and that he thought the axle nut backed off again, like it did at the last round. I told Anthony to tell him to ease it back and take the checkered flag – we just needed to finish. Several minutes went by and he radioed in again and said he lost the front drivers side wheel. Needless to say, Anthony and I were completely dejected. The feeling of helplessness and disappointment can't be explained. We had worked so hard and basically had the same issue as the last race, which just didn't make sense to any of us. We soon found out that this time the nut didn't back off, – the axle snapped at the threads. The only saving grace in this was Keith was able to make it back to the finish line on three wheels and since we had such a big lead, we still managed to finish third in our class.
As I've always agreed, – you win your championships on your worst days. Somehow, we managed to gain five valuable points in all of this and are now only five points out of first. We now control our own destiny. If we can win (a huge IF) the last two rounds, we will win the title!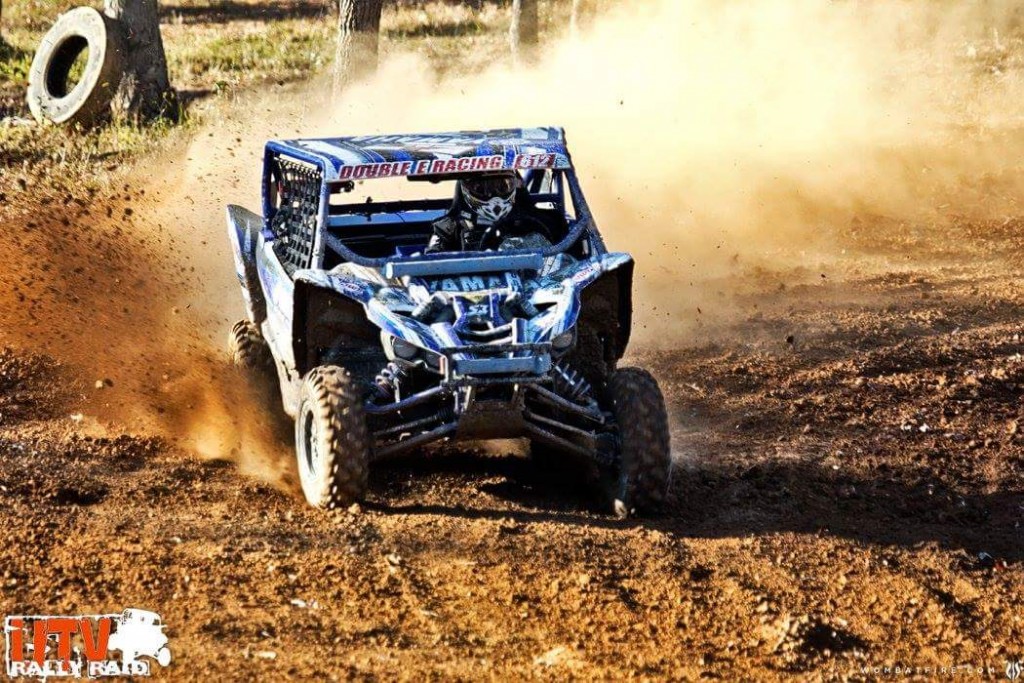 I learned a very valuable lesson in all of this. Switching from OEM to what is perceived as a "better" product is not always the wisest move. The axles we were using were not OEM Yamaha axles. I will not name the company, but to say I am upset is an understatement. One thing is for sure, I will have Genuine Yamaha OEM axles at round 7, that I can promise.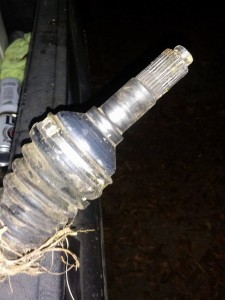 I can't explain enough how happy I am with the new Yamaha YXZ1000R. I know we have had some issues this year, but none of them were Yamaha related. Round 1 – we finished 2nd with no issues in the first race with very little testing. Round 2 – a mud race, and I am responsible for not moving the radiator to the rear. I was begged and pleaded with by Anthony, but I made the call. Yes, this was a Yamaha problem, but we knew about it and I refused to fix the issue before hand (Self Inflicted). Round 3 – we were leading with thirty minutes remaining and Keith accidentally got cross rutted and hit another car as he passed them, causing us to snap a tie rod (Self Inflicted). Round 4 – we were leading with thirty minutes remaining and I didn't think about giving Keith fuel when he pitted, so he had to basically idle to the finish on his last lap (Self Inflicted). Round 5 & 6 – aftermarket axles! For us to be in the position we are in, fighting for a championship, in a brand new car that we have basically been race testing all year, I can't give enough props to Yamaha. The reliability has been incredible on the OEM parts. I still say that if I had to buy a new machine of any of the available machines it would be a Yamaha YXZ1000R.
It goes without saying, we couldn't do it if it wasn't for our sponsors. Thank you for believing in us and making his happen: UTV Scene.com, Yamaha Motor Corp., Double E Racing, GBC Motorsports, DWT Wheels, Driven Racing Oils, Zbroz Racing, S3 Powersports, ATV Zone, Hess Motorsports, Salt Number, Custom Metal Works, JC Racing and Nstyle Designs.
Comments
comments