Yamaha's YXZ1000R Debut at UTV Rally Raid
Round one of the 2016 UTV Rally Raid (UTVRR) Series was held in Tuscumbia, AL at the Hawk Pride Mountain Offroad Park. The Hawk Pride facility is extremely nice with RV hookups, cabins for rent, nice bath houses and there's even wash racks so you don't have to bring the dirt home with you. The course for the 2016 UTVRR season opener was approximately 9.5 miles long and featured a little bit of everything; including an awesome short course section, fast roads/power line stretches, tight woods, rocks, elevation changes, off camber turns and a really fun flowing course in general. The track wasn't for the faint of heart, and you definitely needed to be a good driver to get around the course fast.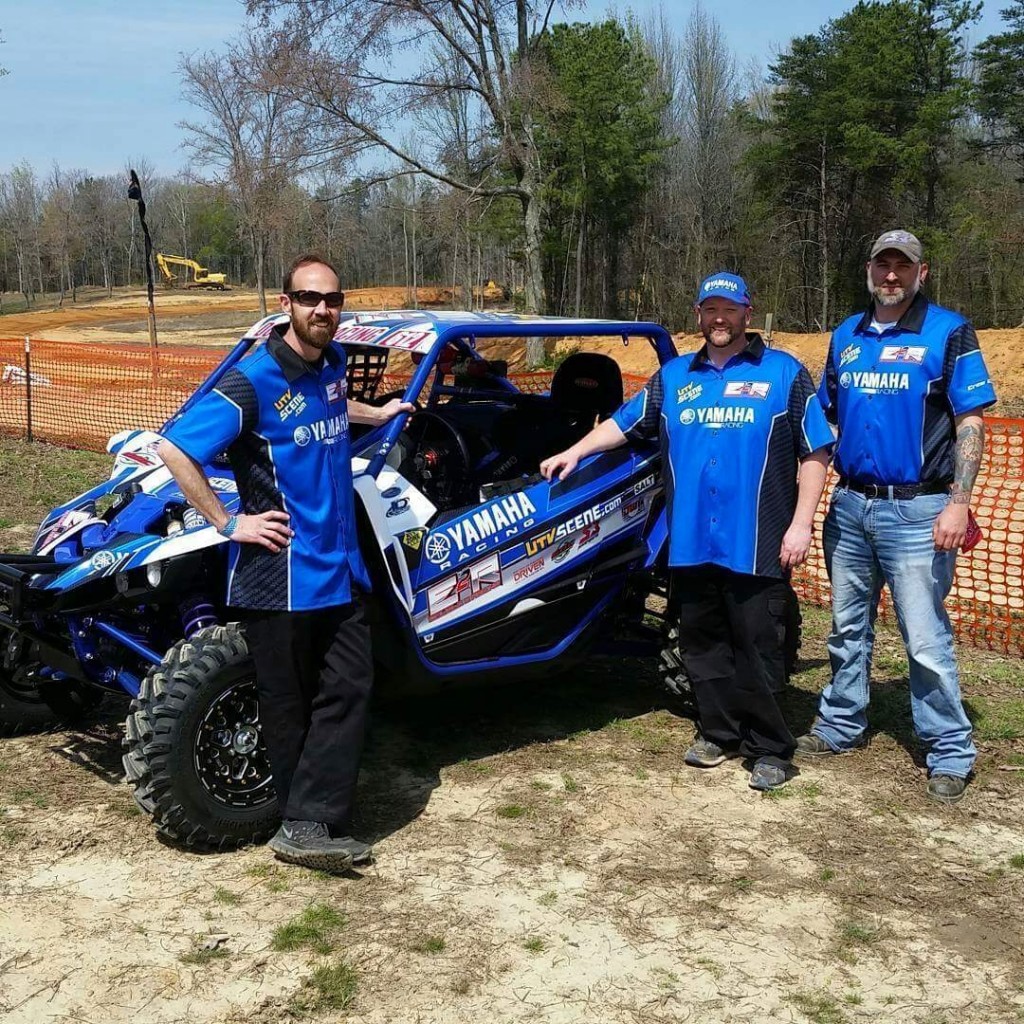 For those not familiar with UTVRR, it is an endurance style race lasting four hours. The races start two hours before sunset, so ideally teams endure two hours of daylight and two hours of night, this is the added element that everyone seems to love most about this unique series. Teams start two at a time in thirty second intervals, each being on their own adjusted time. Pit stops are allowed once per lap, if needed, but the less a team is in the pits, the more laps they complete, which means faster times and better finishes. I love this format of racing for UTVs.  Personally, I feel it's one of the best formats and race series available in our country, perhaps the world. Generally, the attrition rate is a great deal less than other forms of UTV racing and the comradery amongst teams is fantastic.
UTVRR changed their class structure for 2016 to attract new drivers to the series. Instead of putting all the 1000cc teams in one class, as in the past, there are now three 1000cc classes:  1) Unlimited (Turbo), 2) Pro 1000, and 3) 1000 stock. There is also a 900 class. We decided to run the Pro 1000 class, as Yamaha suggested. There were a total of thirty five teams and forty three total drivers at this year's season opener. We're expecting entries to increase as more and more people are learning just how much fun this series is. At round one the Unlimited class had fourteen teams, the Pro 1000 had twelve teams, 1000 stock had four teams and the 900 class had five teams.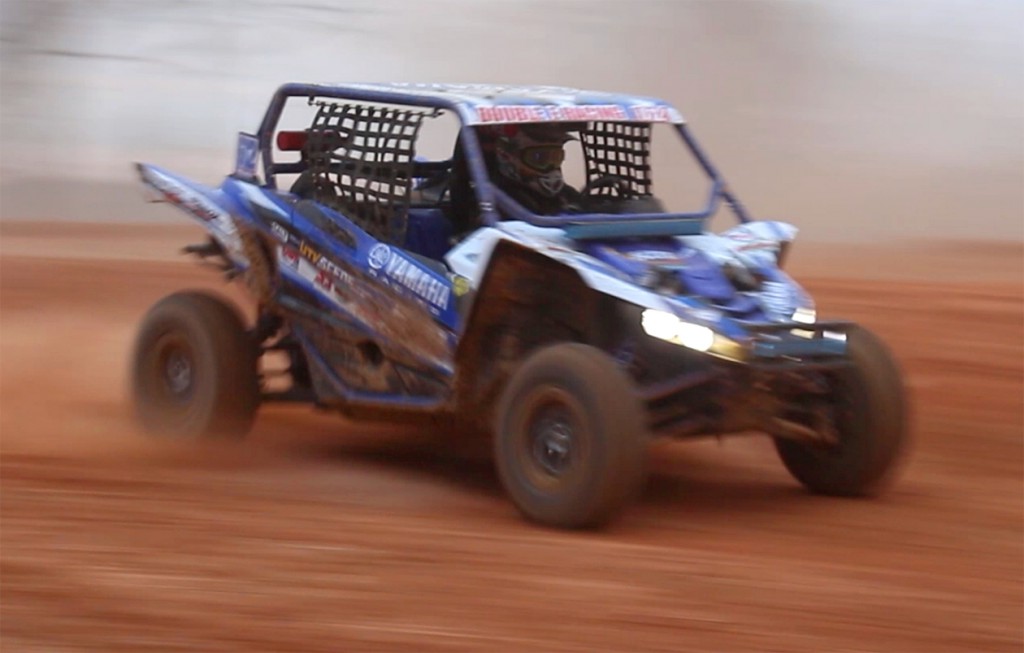 The UTV Scene / Double E Racing Team received our new Yamaha YXZ1000R the last weekend in January. Since it needed to be built and tested by March 5th we had just about a month's time to get everything done, especially if we wanted to display the car at the largest off road race in the world, the Mint 400 in Las Vegas. I'm happy to say, we did it. February was sure was a busy month! It got a little stressful at times, but our crew chief, Anthony Rick really busted his butt to get our YXZ finished so I could go do a little suspension testing and shake the YXZ down before we left for Vegas. We basically got about sixty miles of seat time in the YXZ and dialed it in as well as we could. Since Keith Little lives six hours away and had a tragic accident happen at his business, he wasn't able to drive the YXZ prior to the race.

We went into this first race hoping to feel the YXZ out, find out what we could do to make it better and get a better handle on suspension setup for future rounds. The goal for the season is a Championship and with our experience we understand those are not won at the first round of a series. We just wanted to finish with a good solid result and gain as much information as possible.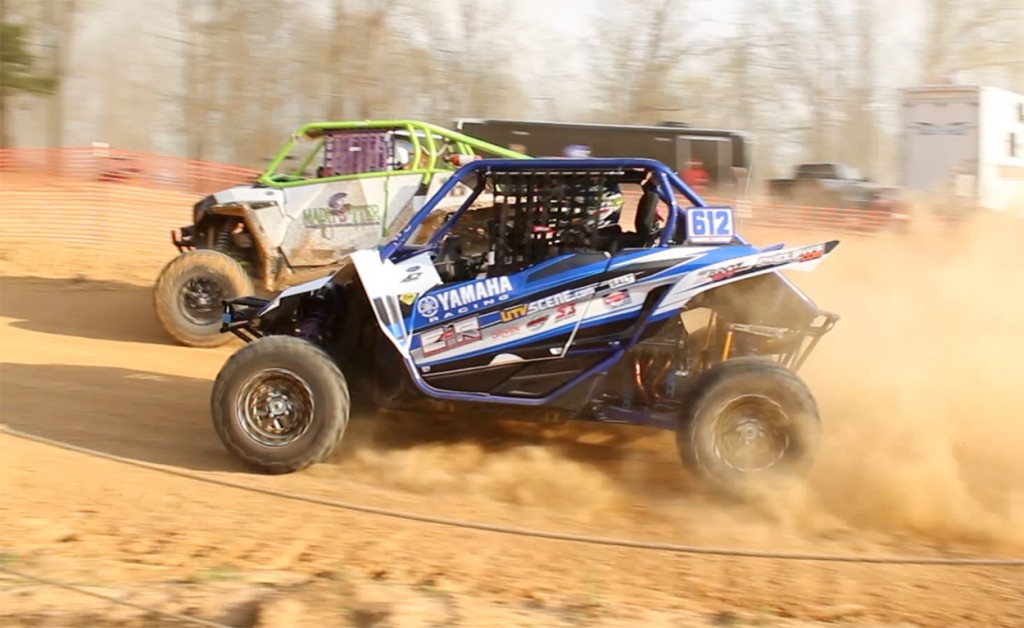 On the grid, we drew outside of row five for our class, which meant we were actually on row twelve, since the Turbo entries start first. Being from Louisiana and what our state had just gone through, it was hard for us to believe how little rain northern Alabama had received. The UTVRR crew put water down before the race, but the dry soil completely soaked it in, so we would be contending with a brand new car in dusty conditions.
I always drive first. We do this for a couple of reasons: 1) I have problems with glare at night which means Keith is faster than I am at night, and 2) I'm bigger than him so when we swap it makes it easy for him to jump in and quickly snug up the seat belts.
As I pulled up to the flagman, I realized I had never tried to launch the YXZ from a dead stop. Once he lined me up for the start, I thought back to my ATV racing days, you know the drill, rev the RPMs to just shy of rev-limiter-territory, while slipping the clutch to that sweet spot of engagement – all while heavily concentrating on the flagger's slightest move, before dumping the clutch, then picking off gear after gear near the machine's red-line point. Guess what? Just like my race quad days, it worked. I got the jump on the RZR 1000 next to me and pulled him out of the hole. Then, already only a few seconds into the race, I made my first mistake; I missed a gear! Luckily, the YXZ likes to rev and once I clicked that next year, I caught right back up to the space I lost and started to pull away from him from there. Wow, I thought to myself, I missed a gear like a dummy and still managed to out run a pro level RZR XP1000. I was loving the Yamaha and smiling ear to ear under the helmet, thinking off how awesome our YXZ was going to be for us.
Even though I was trying to be easy with YXZ and feel things out, I quickly started coming up on cars that started in front of me. In Rally Raid, a big rule is for slower cars to move over if the faster car uses their horn/siren. Very few times do you ever encounter a car that will not move over. Overall, this was true at this event as well. However, I did have one car that did not want to get out of the way.  My time in our YXZ was winding down and after following for about a half lap with the siren on, I turned it off and backed off the throttle since I was about to pit anyway. That story is for another day, but long story short, the seconds lost did not cost us anything. Endurance racing a UTV is all about being smart and finishing.
Back to my time in the YXZ, I settled into a fairly easy pace and started playing around with how to take sections in the YXZ. I was wanting to see which way was faster for me to drive; revving it or lugging it or a combination of the two. As I said before, the goal for this round was to learn the new machine and come out of round one with some decent points. That meant figuring out its shift points, how the YXZ reacts when I pitch it or drive it in a corner, how late can I brake going into a turn, do I need to roll on the throttle coming out or stab it hard, all those kind of questions and more. I was also trying to pay close attention to what the suspension was doing so I could take mental notes and compare with Keith after the race. He and I have worked together for so long, we tend to like very similar setups and he is extremely good at feeling what a vehicle is doing. The key is, are we feeling the same things? If so, it makes it easy for me to dial things in between races. As I started clicking off laps, I really started to feel comfortable in the YXZ and started to find my groove. I had to keep reminding myself not to push too hard because we didn't want any problems this first race.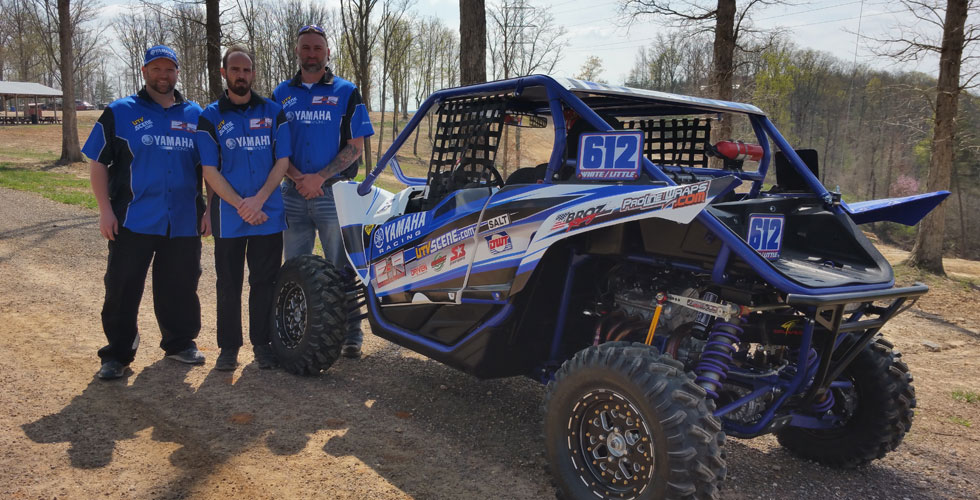 One thing that we had no idea about was fuel consumption. We didn't have time to see how far we could go before the race and I had heard and read all kinds of different stories from one end of the spectrum to the other. Each lap I kept looking at the gauge. The YXZ seemed to get about the same mileage as I did in our old RZR 1000. After about three laps, I knew I was going to be able to make it to around the two-hour mark, which is when we like to pit. That is half the race, so it gives Keith and I equal seat time behind the wheel and it is right before it gets dark (where my glare issues come into effect). When I got near our pit spot and saw two bars on the fuel gauge, I radioed into Anthony and said I would be coming in on the next lap. I ended up completing six laps. This put me coming in at around the 1:50 mark, almost exactly half way – perfect, I thought. I still had one bar left on the gauge and think I probably could have gotten another lap in, but it was no use in pushing the issue.

As I came through the timing gate, I started unbuckling my hardness. Once I came to a stop, I jumped out while it was still in gear. That's one of the nice things about the Rekluse Clutch System that we installed in the YXZ, not having to even worry about finding neutral saves time and stress. Keith jumped in and I helped him get the harnesses tight, Bryon Peck hooked up the radio to his helmet, Anthony Rick fueled the YXZ up, Mitch Prine, along with Heath and Devin Hayden helped pull tape off the lights and got us whatever else we needed. We take pride in our NASCAR-like pits stops, and this first one of the year wasn't too shabby at all. We were in the pits for about one minute and 30 seconds, and we plan to shave more time off of that at future pit stops.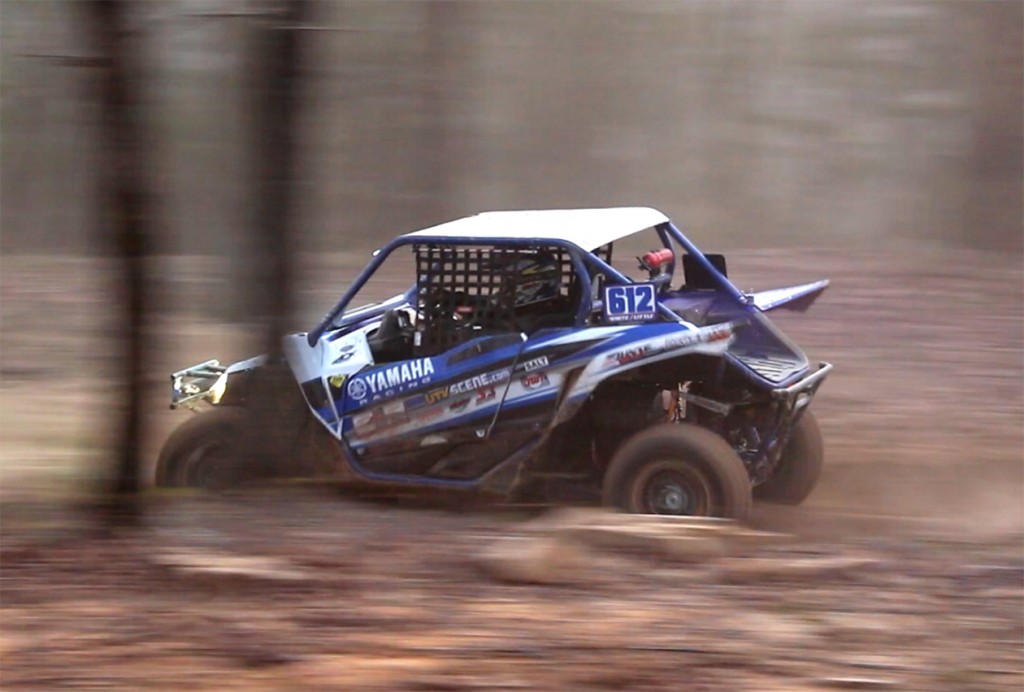 Keep in mind, as Keith picked off gears like he had been racing the YXZ for years, he has never been behind the wheel of one, other than sitting in it, while I showed him where all the switches and controls were. It was pretty evident as he came back around after his first lap, that he felt at home with the YXZ. Keith is no stranger to going fast, especially in a Yamaha, as he won Yamaha their first ATV National Championship in 2004 on the then new YFZ450. He looked smoking fast in the YXZ and I was loving every minute of it just as much as him. So much for our strategy of us taking it easy, I thought to myself. Lap after lap we started making up time on the leaders and his lap times started dropping considerably.
We lost radio communication with him and wanted to see how he was doing on fuel. As he came around on lap eleven, Anthony tried to reach him, but no luck. I decided to go old-school, back to our ATV days when I was Keith's mechanic, and grabbed a pit board and wrote "fuel? 30 mins, 2 laps" on it. Knowing we had 30 minutes remaining and possibly two laps. I ran out to the course and positioned myself in a spot where his lights would hit me before he came through scoring. When the lights hit me, he slowed, read the pit board and decided to stop for a splash of fuel just to be safe. That pit stop only lasted about fifteen to twenty seconds, so it wasn't a huge waste, and like I said, better to be safe than sorry. That wound up being his last lap, as the checkers came out before the four hours were up. Basically, no one had ran a lap under fifteen minutes all night, so when Tim Farr, the overall leader, came through at the 3:46 mark, there was no use sending him back out because he was not going to finish that lap in under the four hour time limit.
When Keith left the pit on that last fuel stop, we were in second in the Pro 1000 class and fifth overall. Anthony and I were almost like two school kids in the pits with excitement, but we knew all too well, that last lap can make or break you (we had three podiums snatched from us last year on the last lap). As we nervously awaited to see his headlights coming out of the last section of woods, we both had our fingers crossed. And then those beautiful Yamaha lights appeared and we knew we had put the Yamaha YXZ on its first Professional cross country based podium. We finished second in Pro 1000 Class and fifth overall. It was more than we ever expected with our first time racing the machine, and we could not have been happier with the performance and reliability of the YXZ. To make an even stronger statement for Yamaha, there were a total of ten YXZ's in the thirty five car field and every one of them finished with no issues. That is a strong statement for Yamaha.  Four hours of cross country racing is a lot for a UTV.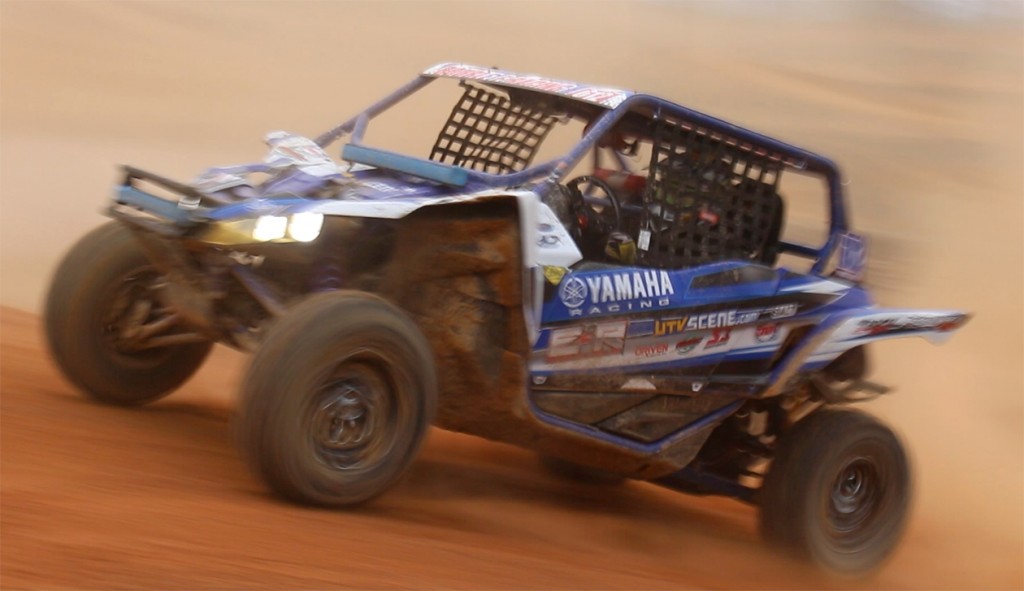 I can't thank everyone enough that has helped us out. It is truly a team effort, that's for sure. Special thanks to Justin George at Custom Metal Works and Greg Corkern. They designed and built mounts for our Double E Racing sway bar that I didn't think we were going to be able to get done before the race. Greg also spent a Sunday afternoon building us a front bumper so we could run our Yamaha Halo light bar. Mark Barnett for providing me a place to test the YXZ.  Cody Taylor and James Johnson at S3 Power sports for working after hours, building us the best cage made. Marty Hart for giving me so much fantastic feedback on the shocks I built for him, which helped me dial ours in. Danny Rick for running errands and getting me parts. All of our friends and families for being understanding of all the time spent to get this build ready in only a month, and for helping out with everything you could and for being patient with us, especially me. Finally, even though he is already an integral part of this team, I want to personally thank our crew chief Anthony Rick. There is no way this YXZ would be what it is if he didn't sacrifice so much of his time preparing our Yamaha for battle. I truly can't thank all of you enough.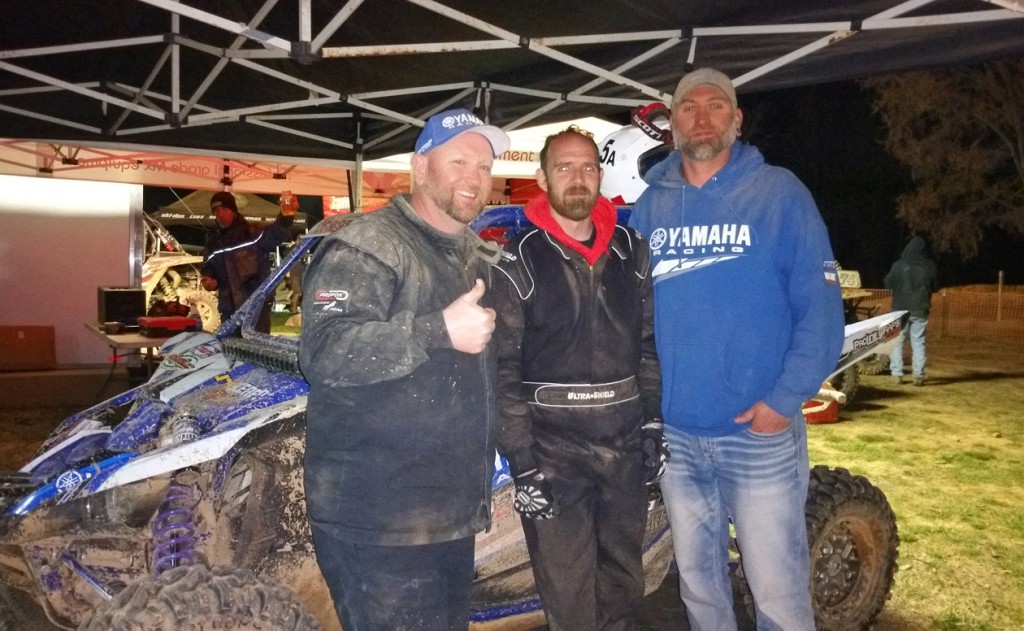 It goes without saying, we couldn't do it if it wasn't for our sponsors. Thank you for believing in us and making his happen: Yamaha Motor Corp., UTV Scene.com, Double E Racing, GBC Motorsports, DWT Wheels, Driven Racing Oils, Zbroz Racing, S3 Powersports, ATV Zone, Hess Motorsports, Salt Number, Custom Metal Works, JC Racing and Nstyle Designs.
Learn more about the UTV Scene Double E Racing Team and their new Yamaha YXZ1000R here, and look to UTV Scene for many future features on our #612 UTV Rally Raid Pro Class Yamaha YXZ1000R
Learn all about the UTV Rally Raid at their website: utvrallyraid.com
Comments
comments