Project InspirACEtion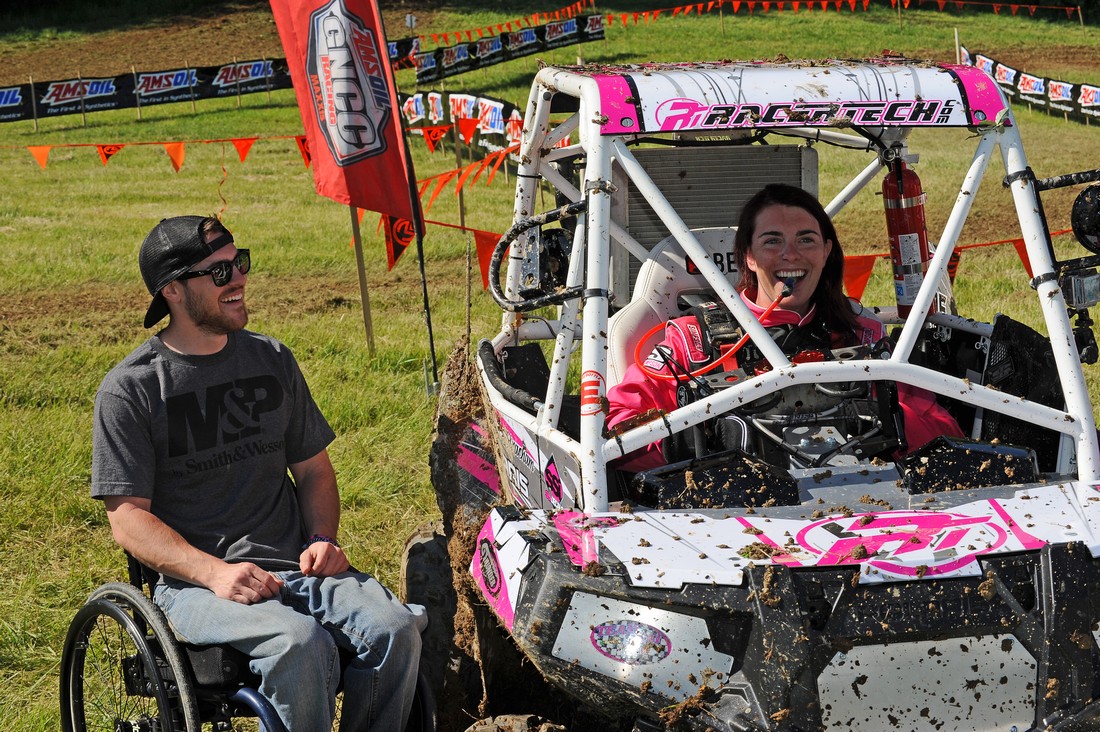 photos by John Pellan, Amy McConnell and Andy Prins
"Ever since I first saw the Polaris ACE I thought that it would be perfect for someone that doesn't have use of their legs. It's a simple, go-anywhere machine that doesn't cost a fortune yet delivers a priceless sense of independence and freedom," recalls UTV Scene's John Pellan about how this project got started. As you may have already heard, GNCC WXC front-runner Jesi Stracham (pronounced Straw-Ham), was left paralyzed after a motorcycle accident earlier this year.
A few months after her accident, UTV Scene was invited to participate in a Polaris ACE Viral Video Contest, in which the video with the most Likes gets a new Polaris ACE 570. "As soon as I read the invitation to the contest I thought of Jesi. I remembered how much she loved GNCC ATV racing and figured the loaner provided by Polaris could allow her to get back some of the life she probably felt she lost forever," recalls Pellan.
After clearing it with Jesi, who got the okay from her doctors and parents, Pellan hit up Andy Prins at Racer Tech to see if he was interested in taking on such a big project with only a few months of time to get it completed. "Absolutely, we have been tinkering with the ACE anyway, and we would be honored to help Jesi get back to her passion," said Andy while recalling the exciting moment when he and his wife, Katie decided to take on the project.
A lot has happened since then, including Jesi falling in love with Jordan Fallis, who was the first person to receive an innovative surgery that could actually allow paralyzed people to walk again. As of this time, Jordan and Jesi are the first two patients to receive this new procedure. While Jesi and Jordan were meeting for the first time and hitting it off extraordinarily well, Andy and the crew at Racer Tech moved all-in on the UTV Scene loaner vehicle. "This ACE will be like no other," boasted Andy about the countless hours of fabrication going on at his Holland, Michigan shop that specializes in UTV lift kits and high-quality over-built aftermarket racing products.
Racer Tech had pretty much moved everything else aside to put 100% of their time and effort toward what we like to call "Project InspirACEtion". The unanimous goal was to make sure Jesi would have everything she needed to be competitive when she pulled to the starting line at the Mountaineer Run GNCC in Masontown, WV, where she would compete against other Polaris ACE mounted racers, all able-bodied former quad and dirt bike racers, in the newly formed Single Seater class.
The class was born at the final round of the GNCC series last year, where magazine editors raced identically prepared ACEs, (click The First ACE Race for more on that). After seeing the success of that race along with an encouraging sponsorship from Polaris the new points paying Single Seater class was added to this year's series. With the new class in place and Racer Tech hard at work, the gears were in motion and the reality of this project coming to fruition helped Jesi and her family by giving them something to look forward to. It was a sense of hope that made the future a lot less dreary, especially since the GNCC Series has been such an important part of their lives for over a decade.
Build it Better
After completely dissembling the ACE in one day, Racer Tech began reassembling the ACE with emphasis on more of a cross country racing capable machine from front to rear, but especially front. A double A-arm system was kicked around but there just wasn't room to make it work. Instead Racer Tech decided to make the MacPherson strut front end used on the ACE stronger. The aluminum uprights were shelved while beefy steel shock uprights that cradle the entire shock in heavy duty hand-crafted steel were tig welded in armored-tank-like-fashion. Bigger and stronger tie-rods and lower arms were replaced with Racer Tech versions, and the machine was gusseted wherever possible. Shocks were also improved, with plenty of help from the winning-est UTV racer in the sport, William Yokley and Pac Springs, (makers of much better springs than your stock shocks come with). The list of improvements are vast with Racer Tech's staple products leading the way. Rigid-mounted front and rear steel bumpers, nerf bars and a custom-built roll cage that surrounds a custom-made fire suppression system. This isn't required for GNCC racing but Andy went the extra mile for Jesi's safety.
World's Best Hand Controls
If you have doubts that a twist throttle would work on the steering wheel of an off-road machine, you wouldn't be alone. By using two 2:1 quickeners carefully fabricated within the short steering stem, the machine now boasts a 4:1 steering ratio. With this, a quarter turn from center to lock allows Jesi to quickly turn the wheels away from danger faster than you can blink, and even hard right hand turns don't interfere with the throttle. This is accomplish with a quality-built adjustable Motion Pro twist throttle paired with a custom Motion Pro throttle cable. All this and the system still utilizes Polaris' power steering and tilt wheel! As for braking, separate on-the-wheel front and rear braking is accomplished with high-quality fully-adjustable Beringer brake levers paired with on-the-wheel mounted Beringer reservoirs. This allows ultimate brake feel and much more control of the vehicle than Jesi's competitors using stock floor-mounted brake pedals. Special thanks to Martin Fletcher at ATV World for assistance in making this hugely successful steering solution for Jesi a reality.
Fit for a Princess
Jesi flew from her home in Mooresville, NC to Michigan to help Racer Tech build the ACE around her size and her new needs. Beard Seats supplied a custom seat that was tilted back to keep Jesi planted and secure. Racer Tech was able to mount it low to allow a lower center of gravity and a better handling machine. A modified five-point, three inch wide Beard safety harness and custom aluminum foot braces help secure Jesi and her legs.
Going the extra mile began to be the daily routine at Racer Tech. When Jesi mentioned seeing past the dashboard was a little tricky especially while going up hills, Andy and crew dove into the project and freed-up a foot of viability by re-designing the entire dash board. All gauges were moved and the key was replaced with a Motion Pro start button located right on the left side of the space-shuttle-looking steering wheel. Speaking of starting, a dual battery 24-volt starting system instantly starts the ACE, this is a huge plus as all GNCC classes start with a dead engine start.
Racer Tech removed the ACE's bed area, this is better known as their "bed delete kit". With this, a much sleeker looking number plate system is used and really helps give the machine a racier look. Speaking of look, as you'll see in the photos the graphics kit on this ACE is as sharp as they come thanks to Ian at SSi Decals. The radiator was moved to the rear and a custom aluminum hood is held in place with quarter turn fasteners. All this combined not only gives the machine its very sharp looks that are complemented in a perfect mix of white, black, gray and pink, but offers quick access to the engine, front and rear suspension and drive-lines. Working on the machine is simple, as a race vehicle should be. Lastly a 3/8" Pure Polaris skid plate is used to help the ACE glide over mud and rocks.
Since the Racer Tech built ACE performs and handles as well as it looks and its steering system is so unique, (a cross between handlebars and a steering wheel), Jesi has said numerous times that she feels like she is actually riding her ATV again, what a compliment that is to Racer Tech and everyone involved in this project. This is far from racing a modified golf cart, if that's what you were thinking when you first clicked into this feature.
Stock but Fast
Toby at Moto Xperts offered to build the stock Polaris ACE 570's engine, but for now a Trinity Racing Stage Five exhaust system, custom Racer Tech air intake (equipped with a K&N filter and Outerwear) and a Dynojet Power Commander Five are the only changes made to the stock power-plant. No dyno numbers to report, but drag races with a stock ACE showed gains from bottom to top as Jesi's ACE routinely and effortlessly beat the stock ACE by twenty lengths in only a few hundred feet of distance. In addition, Jesi was able to pull a massive holeshot at the John Penton GNCC in Ohio. She was first into the woods, but missed a turn shortly after, – part of not being able to walk the track prior to the race.
Bullet Proof Tire and Wheels
Lightweight 25x8x12 GBC Afterburn tires were chosen and worked quite well in the two races that Jesi has raced to this date. Tires were stuffed with Tireblocks mounted by Loud Performance then mounted to custom made 12" adjustable offset OMF wheels. The carefully chosen tire and wheel setup couldn't be better for the extreme conditions that GNCC races dish out.
Summing up the Success
Jesi teared up when it was time to get out of the vehicle at the last race. "When I'm out there racing through the woods and fields I completely forget that I'm paralyzed," said Jesi in Millfield, Ohio. "I'm so extremely grateful to everyone that has helped with this monumental project for me. It truly has given me my life back." No doubt, knowing that she teared up when it was time to slide from her ACE back to her wheelchair is indeed sad, but it's also proof that this project and everyone's long hours and expenses have been well worth the effort.
Jesi will be competing in two remaining rounds of the Single Seater class in the GNCC Series in October, (the Powerline Park GNCC in St. Clairsville, OH and the final round of the series, the Ironman GNCC in Crawfordsville, IN). But before that, she is extremely excited that Racer Tech helped to convince race promoter, Andy Kyner to add a Single Seater class to his Heartland Challenge endurance race. The Heartland Challenge is August 14 in Carlisle, IA
If all this has inspired you, and you have a few extra dollars handy, you can help Jesi follow her passion, which unfortunately gets pretty expensive. Contributions will allow her to continue to inspire others, and fund her therapy and special needs. Just click to her GoFundMe page to make a contribution at gofundme.com/lm00m0
Lastly, be sure to share the main video at the top of this feature in your social media of choice. With this we just might reach someone that could use some encouragement. And who knows, maybe Jesi's message will be just what they needed to inspire them to follow their passion regardless of their personal situation.

Comments
comments