Team Blingstar/Polaris First at Terracross Opener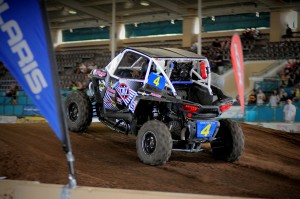 Team Blingstar and the entire UTVunderground crew were all there watching and rooting Nick Nelson, power his Polaris XP 1000 to a heat and main event win in front of a national audience. The 1st heat, Nick Nelson took the holeshot and drove flawlessly through the short course that included whoops, crossover jumps and gap jumps over cars. The Polaris XP 1000 was pushed to the test and definitely did not disappoint. "This track was super fun and technical. Whoever had their SxS dialed in the best was going to be tough to beat. My new JRi Shocks were installed minutes before the race and they handled incredibly well. Hess Motorsports is a new sponsor to the team and he supplied us with his new steering quickener. We weren't able to do any testing on it so I was a little skeptical running it for my race. This quickener turns out to be insanely bad ass! The effort you have to put into steering now is very minimal. I was looking forward to testing my set up against the competition and obviously ours was dominant. The DWT tire and wheel combo we chose was hooking up awesome that definitely gave us an advantage" quoted Nick Nelson.
In the Main Event, Nick Nelson took another holeshot and never looked back. He was a few seconds in front of second place, the entire race and was never challenged. "Once again my Polaris XP 1000 was dominant out here and it was just about driving without mistakes. I really can't thank my sponsors enough for all the support they have given the entire Blingstar/Polaris/UTVunderground Team." quoted Nelson.
The Blingstar/Polaris/UTVundergorund Team heads to Cedar City Utah in a few weeks to battle the WORCS series and will be looking for another top finish.
Comments
comments