Rugged Radios Official Communications of the PURE UTV Series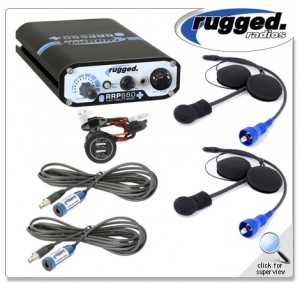 Lou Peralta, President and CEO of AVE/BP RACING announced today that it has firmed up a three-year agreement with Rugged Radios to be the "Official Communications" for all of the PURE UTV Series events through 2019.
The long term binder from Rugged is an excellent sign of the commitment that the company has with the racing community, and especially with the series that Peralta heads. Peralta commented, "When we first started to structure the PURE UTV Series, Rugged Radios came to us to get involved. From the get-go, they were ready to help racers with their radio problems prior to and during the race, no matter what 'name or brand' unit they were using. Rugged was there to help. In the past three years we have built a great relationship with Rugged. Now that the opportunity has presented itself to be the official communications, we offered it to them and they accepted. We are delighted that they will be more involved with us for the next few years."
A visit to their website, ruggedradios.com, explains the extent of their involvement in all types of communications and sport. From off-road to aviation, Rugged Radios is there with the finest equipment ready-to-go for its customers. Their broad product line ranges from Radios and Intercoms to headsets and pumper systems for UTV's and SXS and other off-road vehicles. When you visit their site you will find great deals on anything from Off-Road to Jeeps, UTV, Racing products, Motorcycle, Public Safety, Aviation, Teams and Events, and offer a plethora of Videos and sales item that will boggle your mind. The company is jolly-on-the-spot when it comes to promoting their terrific product.
Just as important, is the service they offer on weekends and whenever there is a need, they are there with the competitors to make sure their equipment is working to its limits. They have also no reservation about helping racers who may not have their product. As Lance Mitchell, General Manager for Rugged Radios said, "We want to help the sport and the guys and gals in it. When it's time to race, we don't need to look at labels; we just need to help the racer." In fact, they just returned from the MINT 400, The Great American Off-Road Race in Las Vegas, NV, where they were preeminent in the event's communications.
Race director for AVE/BP Racing, Alan Bell, said it best. "With Rugged Radios being here with us is another safety valve in an effort to always have communications with our racers, especially when it comes to safety issues."
In 2017, AVE/BP returns to feature races starting and finishing at the Alta Vista Ranch, Cal-City and more importantly, it will continue to use unmaintained County roads, trails, grandfathered routes that have been available to all for over fifty years. AVE/BP also prides itself of not using the same course twice in 12 to 18 months.
Specifically the next event, the PURE "150" – March 18, has almost 80% trails that have not been used for years and some never at all. According to Race Director, Alan Bell, "California City is abundant with open space in the desert and especially in the County. We try never to use the same trails twice in at least a year. This year's PURE 150 course will be like new to most. It's Terrific!"
The way it works for pre-running is that a GPS of the course file will be available one week before the race. The normal schedule is to allow those who have entered the event to receive the full GPS file, which it can be uploaded and used to pre-run the race course. There is limited pre-running with only the weekend before the event and also the Friday before Saturday's start at 10 a.m. As always, radio relays, paramedic teams and officials monitors will be stationed throughout the course during the entire event.
Comments
comments