2015 Kawasaki Mule Pro-FXT Ride Review
Like their recent all-new and all-impressive Teryx, which I torture tested in West Virginia, Kawasaki has completely re designed their Mule for 2015. It even got a new name. It's now called the Mule Pro-FXT because Kawasaki felt the fastest and most powerful Mule they've ever built needed a more prestigious branding than just the Mule label alone. And rightfully so, this machine is about as premier as you're going to find in a work-happy machine. So yes, the Mule Pro-FXT is completely new from the ground up and features some pretty slick innovation to go along with the durability that we've come to expect with Kawasaki products.
The Mule Pro-FXT is built in the United States in Lincoln, Nebraska, where Kawasaki continues to develop its existing and future models in the Side x Side market. As Kawasaki celebrates 40 years in Nebraska, (yeah, they were the first of the big four to build products in the USA), the company now boasts the largest production plant in the state at over 2.2 million square feet and it employs over 1200 people. With this, guess where Kawasaki sent members of the media to ride test their all-new Mule Pro-FXT? Yep, we got the two-hour tour of the immaculate and finely-tuned production facility in Lincoln then it was off to a nearby ride spot to ride-test the new machine.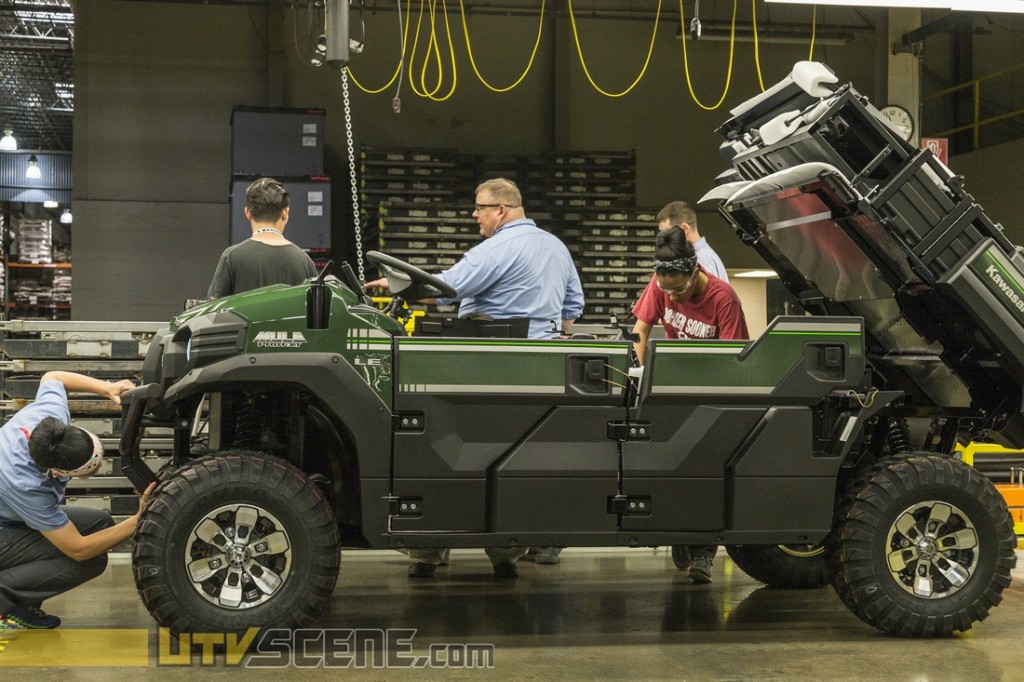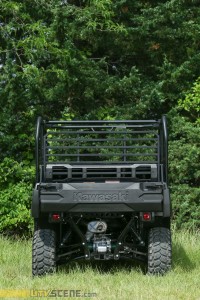 Okay there's a lot to cover with the new and very much improved Mule. I think Kawasaki's focus on their UTV products is versatility. In a day and age when money is tight, I think potential buyers want a machine that can easily handle their chores, yet provide a fun off road adventure when the work is done, and I think Kawasaki balanced this need very well with their new Mule Pro FXT.
I cornered Brett Snider, Product Manager at Kawasaki, and got him to give us the low-down on the new Mule in the video above, and click to page two of this feature to see Joe Heim, the Accessory Development Manager at Kawasaki, show off a few of his favorite accessories from the whopping 60 available that you're definitely going to want to learn about.
If there was such a thing as a professional mule I would probably expect the animal to out-perform and outlast ordinary mules and donkeys on the trail. You know, somehow haul more people, more cargo, pull more weight, do it faster and easier and outlast the neighbor's typical mule. And I would think maybe a pro-level mule would look and perform more like a big muscle-bound race-horse than the typical fly-infested-smelly-mule would. Well, my vision of what a pro-level mule should be ended up being pretty spot-on as to what Kawasaki had in mind when they signed the papers to give their pro-level license to their Mule product.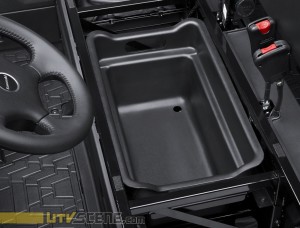 Enough horsing around here, (sorry couldn't resist) the new Pro model Mule offers up exactly what I visioned. First and foremost it hauls more people, as in six! I would rather trade the front bench with bucket seats and a slick center console system that would hold tons of job-site stuff, but then it would be a five passenger vehicle I suppose. And I will say the front bench is pretty comfortable, and there's enough room under the seat to haul everything and the kitchen sink, but you'll need to purchase a $400 plastic Under Storage Bin from Kawasaki Genuine Accessories to do so. This is probably my only pet peeve with the entire vehicle. If you can get past this, you're in for quite a treat, as I feel this is one of, if not the, best work-savvy off-road machines money can buy!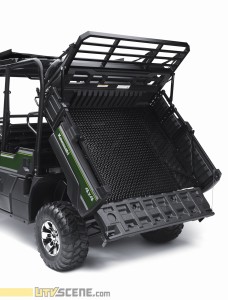 Kawasaki's all-new "Trans Cab" technology allows you to easily switch from rear passenger mode to mega-cargo-mode. It's what I call the coolest rear seat / dump truck / pick up cargo bed all-in-one in the industry! Kawie calls their new Trans Cab rear seating arrangement a 1:1:1 system because it allows one person to convert the seating with one trip around the vehicle in less than one minute all with no tools and little effort. I tinkered with it and did it in 40 seconds flat. So you can easily go from hauling six adult people with a legit sized rear bed to three adults with a massive dump-truck style rear bed. Well played Kawasaki, very well played.
With a max load capacity of 1000 lb in three-passenger mode or 350 lb with six passengers, the ultra-durable steel cargo bed on the Mule Pro-FXT can accommodate all your equipment and the bed features a hydraulic assist for easy dumping. Meanwhile you can tow an incredible 2000 lb load with the standard equipped two inch hitch receiver. Now that's a pro-level mule no doubt.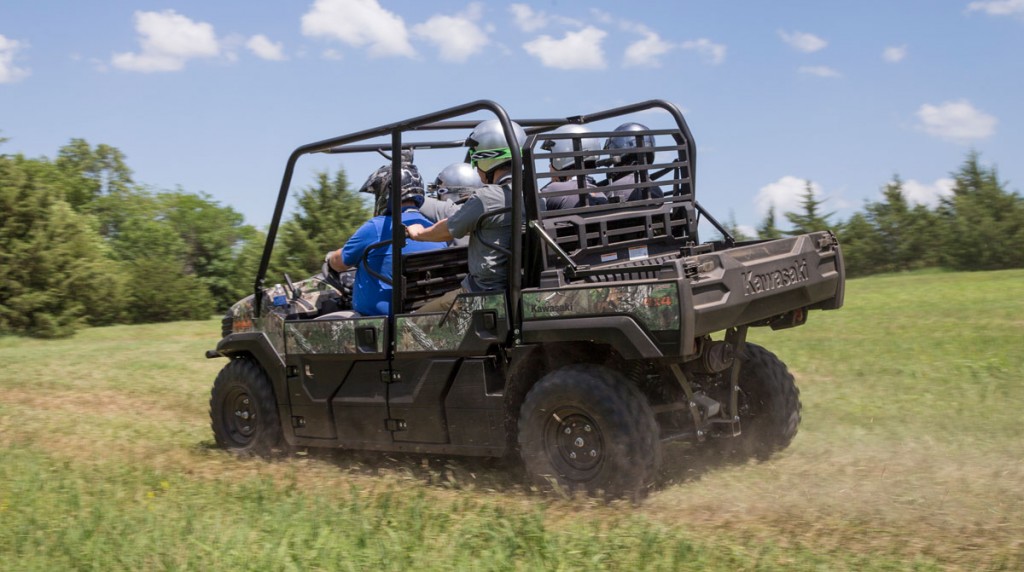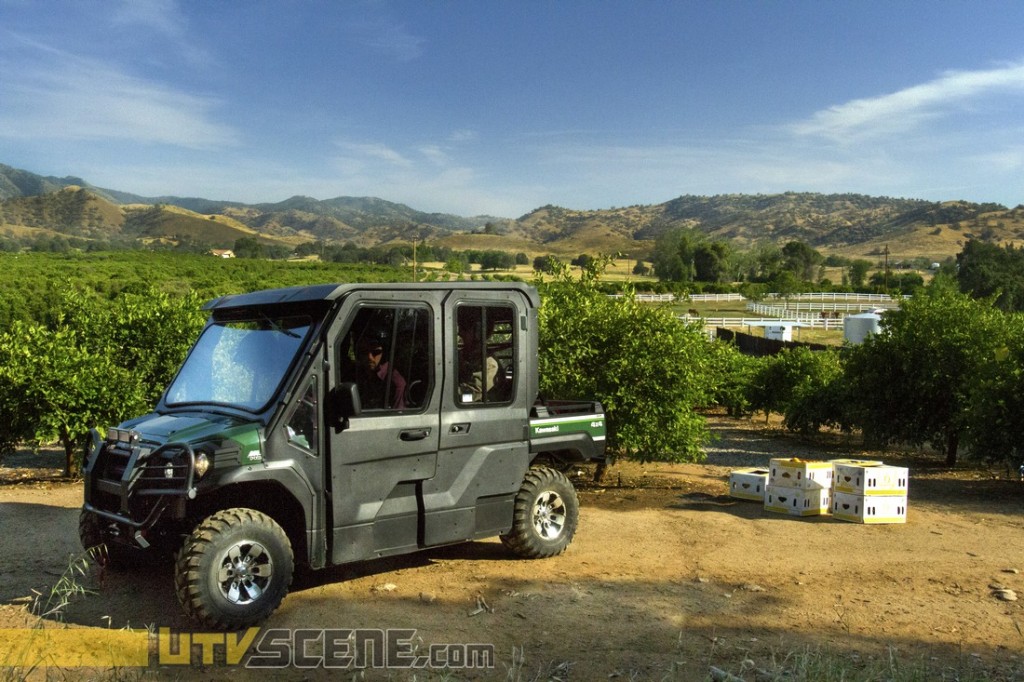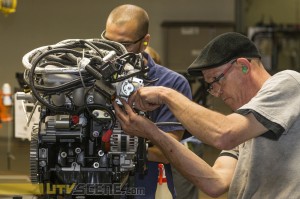 The not-so-ordinary above task is accomplished with a 812cc, three-cylinder engine. It's simply put, the most powerful and fastest Mule ever. I sure do like that, but equally as important for a high-performance work-savvy UTV is its ability to utilize smooth usable power, and this machine does that quite well. And Kawasaki uses a durable specially tuned CVT transmission that was designed to handle this torque-specific engine with ease, plus the CVT provides natural engine braking to help when descending down hills.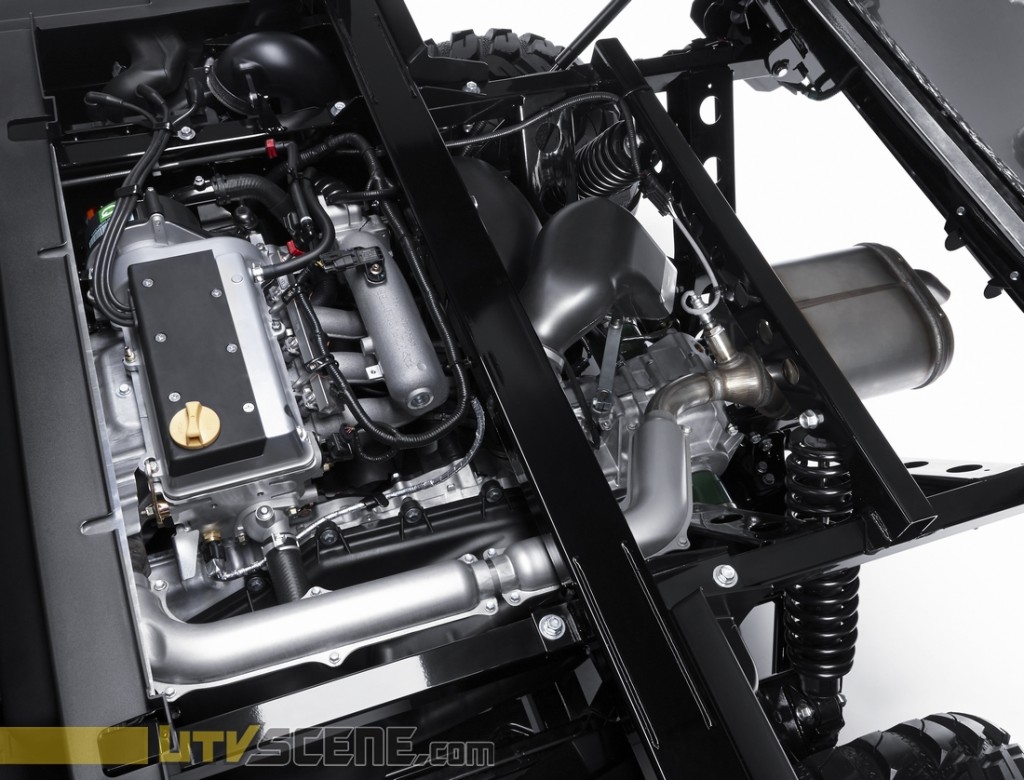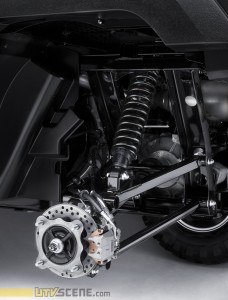 Getting to and from the job site is a breeze with the new Mule Pro. There's a whopping 10.2" of ground clearance and Kawasaki went sport-style with four wheel independent suspension, with a generous 8.7" of shock travel mounted to a hefty set of A-arms that utilize large diameter tubing. Speaking of hefty, I noticed the square tubed frame, axles, ball joints and more were beefy and tough-looking, evident that Kawasaki means business when it offers its industry-leading Kawasaki STRONG Three-Year Warranty on the machine. Also, like the new Teryx, maintenance is simple as you can easily get to the engine, CVT, battery, radiator etc without tools. I like and appreciate that kind of effort. Also the large capacity radiator and fan help keep the machine from over-heating and a deflector sends radiator heat under the machine rather than in the cab, and engine noise is kept quiet in the cab thanks to a well-built stainless steel exhaust system on the rubber mounted four-stroke engine.
My favorite part of the new Mule Pro is its absolute ease to drive it. Digital Fuel Injection helps ensure the motor receives crisp and clean fuel delivery from its large go-all-day-and-into-the-night 7.9-gallon fuel tank. Applying pressure to the gas pedal gives car-like smoothness in forward or reverse, and handling and steering is superb. Kawasaki's EPS works just as effortless in low-speed maneuver as a new car does. And it's speed assisted to stiffen when you go faster, and calibrated to reduce kickback when traversing rough terrain. Driving the machine really is as easy as getting in your car and going. I found myself using just a finger to wing the machine around. It's a joy to drive to say the least. You can get a standard model without power steering but I would highly recommend you do whatever you can to get yourself into an EPS model. It's night and day better and makes owning the machine so much more enjoyable. And speaking of steering, with an overall length of 133.3" and 92.3" wheelbase the machine is quite agile for such a six passenger dump-truck-like off road machine. In fact its turning radius is just 16ft, which is best in class.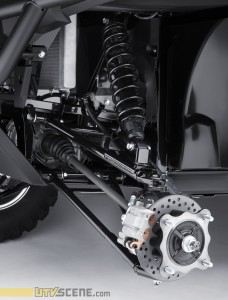 Speaking of enjoying your machine more, I loved the fact that Kawasaki didn't go cheap and offer up wimpy rotors or worse, drum brakes. Instead they use 212mm rotors on all four corners, with dual-piston calipers in the front, and single-piston calipers in the rear. Stopping is fantastic, what a big disappointment it would have been if they didn't offer pro-level braking on an 1854 pound $13,000 machine.
While I'm in the complimenting mood about the braking equipment I'm happy to report Kawasaki includes their certified Roll Over Protective Structure on the new Mule Pro, added four standard-equipped automotive-style doors and each passengers gets his own three-point harness.
Everyone has cell phones now days right? Well your crew can power up all their gadgets and all the other accessories you can imagine during all-day adventures thanks to a multitude of built-in 12-volt outlets. These are powered by a high-output alternator, which delivers an impressive 60.8 amps at 2,000rpm even with the headlights on. All the models include two 12V power outlets up front that will supply up to 120 watts, while the LE and Camo models provide an additional two outlets in the rear of the vehicle.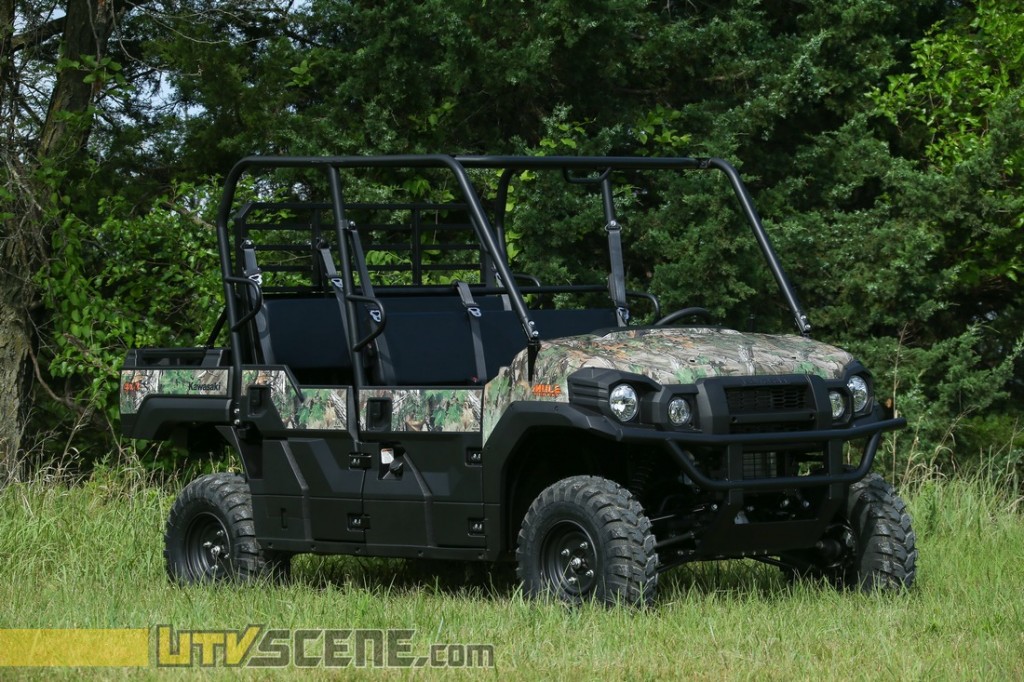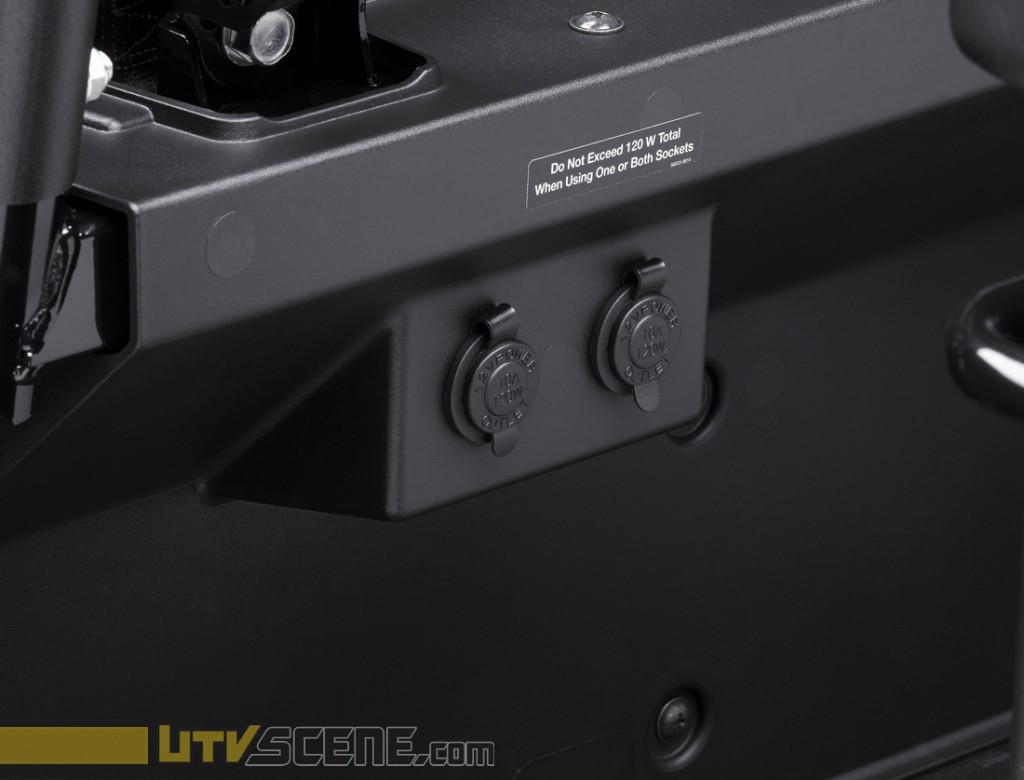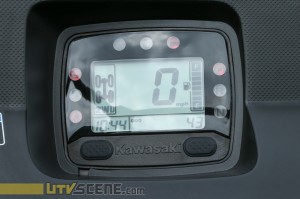 The same high-power alternator is also responsible for providing excellent visibility after dark and in poor weather conditions by powering the Hi/Low halogen headlights that come as standard equipment to match the performance of the "King of Mules." I didn't get to see the lighting output, but I was told by several Kawasaki members that lighting is extraordinary. Additionally, the LE and Camo models in the Mule Pro-FXT range get high-intensity, auxiliary LED headlights for even greater illumination (available as accessories on other models).
LED lights are specified on most high-end machinery for their extremely bright output, although Kawasaki's engineers were also interested in the extended durability and low current draw that LEDs offer.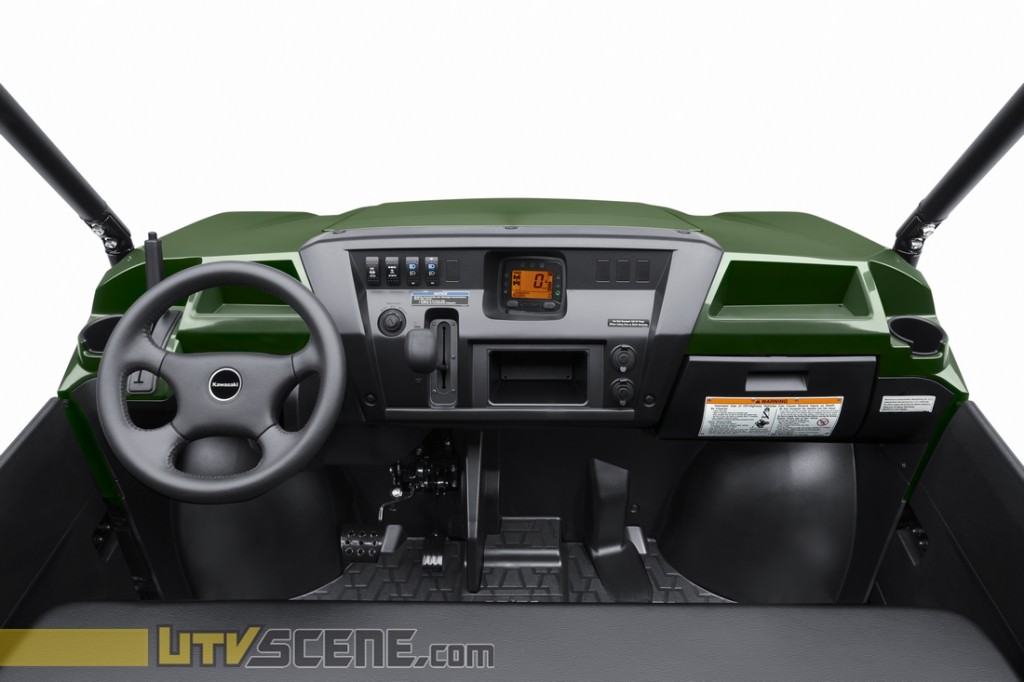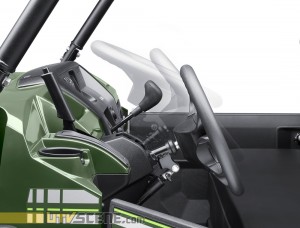 Another notable additions to this very well-built machine include a tilt-adjustable (except Non-EPS models), thick grip steering wheel, which provides up to 40-degrees of adjustment. Or it can be tilted out of the way to facilitate access to the cabin. There's a handy glovebox as well as three dashboard pockets – with the center pocket large enough to accommodate the Kawasaki Genuine Accessories audio system – and two cupholders built into the bodywork up front.
The final interior feature is an all-new multi-function LCD instrument cluster. It provides a large, intuitive, easy-to-read display that includes an array of information from speedometer, odometer and hour meter to fuel gauge, dual trip meters, 2WD/4WD indicators, clock and much more to keep the driver fully informed at a glance.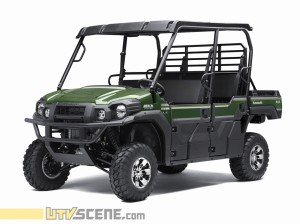 The MULE PRO-FXT comes in four models, each one packed with a host of Kawasaki STRONG features. The Non-EPS model comes standard with steel wheels and two DC outlets in the cab. It is available in the Super Black finish. The second variation in the PRO-FXT lineup is the EPS model. This comes standard with the same amenities as the Non-EPS but with the addition of Electric Power Steering (EPS) and a tilt steering wheel. This model is available in Timberline Green and Super Black with a contrasting graphic along the doors and cargo bed. Next is the desirable EPS LE, this is the unit I tested. This variation comes standard with a host of additional upgrades over the EPS model, including LED headlights, aluminum wheels, a composite sun top and two additional DC outlets for rear-seat passengers. Color options are Timberline Green and Dark Royal Red with a contrasting graphic along the doors and cargo bed.
Last, but certainly not least, the Mule Pro-FXT is available with Realtree Xtra Green Camo, which gives the avid hunter the ultimate color scheme for any adventure. The Camo model includes EPS and tilt steering function. In addition, LED headlights and four DC outlets round out the Camo package.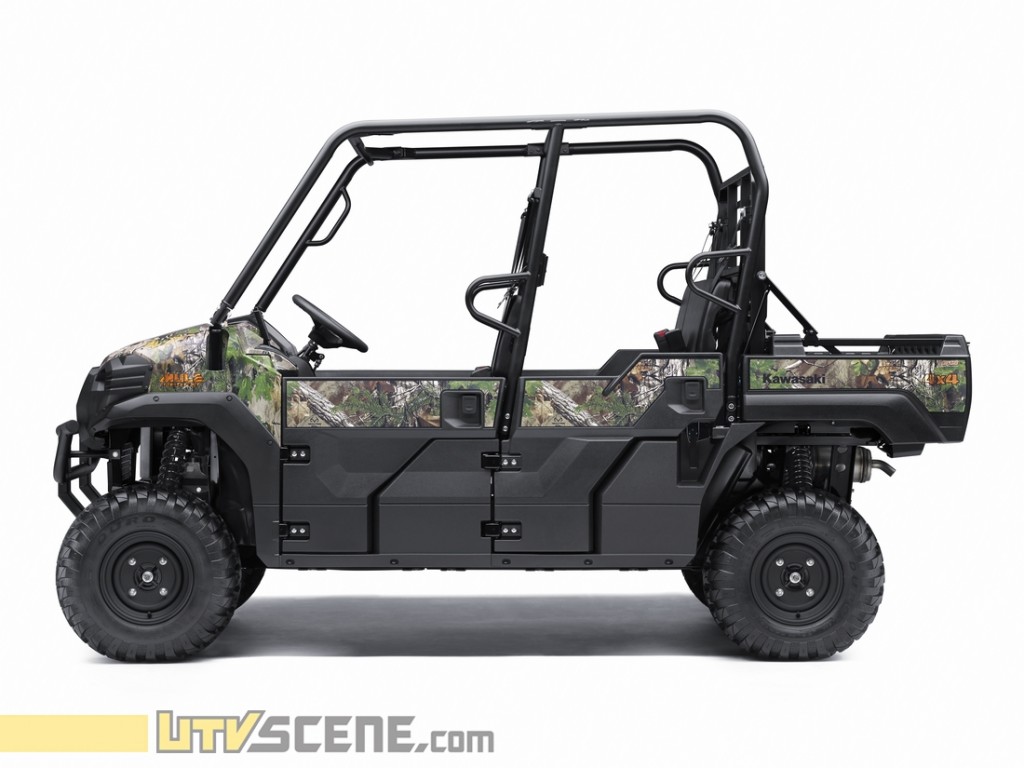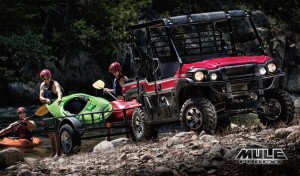 The Mule has been around since 1992. It was the first Side by Side vehicle. Over the years the machine has been used to plow snow, transport people and haul equipment and material from and to places that trucks cant go, and now for 2015 the Mule Pro FXT gets these jobs done like never before. I'm impressed that the new Mule Pro FXT is made exclusively in Lincoln, Nebraska, but even more of just how well-made and well thought out this new machine is. With the above innovative, well built, dependable Kawasaki Strong machine combined with some of the many accessories listed in the next section, I think you could have one of the most ultimate, go anywhere, haul anything, pull anything, nimble, dependable and fun off road machines that's ever been built! You can buy it to get things accomplished and not think twice to use it to take your family and friends on fun-filled memorable off road adventures, now that's a versatile product and money well spent if you ask me.
Comments
comments