Introducing the Yamaha Wolverine X4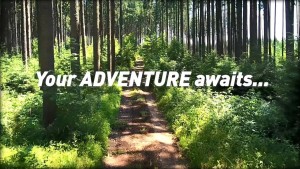 I was recently invited to check out Yamaha's new Wolverine X4. Before the introduction of the machine, Yamaha announced a new company-wide focus that suggests that you "realize your adventure". I have to admit, the new slogan had me sitting up in my chair. I think you'll agree, it's a short and mighty little reminder to get out and make the most out of life. After all, nobody ever said, "I wish I worked more" from their death bed. Yamaha wants to sell units, but I say, if you can't afford a new X4 or even a used ATV for that matter, you should use Yamaha's new slogan as motivation to plan an adventure – keep it simple if needed, even if it's simply an affordable fishing trip or hiking an epic trail – just get after it!
Okay on to why you clicked into this article, you want to know what I think of the new Wolverine X4. First off, I didn't get to drive the machine, so this is not a full-on review, that information is yet to come. This is merely an introduction piece paired with my observations of the new X4.
Wolverine vs. Wolverine X4
Big deal, Yamaha stretched the frame and added two seats to their Wolverine you say? Wrong! The new X4 is a completely different machine from ground up. This is the opposite approach that Kawasaki took with their Kawasaki Teryx4, which is basically a stretched Teryx. Yamaha decided that their four-seat Wolverine needed to be as off-road capable as their two-seater even in tight technical terrain. The X4's wheelbase is only an inch and a half longer than the Wolverine's and its turning radius is a mere four inches larger than Wolverine. Meanwhile the X4 provides two industry-exclusive stow-away full-size rear seats in the back. I tried it out several times, you can push the two rear seats forward thus expanding cargo capacity in a matter of seconds. It's a clever way of merging a four seat sedan into a sporty coupe.
Wait until you learn how much bang for the buck Yamaha has packed into their new four-seat Wolverine. You may wonder why anyone would even want the two-seat Wolverine. In my opinion it's strictly price. You can buy a brand new Wolverine EPS for $12k (probably less if you hunt down a good deal), meanwhile the entry-level position on a new 2018 Wolverine X4, (the Graphite model) lists at $15,999. So you'll have to decide if the extra $4k is worth it for your needs. If cost isn't an issue for you – even if you never need the two rear seats you could slide them forward and enjoy a roomier vehicle that offers a lot more than the Wolverine does in pretty much the same foot print.
So let's get to it, below is an introduction to the most nimble and trail-ready 4-seater UTV in the industry, the 2018 Wolverine X4.
47% More Torque!
Yes, I would have liked to have seen a displacement number closer to that magical 1000cc range, but you have to admit, Yamaha seems to have a knack for getting a lot of usable power from its smaller displacement naturally aspirated engines. I may have not been in love with the 850-idea, especially when most of the rest of the industry has graduated to the big 1k number, but I'll admit when I heard that the X4's twin cylinder DOHC long stroke 847cc power-plant made 47% more torque than the single cylinder 708cc engine that they could have used, I was way more open-minded about Yamaha's chosen powerplant. What's more, unlike the multitasking 708cc engine used in several Yamaha ATVs and Side by Sides, Yamaha's new parallel-twin 847cc engine was specifically made for this vehicle, so I'm predicting that they had their reasons for not going the 1000cc route, and I have a good feeling that the new X4 makes the right amount of power for the kind of terrain it's designed for.
More on this new engine, it uses a crafty offset cylinder design that doesn't compromise when it comes to making low end power-to-the-ground torque yet allows a shorter engine height, which is ideal in keeping a low center of gravity all while providing more room in the cab. Yamaha assured us that power delivery is smooth and precise, but to be honest the boys in blue had me at "47% more torque!"
Transmission of Champions
A new from the ground up engine deserves its own transmission system, and not something borrowed from another machine. The X4 uses Yamaha's proven Ultramatic Transmission design, which is the most advanced and durable CVT drive system available bar none. This system features a one-way Sprag clutch, which allows all-wheel engine braking, (great for confidently negotiating downhill terrain), reduced belt wear (with constant belt tension) and an integrated cooling fan. The X4 also uses a larger centrifugal clutch than the Wolverine and is said to better handle the kind of torque this engine makes. Of course Yamaha's On-Command 4WD is included so you will have complete control over any terrain you traverse. You can switch between 2WD, limited-slip 4WD and a fully locked differential 4WD. Way to put the power to the ground Yamaha!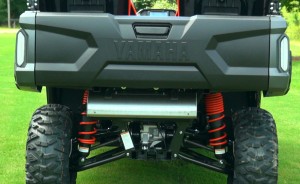 Self Leveling Suspension
5-way adjustable fully independent gas-charged shocks are used on each corner of the machine. Travel is 8.7" front and 8.9" in the rear. First-in-the-industry self-adjusting self-leveling shocks are used on the rear of the X4. The shocks automatically adjust preload to compensate for the added weight of passengers or cargo. The system is completely self-contained and requires no heavy air compressors or electric motors. The motion of the vehicle itself pressurizes the shock's internal valves, for an ideal chassis setup on every ride. This is a good idea, especially if you're not one to fuss with suspension adjustment. With this system a steady 10.7" of ground clearance is assured regardless of the weight in the cab and bed. Speaking of carrying weight, the X4 safely carries up to 600 pounds in the cargo bed area and the machine will tow 2000 pounds after you slide in your ball mount to the stock equipped 2" receiver.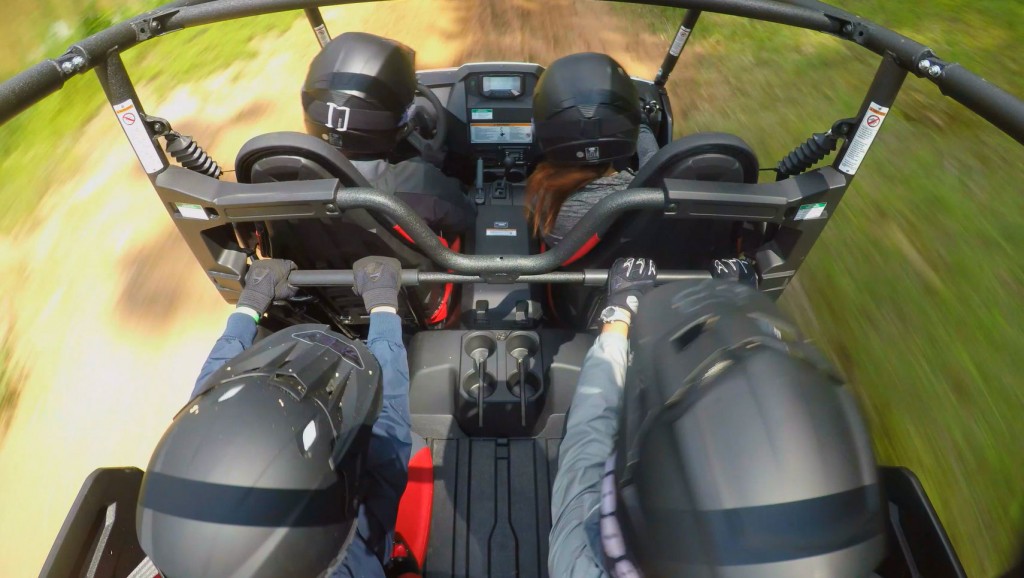 While I'm talking about suspension, the up-swept under-body design, wide arc A-arms, and the impressive 10.7-inches of ground clearance allows the Wolverine X4 an ideal approach and departure angle to help traverse challenging terrain. I talked to Yamaha's product testing manager Pat Biolsi about the ride. He said the X4 handles exceptionally well and the shocks do an outstanding job of swallowing up bumps.
Brakes and Tires
I'm happy to report there's no pansy wet brake system on this sport-savvy 4-seater, instead each wheel gets real-man hydraulic 207mm vented disc brakes with dual piston calipers (32mm front and 27mm in the rear). The X4 should provide exceptional stopping power on all four wheels with superb feel. And just as worthy are the tires. Special-made 26" Maxxis tires are mounted to 12" cast aluminum wheels. Tires are four-ply up front and six-ply in the rear.
Ultra-Fast Throttle System
Yamaha told us that the power delivery is somewhat unique on the new X4. It uses a Yamaha Chip Controlled-Throttle (YCC-T) system. This is a new drive-by-wire system which is said to offer precise and extremely smooth throttle control. Throttle response is further maximized by an innovative 'high-response' servomotor for ultra-fast throttle application, I'm an old school throttle cable guy, but I have to admit I like the sound of this new system and can't wait to try it out.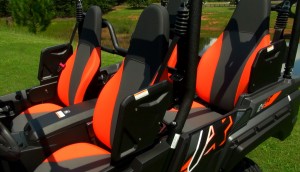 Creature Comforts
I've never seen seats in an UTV like the X4. They remind me of something you might see in the watercraft industry. Not only do they repel water, (and they really do – I poured two 12 ounce cups of water on the seat then sat down – no wet butt at all), but the shoulder bolster high-backed seats are extremely light weight and freakishly flexible. Would a strange seat system like this compromise on ride-all-day comfort? I don't know the answer to that, but I did sit in them and have to admit – they felt pretty darn nice. Like I said, a long day of riding is in order before I can 100% say if I like them or not, but they're the most interesting seats I've seen in the industry no doubt. Each of the four seats come with automotive style three-point seat belts, (so why not buckle up every time you ride – and wear a helmet too while you're at it). The high-traction floor boards seem to be well placed and offer the driver and passenger the ability to plant their feet comfortably to help support themselves while the machine bucks and bounces through terrain. This is an under-rated item that many don't put much thought into until they've ridden in a UTV with poorly designed floor boards.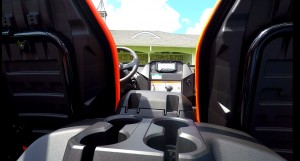 Multiple cup holders are included on the X4, in fact I think it might have the UTV Cup Holder World Record. There's two up front and four in the rear. Besides a big user-friendly glove compartment the center counsel offers additional storage space. The driver's seat offers eight click adjustment and the steering column tilts with 12 degrees of rotation.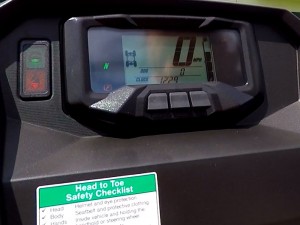 LED headlights and taillights, wide fenders and YES – finally fully-enclosed doors are used. If you were a foul-weather Wolverine driver or passenger you will especially like that last detail. It looks as though the X4 doors will keep water and mud out of the vehicle. The new LCD digital meter features a large dimmable display, with speedometer, odometer, trip and hour meters, along with vehicle status and warning displays.
Perhaps the best creature comfort for last. Good news, all X4 models will include Yamaha's Electronic Power Steering. This is usually a thousand dollar option, and especially worth upgrading is Yamaha's unit, the best in class bar none. I hope the industry goes this route in the future and just includes power steering as standard equipment – everyone needs it in my opinion, it's too good not to have.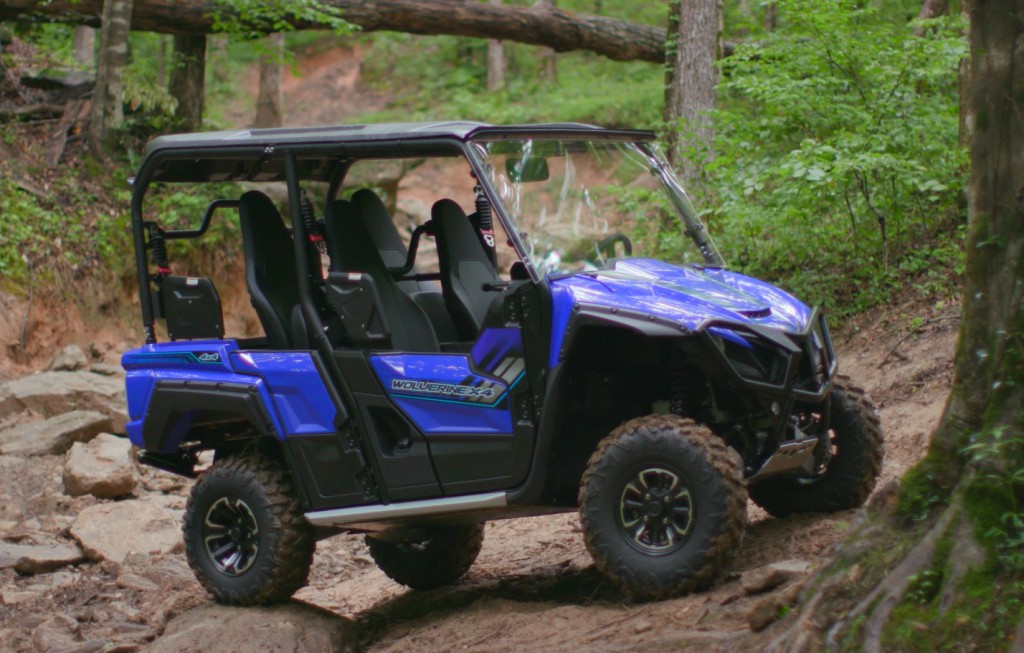 Peace and Quiet
From what I gathered at the introduction of the X4, Yamaha spent a lot of time making sure the X4 offered the best 4-person real-world trail riding experience possible. Besides a machine that looks to be just as capable in tight technical wooded terrain as their two-seat Wolverine, Yamaha says the X4 offers the most comfortable suspension of any four-seat UTV. Impressive, but boasting how well the machine handled terrain wasn't enough, the engineers at Yamaha were just as adamant about delivering a quieter machine with less vibration than anything on the market. Details like a huge volume muffler, high volume air filter and accumulator, low RPM CVT shifting, thick console insulation offer less engine noise, as does a Helical/Spiral gear design to reduce drive-train noise. Vibration is swallowed up with special-built rubber engine mounts and the engine features a gear driven counter-balancer. I was told floorboard vibration was carefully measured in all competitor machines. Yamaha's goal was to make sure the X4 offered far less vibration than any UTV on the market.
Give and Takes 
With any purchase there's always give and take. The main shortcoming in my opinion is the fact that Yamaha did not include a roof like they did on their two-seater Wolverine. Even if you upgrade to the more pricier SE models you'll have to kick in a little more if you want a roof. While I'm talking about a roof, it's worth mentioning that the Wolverine X4 is the only four-seat SxS to feature a true full hard cab option available direct from the manufacturer, so if the end goal is a full cab system you might be happy that you didn't have to pay up for a roof that you wont end up using, if not you'll have to remember to order your unit with a roof – that is unless you don't want a roof, – but is there anyone out there that would really rather not have a roof?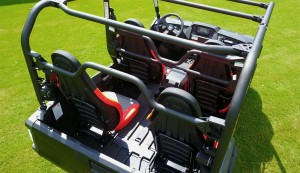 If you're a big guy that wants to sit in the back I have bad news for you. Leg room in the rear is compromised by the engine area, but I can't beat Yamaha up too much on this one as this is a trade off for two of the things that I like best about the machine. The first being that they didn't use their smaller 708cc engine like they could have. I'll take 47% more torque over a few inches of leg room for my rear passengers any day. Second, would you rather your rear passengers be sprawled out with SUV-like leg room or would you prefer a nimble go-anywhere machine that has the ability to carve through tight terrain that big wide machines can't?
Unfortunately, at 77.2″ in height the new Wolverine X4 won't fit in my 6×12 enclosed trailer, which has a door opening height of 72 1/4″. I was able to fit the Wolverine R-Spec in, which measures exactly three inches shorter than Yamaha's new four-seater, by compressing the suspension and letting some air out of the tires. So, if you have an enclosed trailer with a door height like mine, you'll more than likely need to figure out another way to transport your new X4.
Since Yamaha products are known to be top of the line when it comes to comfort, performance and durability, it's not too out of bounds to assume that the X4 will tackle tight trails impressively and be a dependable friend for a long time. For me, that's the most important thing to consider when it comes to forking out the money that it costs for these modern-day UTVs, but if I'm honest, while the seats look really sporty and all the controls seem to be very well placed, I felt like the X4's interior needs a touch of bling, especially on the Special Edition models. The ability to add LED interior lighting would have been a great addition to this caliber of vehicle as would having the option to upgrade to in-dash real-time navigation system (something similar to the Polaris Ride Command System). Perhaps my two interior show-stopper add-ons will soon be available as accessories in the future.
Speaking of accessories, no disappointment in this area at all, with nearly 600 watts of electrical output from the engine, two standard 12V DC ports and four pre-wired accessory switches, the Wolverine X4 is ready for just about any accessory you want to install. To see all the nifty things you can add to your new Wolverine X4 (or any Yamaha machine) click over to Yamaha's Build Your Own Page.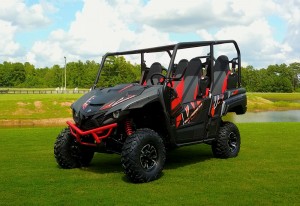 So what's your adventure?
If you're like me your mind started working the second you saw the new X4 paired with Yamaha's motivational "Realize your Adventure" tag line. You thought to yourself, "now what would my adventure be if I were to own that awesome four-person machine". If I have you pegged, right on brother, you're my kind of enthusiast. So now that you've learned about the machine, if you pulled the trigger on a new Wolverine X4 what kind of adventure do you have in mind? I hope you're not wanting one just to park it in your garage. Share your plans in the comments below. You might be surprised, just by writing it down and publicly posting it might inspire you enough to make it a reality. Life's too short to wake up with regrets, so get out and live it!
Models and Prices
Standard Wolverine X4 color options include Graphite (MSRP $15,999), Yamaha Blue with over-fenders and cast aluminum wheels (MSRP $16,499), and Realtree Xtra camo with over-fenders and cast aluminum wheels (MSRP $16,899). Donning over-fenders, painted bodywork, color-matched interior and shock springs, and cast aluminum wheels, Special Edition (SE) models are available in Matte Silver and Matte Carbon (MSRP $17,249).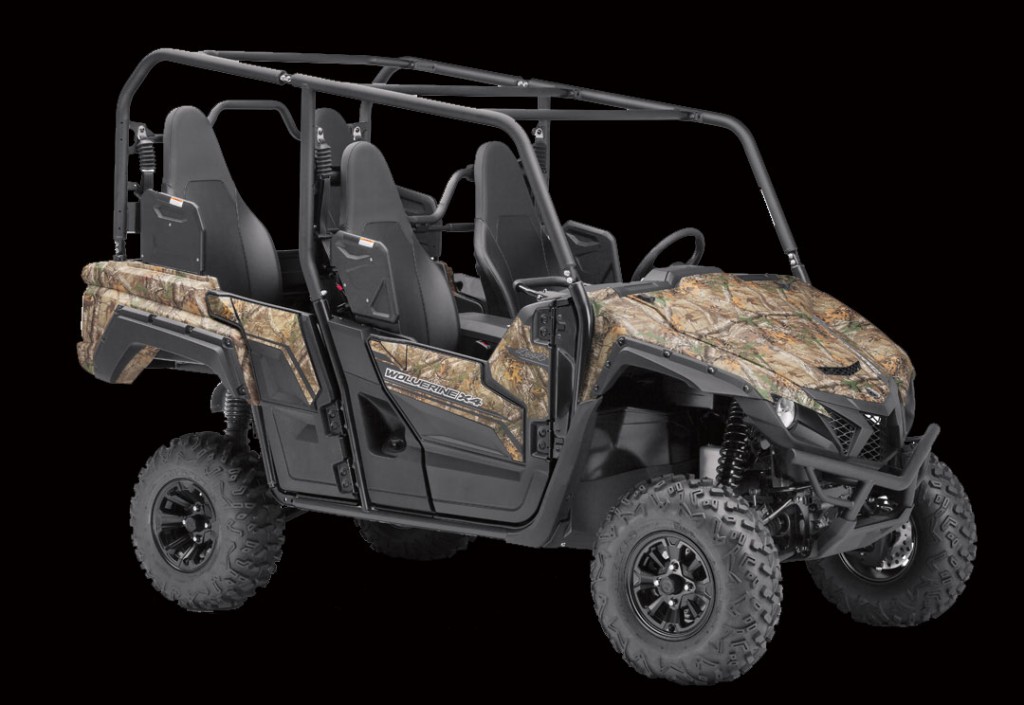 REALize Your Adventure and view additional details on Yamaha's all-new 2018 Wolverine X4, along with the complete lineup of Proven Off-Road vehicles online at YamahaOutdoors.com, or by visiting your local Yamaha dealer.
Follow Yamaha on your favorite social channels at Facebook.com/YamahaMotorUSA, Facebook.com/YamahaOutdoors, Twitter.com/YamahaMotorUSA, Twitter.com/YamahaOutdoors, Instagram.com/YamahaMotorUSA, and Instagram.com/YamahaOutdoors. #YamahaWolverine #REALizeYourAdventure #ProvenOffRoad #Yamaha
| Specs | |
| --- | --- |
| Engine Type: | Inline Twin Cylinder, DOHC, 8-valve, Liquid-Cooled 4-Stroke |
| Bore x Stroke: | 82mmx80.2mm |
| Compression: | 10.5:1 |
| Fuel Delivery: | Dual 35mm Mikuni Throttlebodies |
| Transmission: | Fully Automatic CVT |
| Suspension Front: | Dual A-arms 8.7" |
| Suspension Rear: | Dual A-arms 8.9" |
| Brakes Front: | Dual Hydraulic Discs |
| Brakes Rear: | Dual Hydraulic Discs |
| Tires Front: | 26X8-12 |
| Tires Rear: | 26X10-12 |
| Overall length width height: | 122"X62.2"X77.2" |
| Maximum Ground Clearance: | 10.7" |
| Turning Radius: | 14.7' |
| Wheelbase: | 82.7" |
| Fuel Capacity: | 9.2gal |
| Cargo Capacity | 600lbs |
| Towing Capacity | 2000lbs |
| Wet Weight: | 1666lbs |
| Warranty: | 6 Mo Limited |
| Colors | Graphite, Yamaha Blue, Realtree Xtra, Matte Silver, Matte Carbon |
| Price: | $15,999, $16,499 (Blu) $16,899 (Camo) $17,249 (LE) |
Comments
comments