Pace Elite All Aluminum 6×12 UTV Trailer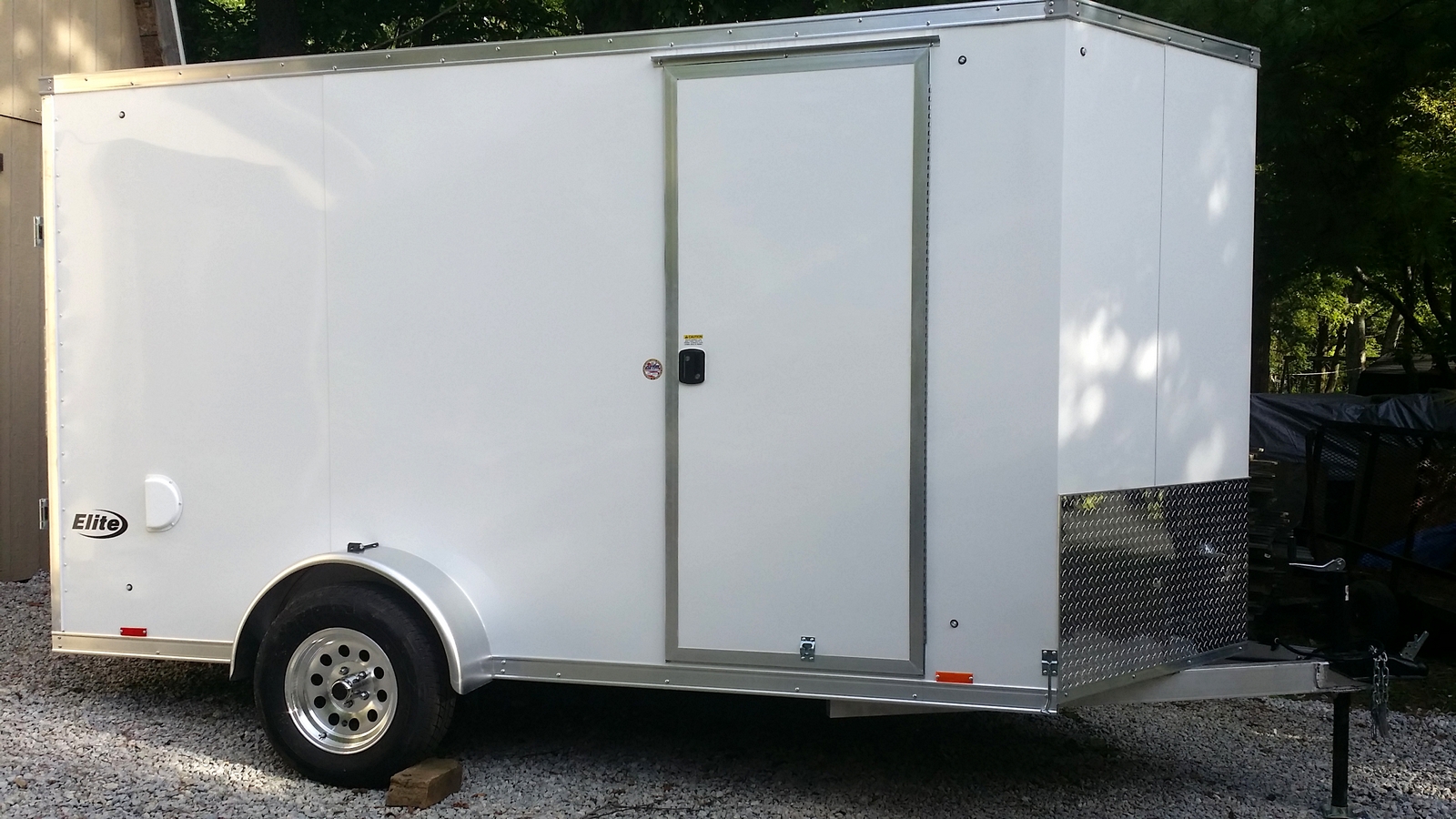 Pop Quiz. You need to transport your expensive full-sized UTV for the least amount of money possible, and reliability and security are just as important as good fuel mileage. What do you do?
Our objective was to get the best mileage possible out of our truck/trailer combo. Without a doubt, a lightweight aluminum open-air utility trailer provides the best fuel economy, especially when pulled with our trusty six cylinder Nissan Frontier, but with this set up your machine is exposed to weather, vandalism and theft. The thought of waking up to missing seats, tires & wheels or a completely empty trailer in a hotel parking lot is downright haunting. Also if we continued to use an open utility trailer like we have in the past, the truck always seems to be packed to the brim with riding gear, parts, tools and suitcases. What's more, an enclosed trailer provides shelter at the ride spot and can act as an additional garage or storage unit in your driveway.
It was obvious, we needed a small, lightweight affordable enclosed trailer, but not just any trailer, since we're in the UTV business we needed to find one that would fit the majority of the Side by Side machines on the market. Since every Side by Side (except the new 72″ wide Can-Am X3) is less than 64″ wide and 6 foot trailer's door opening measures 66″ wide, so the width of a six foot wide trailer wouldn't be a problem, it's the height that makes finding the right trailer a challenge.
Jerry Richmond of Richmond Trailers in Geneva, Ohio to the rescue. Jerry has been a die-hard ATV and UTV enthusiast for years so without even trying to explain our UTV hauling dilemma to him, he knew just what we needed when he suggested the Pace Elite all aluminum 6×12. Besides the rewarding feeling of slipping a big UTV into such a small trailer, the best part of Jerry's recommendation is the fact that the Pace Elite enclosed trailer weighs in at a mere 1280lbs. According to Jerry all we needed to do was order the extra six inches of height on ours. Then, by simply letting the air out of the rear tires, we're able to slip a full-sized Yamaha Wolverine (one of the taller sport UTVs on the market) under the 72 1/4″ door opening and safely transport it out of site and out of mind to would-be thieves and vandals. Putting air back in the tires when you take the machine out of the trailer isn't so bad if you bring a small lightweight air tank. You can also lower the rear of the machine by compressing the shocks with two ratchet straps. Do both and you can lower the height of the machine as much as five inches.
Since the 6×12 All Aluminum Pace Elite is one of the lightest well-made trailers you'll find and features a V-nose front that carves through the wind easier than a flat front trailer, you'll see a small but noticeable improvement in fuel mileage as the truck wont have to tug as hard especially in a head wind. What's more the V-nose offers great additional space for gear, especially if you get the 12 foot version. The little 6×10 footer is tempting, but don't do it, you'll want that extra space. Depending on the size, you can even stand up a quad in the front area. For reference there's 31″ inches to spare in front of the Wolverine, and 45″ to the tip of the V, that's a lot of bonus room to take advantage of. Perhaps the best part of going with a V-nose 6×12 – we're able to just fit a four seat Polaris RZR XP 4 1000 into this trailer!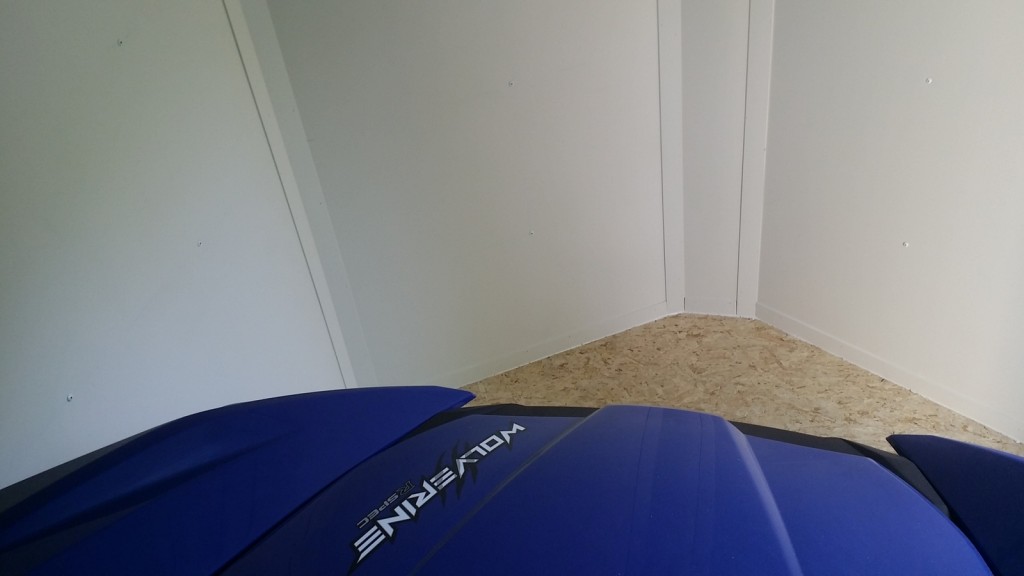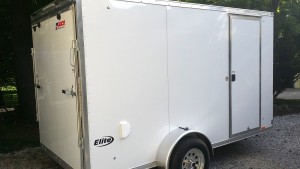 One more thing about going all aluminum, it means less maintenance as aluminum doesn't rust or corrode like steel. Unlike steel trailers that need to be regularly inspected for scratches and dents where rust can set it, aluminum trailers need only basic maintenance every few years to keep them in tip-top shape. And as is the case with other Pace cargo trailers, the resale value of an all aluminum enclosed trailers is the best in the market. Lastly the Pace Elite comes with a limited three year warranty that covers the overall frame structure and associated frame components, these include mainrails, crossmembers, vertical posts, roof bows, tongue, A-frame, door frame, coupler, headers and welds. You get a one year warranty on the door, plastics, aluminum sides, trim, electrical, stoneguard, floor converings, sealants, improper application of pain or undercoat and lights.
Dimensions
Can-Am Maverick: 118.8″ x 60″ x 72.2″
Can-Am Maverick X3 Turbo R: 131″ x 64″ x 66″
Honda Pioneer 1000: 116.8″ x 62.9″ x 76.4″
Kawasaki Mule Pro FX: 133.3″ 64″ x 79.7″
Kawasaki Teryx LE: 118.1″ x 61.6″ x 77.8″
Polaris General 1000: 118.2″ x 62.5″ x 75″
Polaris Ranger XP 1000: 116.5″ x 60″ x 76″
Polaris RZR 1000: 119″ x 64″ x 73.75″
Polaris RZR XP 4 1000: 146″ x 64″ x 73.75″
Yamaha YXZ1000R: 122.8″ x 64″ x 72.2″
Yamaha Wolverine R-Spec: 116.9″ x 60.6″ x 74.2 "
Yamaha Viking: 122.1″ x 64″ x 75.8″
The Pace Elite All Aluminum trailer uses a single 3500 pound spring axle, its GVWR is 2990 pounds. It rides on a set of ST205/75R15 steel belted radial Rainier ST trailer tires mounted on upgraded 15″ 5-bolt aluminum wheels. The white.030 screwless bonded aluminum skin looks much better than the trailers of old. Also, the 24″ stone-guard, and aluminum Jeep-style fenders are not useful but they also make the trailer look as though it's a good looking two-tone. The 3/4″ floor is made from high-performance Drymax OSB, which is said to be the most moisture-resistant OSB sub-floor available but seeing a wood floor when peaking under the trailer isn't too assuring for longevity. We would have liked to see some sort of better underside protection. Other details include a well-made spring assisted rear ramp, exterior LED brake and running lights, a super bright interior LED dome light with a 12 volt switch by the side door, a two-lock system 32″x74″ side door, a 14″x14″ roof vent with screen, four heavy duty D rings, white vinyl walls and ceiling and a pair of sidewall vents. Build quality on the Pace Elite is all in all pretty good. The only flaw we could find are a few mediocre welds as seen in some of the photos in this feature.
As we said, our best price on this trailer came from Richmond Trailers in Geneva. Depending on equipment you can get one for around the $4k mark.
We're confident we now have a great solution to hauling expensive UTVs. Before you sell off your open utility trailer think twice, there are often times you just need a quick easy way to transport it, having both options nearby is the way to go if you ask us. Be safe and happy hauling.
For your best deal richmondtrailersalesoh.com facebook.com/RTSRTP
For all the specs and more info: paceamerican.com
Comments
comments