Brit Mansell's Center Seat RZR XP 900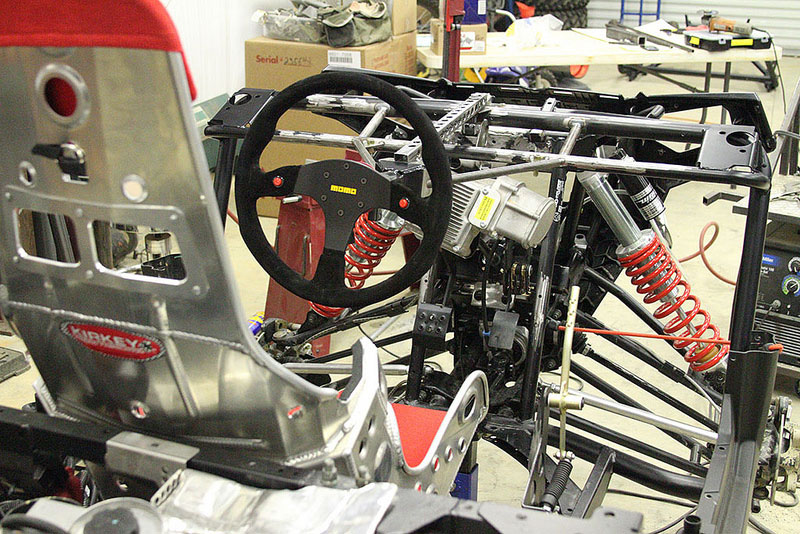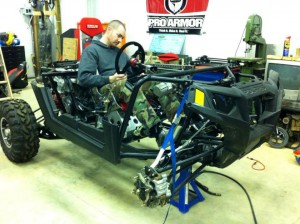 Brit Mansell is ATV Scene's key note UTV editor. His side by side knowledge and racing experience is tops in the industry if you ask us. He has been involved in off road racing for over 20 years. Beginning his career on quads, he competed on the national motocross circuit eventually ending his career in the highest pro-level ranks. After retiring from racing quads, he had a short stint racing two-wheeled motocross and most recently found his home and a true passion racing and tinkering with Polaris RZR side by side machines.
His day job is just as motorsports involved as his weekends, Brit owns and operates Octane Media (a high performance web design company that caters directly to the motorsports and racing industry). Lately he's been building state-of-the-art e commerce sites for a few UTV aftermarket companies, which makes sense since UTVs are the fastest growing segment in the ATV industry.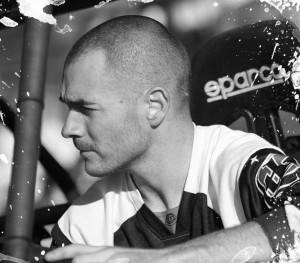 When he's not in front of a computer, fabricating an RZR part or spending time with his family you can probably find him at a UTV race. He has been racing a Polaris side by side for the last four years.
The number 101 Polaris RZR XP 900 that he's gone to battle with at King of Hammers, UTV Rally Raid, ECORS (East Coast Off Road Series) among other racing events has been his tried and true UTV racing weapon of choice. He's used it to win back to back ECORS championships in the UTV Unlimited Class and runner-up in the UTV Rally Raid Outlaw Class. As UTV racing grows, and Brit predicts incredible growth in 2013, he is determined to defend his ECORS championship and win as many races as possible by having the ultimate machine and equipment possible, so for the last six months he has been hand-crafting a one-of-a kind perfectly balanced light-weight single seater RZR XP 900.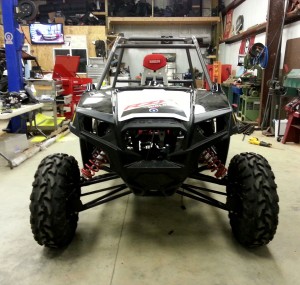 Ok first off, you've been working your butt off on this project. Why all the time and effort?
[Laughing] I have been asking myself this question a lot lately. All of the races in which I compete do not require a passenger. It only made sense to center up the controls and seating to gain better weight distribution. With this build, it seems like each change has required changing two more parts of the vehicle. In the end, after all is said and done, this should be a near-perfect driving experience, in the sense of balance and control.
Is it legal to race this? What class?
That depends on the series and the class. This vehicle will primarily race UTV Rally Raid and hopefully some WORCS races. At Rally Raid, the 1000cc-based vehicles already race in the "Outlaw" class where anything goes. At WORCS, I cannot find any rules excluding it from either Production 1000 or Pro, so from what I can tell it's good to go at WORCS as well. I have contacted WORCS several times to ask that specific question, but I cannot get a response from them.
How much lighter do you think this will be compared to a stock XP 900?
When I set the goals for the project, I was shooting to lose 100 pounds from the stocker. The stock vehicle weights in at 1250. Obviously, I have removed a lot of weight, but I have also beefed-up some parts of the vehicle as well. In the end, I expect it to be right around 1100 lbs.
Besides the obvious seat location, what else have you changed on the machine?
Moving the seat dictated a few other changes: I changed the rack and pinion system to a center input (SACO 1:1), centered the steering wheel and built a custom quick-release setup utilizing the stock shaft bearings, centered up the pedals (this required a longer brake line on the driver's side) and I moved the transmission shifter. The biggest change dictated by moving the seat was the fuel system. The seat position I chose is about 4" lower than the stock seat.
The steering assembly and all that went into looks like a lot of work.
Yes, no doubt, it wasn't easy and took a lot of time. The biggest hurdle here was building the bracket that connects the rack to the tie rods. I took the opportunity to reduce some of the bump steer off the stock vehicle. The new system required longer tie rods, which were built by Blue Torch Fab. The geometry of this setup took quite a while to get worked out, but I think it was all worth it. It should steer and handle really well.
Do you have a name for it?
Yes in fact I do, its name is Odin – king of the Norse gods, who gave up an eye to gain wisdom and power. Read more on Odin here:http://en.wikipedia.org/wiki/Odin
What has been the biggest overall challenge?
Engineering has been the biggest hurdle. There are many parts of this vehicle that required much more thought than I normally put into a race car. It breaks a lot of molds. The entire vehicle will work harmoniously with all of its parts. For all of those parts to come together as a balanced machine, it required a lot of forethought and planning. I spent a lot of time sitting in the shop just staring at a bare chassis.
Have you been fabricating and welding your own parts?
Yes, with the exception of the tie rods (Blue Torch Fab), and the sump tank (MPFab), everything else was built in-house by me.
Check out the great weld work on the custom tank. Walker Morgan of MPFab.com can stack dimes with the best welders in the country.What are some of the aftermarket products you've chosen for this project?
Blue Torch Fab – a-arms, radius rods, radius rod plate, radius rod weld-in bungs, tie rods. They also supplied all of the trick tabs and dzus fasteners.
Kirkey – aluminum seat, which I modified.
King Shocks – 2.0/2.5" shocks. I've been on Kings for three years now on the XP's. They're amazing and literally give a competitive edge over other shocks on the market.
HiPer Wheels – hands down, the best UTV wheels on the market.
GBC Tires – out of 23 races last year, I had only one flat. That's pretty amazing when you consider over half of those races were 4 hours or more. Again, for 2013, I will be running the GBC Dirt Commanders. For select races, I will be running the all-new GBC Kanati Mongrel radial.
Benchmark Performance – this car will get their entire race engine package.
Dirty Dawg Performance – Dale at Dirty Dawg is ridiculously knowledgeable working with the CVT system on the XP. His clutch kit is an instant performance boost and the helix provided in the kit has a profound effect on the vehicle.
Yoshimura – I will be using their all-new RS-4 exhaust system as well as their PIM2 and data logger. We also should have some trick carbon fiber mirrors from them as well.
K4 Switches – K4 has a great selection of switches and DC wiring components. I will be using their parts for the wiring.
K&N Filters – I'm really excited to shed some weight off the OEM airbox and add some extra filtering capability using K&N's new airbox system for the XP. The ability to run pre-filters is also a big benefit due to the muddy conditions of southeastern racing.
Pro Armor – the doors, bumpers and skid plate all came from Pro Armor. I have run their doors and skids since I started racing UTVs. Pro Armor is a staple in the UTV market and it shows once you get your hands on their products. Fit and finish is absolute top of the line.
SXS Performance – they gave me the hookup on the super-trick Momo steering wheels as well as the PRP ratchet harness. Both of those items make a huge difference in the driver/car interaction.
Custom fuel sump tank containing the OEM pump, sender, and regulator.Tell us why you changed the fuel tank location and chose to run two tanks instead of one.
Dropping the seat and building proper mounts for the seat required me to relocate the fuel tank. I took this as an opportunity to more evenly distribute the weight of the fuel. The system I decided to build uses two 5 gallon vertical fuel cells that are gravity fed into a custom sump tank. The sump tank contains the OEM fuel pump/sender/regulator. The sump will gather all of the fuel and is the low point in the system, ensuring that the sump always has fuel. Total fuel capacity has been increased and the weight of the fuel has been moved as far forward as possible.
Have you seen another center-seater XP in the country?
Yes, I have seen a few center-seat XP's and some of them are very nice. This is the only one I know that will be a full-time racer and still retain the look of the OEM vehicle.
What are your plans for this machine?
It will compete in the UTV Rally Raid series as well as select WORCS races.
In the late 90's top-level quad riders that continued to race with a 250R engine found that they were no longer competitive. They either upgraded to a high performance four stroke motorcycle engine or found another sport. Do you think the same type of thing will happen to UTV racing?
The future of UTV racing is literally endless at this point. The great thing is that the longer these machines are on the market, the more used machines are available, making availability less of an issue. The UTV provides a safe (relative to other forms of off road racing), fun way to stay out on the race course. I only see UTV racing growing in the future. As far as people spending this amount of time on a vehicle to be competitive, I seriously doubt this will be an issue. In the grand scheme of things, the performance benefits of building a center seat vehicle are very small. In my opinion, it's definitely not worth the effort if you are a casual racer. As for it being worth it if you are a full-time racer, that verdict is still out. I'll tell you after the first few races.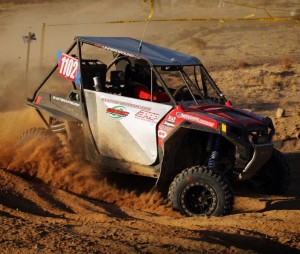 Any desire to take on this project again? Perhaps go into the conversion business?
Not a chance, for either of those questions.
When is the machine's debut?
Feb 9th at UTV Rally Raid, round 1 in North Alabama.
Any parting words on this build? Anyone you want to thank?
Polaris has been a huge help for me this year. None of this would have been possible without their help and without them building such an awesome platform. I am looking forward to showcasing this machine on many podiums in 2013. I would also like to thank ATVScene for the interest in the build. A lot of companies have contributed product and advice. This is a great way to give them some attention.
My company, Octane Media (http://www.octanemedia.com), is the main sponsor behind my race program. If anyone reading this is in the motorsports market and you need a high-performance website, please let us know. For more information on Octane Racing, please check us out at http://www.octaneraceteam.com or follow us on Facebook at https://www.facebook.com/OctaneRaceTeam.
Comments
comments