Race Testing the Yamaha YXZ1000R in Severe Dust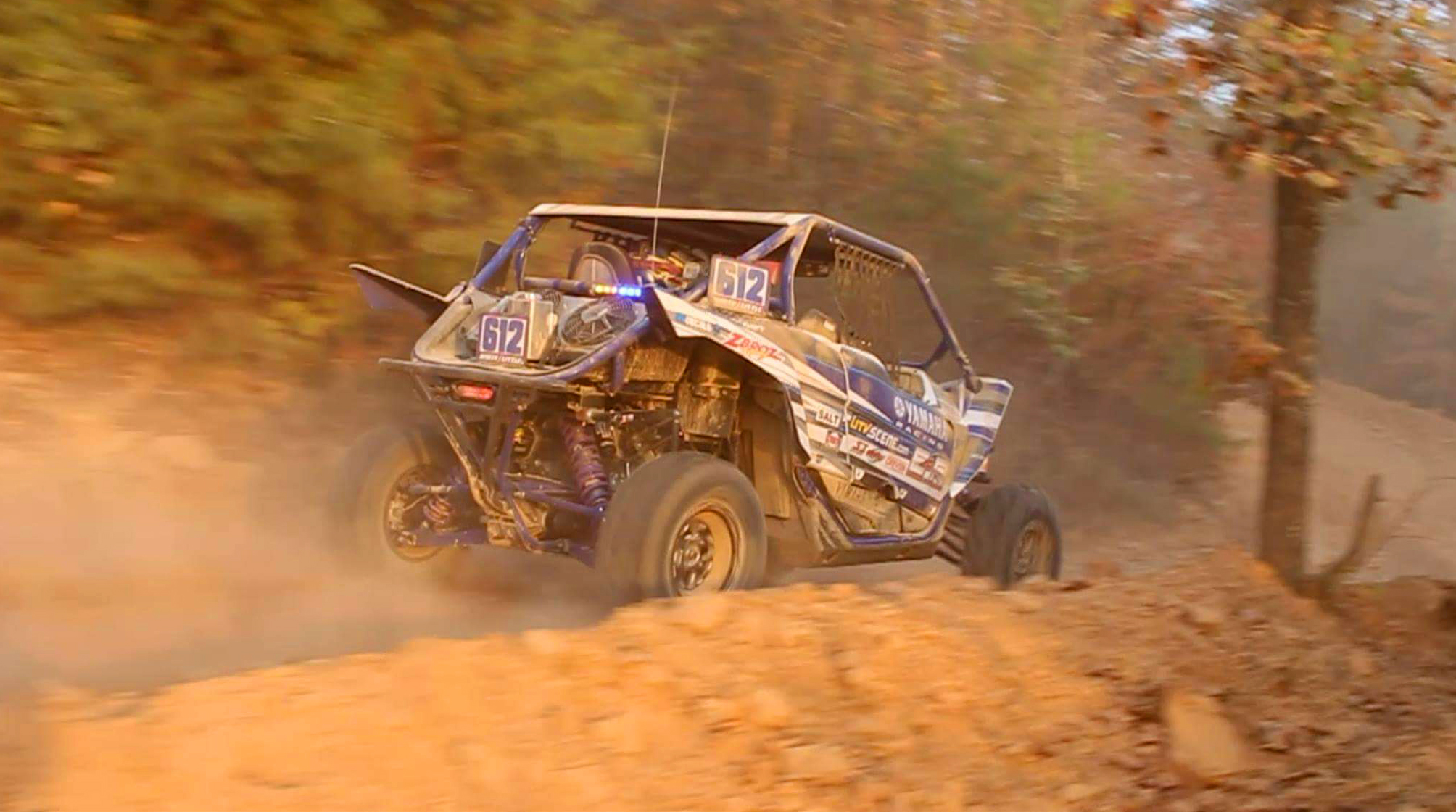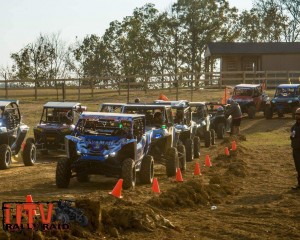 Alabama, like most of the south, has been going through a drought, so we figured round seven of the 2016 UTV Rally Raid (UTVRR) Series held at Hawk Pride Off-Road Park in Tuscumbia would be a dust-race. Not only did it not rain even one time since round six, the pond which supplies water for the water truck and sprinkler system, was extremely low. So low, that the sprinkler system couldn't work and the water truck could only water portions of the short course section and the hot lane to help keep dust out of the pit area.
In an attempt to not churn up too much loose soil, the park and UTVRR officials made a wise decision to not do any course work prior to round seven, so besides severe dust, we would have to deal with all the ruts and rocks that were dug up at round six. At least there wasn't powdery soil and everything was hard-packed, I think everyone that was there would agree, this was the correct decision but regardless, I thought the June race was the dustiest race I've ever been at, but this was worse!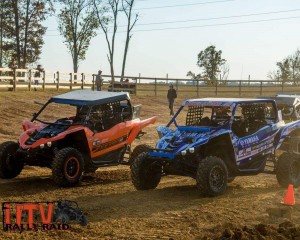 We went into this round five points out of first for the championship, behind Team TSR Racing, so we controlled our own destiny. IF we could win round seven and eight, we would wrap up the championship without needing help. Needless to say, we were really hoping for good conditions so things could be decided on the course without outside influence. But, get real, this is off-road racing and rarely do you get what you hope for.
As normal I started the race off. As luck would have it (unlucky for us), I drew an outside second row start. Team TSR drew an inside first row, so we knew we had our work cut out for us because I knew they would have semi clean air for the first two laps or so. I tried to put that out of mind and focus on my start as I knew it would be critical. The last thing we needed was to get behind another car creating more dust. At the green light, I got a great jump against fellow Yamaha YXZ pilot Greg Corkern. Being on the outside, I had a longer distance to travel and knew I had to give it everything I had to not only not get pushed wide, but just to have a shot at a holeshot. I entered the corner ever so slightly ahead of Greg, but he had the inside line and got about a half a wheel on me. Neither of us was going to let out and we drag raced literally wheel to wheel to a bottle neck between two trees. At that point, I had to let off, he had me. I knew the only chance I had of getting in front on him was staying as close as possible until we could get back to the short course, which was about 3 miles. If anyone has ever driven in blinding dust, imagine driving based on just following the lights in front of you with absolutely nothing else to go by. So basically, if he made a mistake – we both crashed.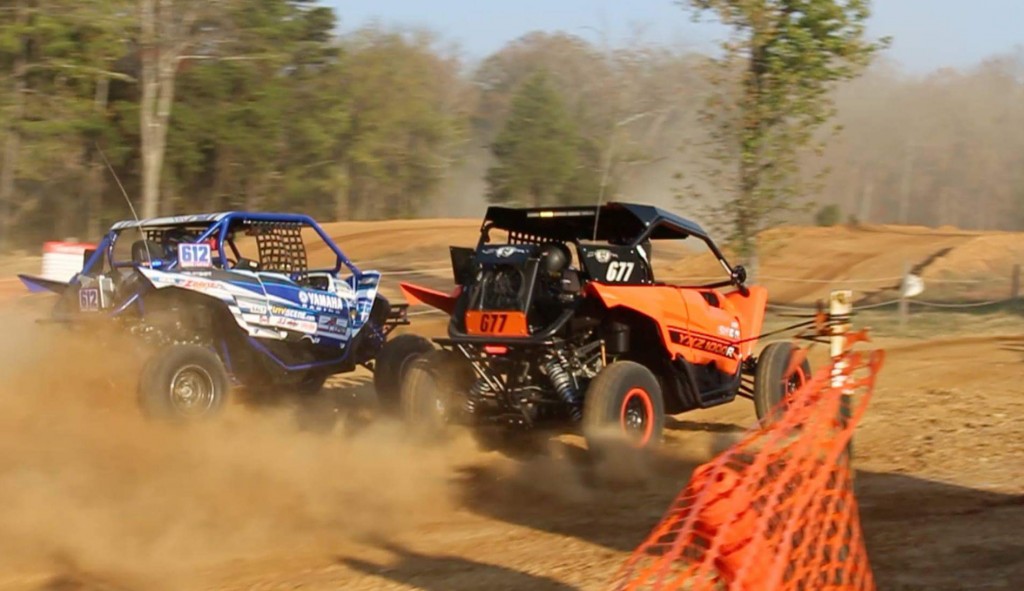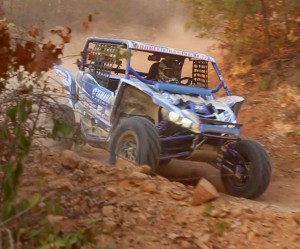 I was able to manage to stay on him for approximately a mile into the course until we hit a pocket of powder. I was literally on his bumper, but when we hit that powder I completely lost his lights and all vision. I buried my brakes into the floor board because we were in a section carrying some speed that had a lot of switch backs. When I came to a stop, I was off the course and in the middle of two huge trees. How I didn't hit one and destroy the car is a miracle in itself. I realized then, this would be survival and I just needed to stop worrying about trying to catch someone and worry more about not killing the car. As the old saying goes, "you need to be in it to win it".
As I got more into the woods section on that first lap, I knew this was going to be the longest two hours I've ever spent in a race car. It was so brutal that there was spots that I was going 5 mph and couldn't see anything. It was like being completely blind. In fact, I ran clear off the course two additional times on that first lap. After the first lap, things didn't get any better, but at least there were spots here and there that I could semi see. In those spots, I tried to carry as much speed as I could. By lap three, there was no change in conditions. Anthony Rick (our crew chief) radioed in and told me I was several minutes behind Team TSR, but he had entered into the majority of the dust storm as well. When he was forced to deal with as much dust as the rest of us – we were turning a slightly faster time.
At least he wasn't gaining time on us any longer. After lap five, I needed fuel and was hoping that nighttime would bring badly needed moisture into the situation and allow my teammate Keith Little to gain on the leader. When I came in to pit, Anthony and Curtis Mattei fueled us up and checked over everything while I helped Keith get strapped into the driver's seat. Anthony gave him the all good sign and off he went. As I hoped, conditions got slightly better with nightfall, but Keith said it was still extremely bad. He was able to start cutting away at Team TSR's lead and at one point we thought he would be able to catch him, but then he got caught up behind some slower cars and it killed our chances.
We finished second to Team TSR, who drove a great race. It is not the finish we wanted, but it was only the second finish all year that we did not have any issues. Considering I almost destroyed the car on the first lap, I was happy to get out of this round with no issues.
As I mentioned in the last race report, we decided to go back to OEM parts and that decision was reinforced by this race. Anthony and Curtis spent a lot of time on the car switching parts back and it paid off. The YXZ is an incredible machine and we are extremely happy with it.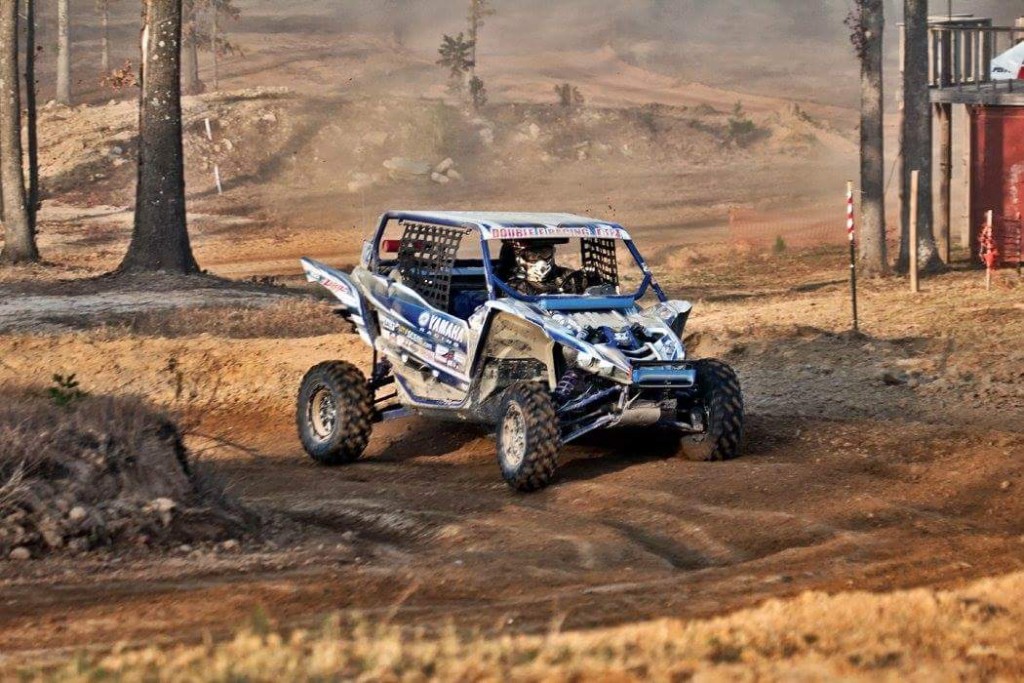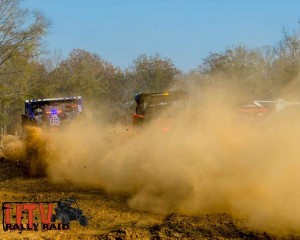 We have one race remaining and we are now eight points down to Team TSR. We are praying for good conditions at the final round, but we know we need a minor miracle to win the title now. For us to win the championship, we need to win this final round and the TSR team needs to finish fifth or worse. I don't see that happening unless they have problems and I don't wish that on anyone, much less fellow YXZ-mounted Team TSR who also runs my Double E Racing suspension components and is also a good friend of ours. All we can do is take care of our own business and let things fall where they may.
It goes without saying, we couldn't do it if it wasn't for our sponsors. Thank you for believing in us and making his happen: Yamaha Motor Corp., UTV Scene.com, Double E Racing, GBC Motorsports, DWT Wheels, Driven Racing Oils, Zbroz Racing, S3 Powersports, ATV Zone, Hess Motorsports, Salt Number, Custom Metal Works, JC Racing and Nstyle Designs.
Comments
comments