Media Allstars Wins GNCC UTV Lites Championships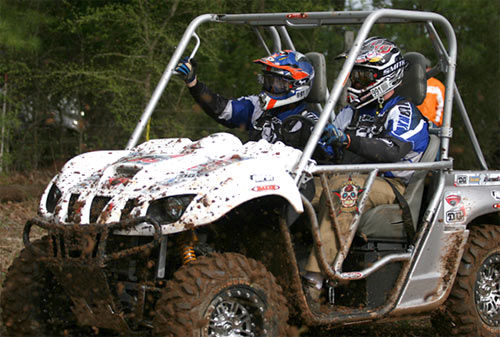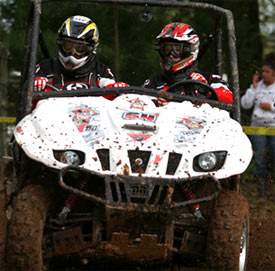 In the inaugural year of GNCC UTV Racing, Yamaha Rhino mounted Media Allstars teammates Dustin Shuler, and Josh Starrett brought home both Lites Class Championships (Lites Modified, and Lites Stock respectively). The four rounds of the GNCC UTV Series took the team from South Carolina, to Pennsylvania, Ohio, and finally Indiana. Amazingly, the duo never finished off the podium, racking up three wins, two-second place finishes, and two thirds throughout the season. "Winning two out of the four Championships is a huge accomplishment for us. We knew coming in that it would be a learning year for us, and we expected a certain degree of success, but these two Championships blew our expectations out of the water." Stated Team Manager Jorge Cuartas. "We're just really happy to have done this for our sponsors, times are tough and we couldn't be happier to put their products out front and get them a tangible return on their investment. GNCC Racing is extremely tough on equipment, and the fact that we never DNF'ed is a testament to the products we're using." Choosing to run the Yamaha Rhinos was an integral part of the team's success, as the virtually bulletproof Rhinos stood up to even the most demanding conditions.
"We'd like to congratulate Dustin and Josh on a stellar season," said Steve Nessl, Yamaha ATV/SxS marketing manager. "To finish on the podium at every round is a testament to their abilities as racers, not to mention an indica-tor of just how durable and reliable their Yamaha Rhino is in a wide variety of terrain and conditions."
"We went in to the series looking to have a lot of fun. We knew that to have fun meant not breaking down. I had already logged countless hours on the Media Allstars Rhino and knew that it would be the machine for us. It helps to know that you have a reliable and safe machine under you when you are going wide open through the woods. Those trees come up fast! We're happy to bring home the #1 Plate, it was hard fought."
Racing has been such a huge part of our lives, and we immediately knew that UTV racing was a perfect outlet for us to keep racing. We also knew that we had to have tough machines under us because of our aggressive riding styles, and the Yamaha was the only choice. You just wouldn't believe some of the conditions we put these things through. It's a testament to our sponsors' products, that's for sure." – Dustin Shuler.
As for the team's co-drivers/ navigators, Starrett was pointed in the right direction by his father Charlie Starrett, while Hank Millar handled navigational duties in Shuler's ride.
"We jumped into this [GNCC UTV Racing] at full speed, and with the same type of commitment we've shown in our MX efforts. The UTV thing is just getting going on the East coast, and we want to support it in every way possible, from racing National events such as the GNCCs, to local events like the Durhamtown Rhino Rally, and Top Gear UTV Challenge series in Georgia."- Jorge Cuartas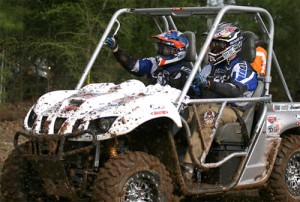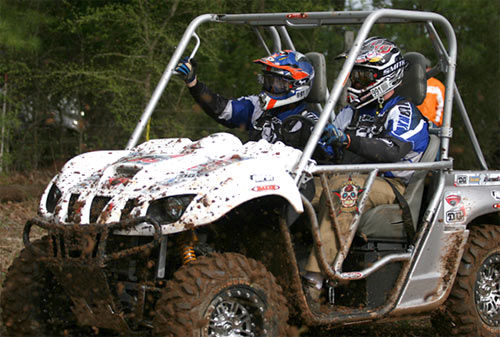 The 2008 UTV Team Sponsors are FullBore Innovations, DG Performance Products, Maxxis Tires, Outer-wears, Uni Filter, Hi-Per Technologies, Lonestar Racing, UTV Crap.com, Andy Shaw Ford (Sylva, NC), Maxima Lubricants, Yoshimura R&D, G4 Graphics, & Elka Suspension
About the Media Allstars
Established in 2004, the Media Allstars Amateur ATV MX Team has racked up an impressive Ten National Cham-pionships, 91 Overall Wins, 211 Moto Wins, & 390 Podium Finishes. The Team's unique business model which focuses on presence, and sponsor representation, while grooming future champions has kept them out front since the Team's inception. The UTV Team was created in 2008 with three drivers; Josh Starrett, Dustin Shuler, and Jorge Cuartas, all three are ex-Motocrossers, and fathers. Year one has yielded two Championships, not to mention Countless Wins, Ex-perience, Memories and Fun. Bring on 2009.
Comments
comments