Eight Rounds of UTVRR Racing on the Yamaha YXZ1000R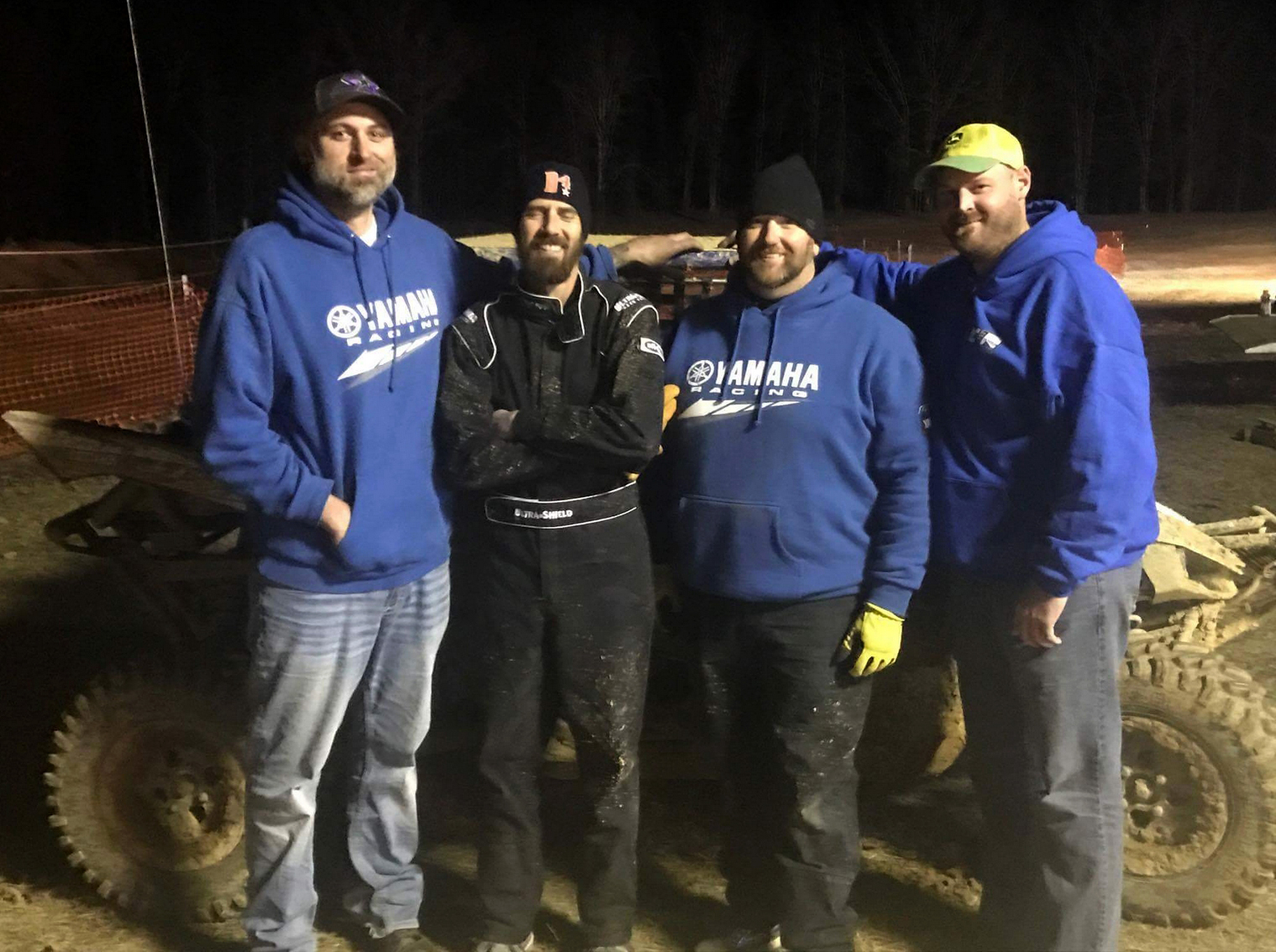 Round eight of the 2016 UTV Rally Raid (UTVRR) Series was held in Tuscumbia, AL at the Hawk Pride off-road Park. This was the final round of the season. As luck would have it, it turned out to be the best race course we would race on all season. Mother Nature did her thing last week, and the park got rain on Sunday, Monday and Tuesday. The course crew then worked the course on Thursday and conditions were about as perfect as they could be, minus a little cold temperatures. It was so nice to finally be able to push the car without having to worry about dust, slick conditions, mud, etc. We had an such a blast driving our Yamaha YXZ at this round, words can't quite describe how much we enjoyed this incredible machine.
Going into round eight, we were eight points out of first place for the championship in the 1000 Pro class. Basically, we needed to win, and Team TSR Racing (Ross Harrison) needed to finish fifth or worse for us to win the 2016 title. Ross is a very talented driver, so we knew he was going to have to have issues to finish that far back. As much as I wanted to win the title, I'm not the kind of guy that wishes bad luck on anyone, so our team goal was to win the last round and let the chips fall where they may. That was our number one goal. We have had three sure class wins slip through our fingers this year in the last thirty to forty five minutes of those races and another that we would have had a great chance of winning, so we didn't want to finish the year without a class victory. We, as a team, made the decision that this race was going to be checkers or wreckers – #NOLIFTSHIFT baby!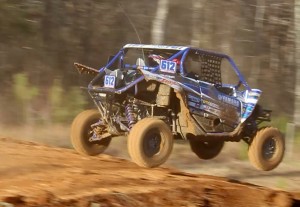 As normal, I started the race and drew a second row outside starting position for the second straight race. I was pretty disappointed because it is almost impossible to pull a hole shot from the outside position with the way UTVRR starts the races. But the good news was if we didn't get the start, we didn't have to deal with dust at least. As the light went green, I got a good jump, but when I got into the turn Dale Bennett was side by side and had the inside line. I knew then he had me, so I tucked in behind him. I stayed glued to him and we caught the guys on the first row really quickly.
After about two laps I was able to get by and had caught the turbo cars that started in front of our 1000 Pro class. I knew then I had an extremely good pace going, and it wasn't long before Anthony Rick (our crew chief) radioed and told me I was in the lead. The YXZ felt amazing and I was having a blast. Usually, I'm trying to nitpick everything while trying to figure out how to make things better, suspension wise, but this race I already knew the car was great this was our third race in a row that we hadn't made any changes (anyone that knows me knows that this is unusual). Also, as I mentioned earlier, the course was absolutely perfect, so what more could a guy ask for?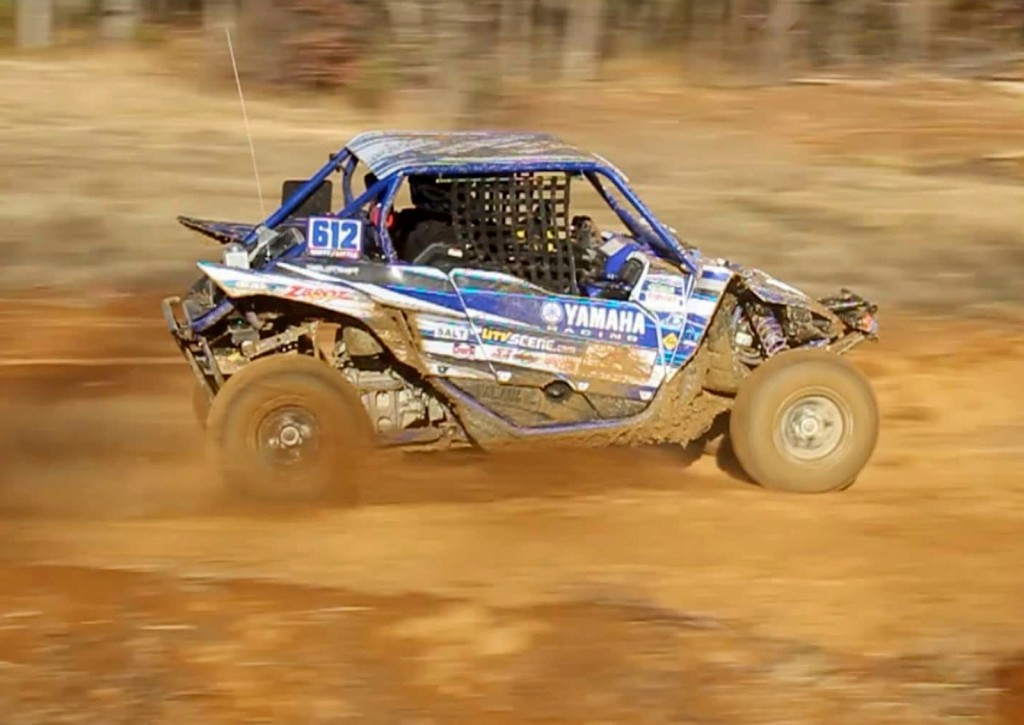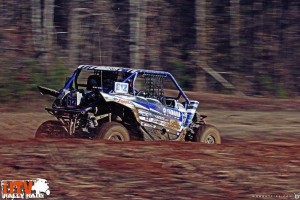 Everything was working so well, I almost made a mistake that would severely cost us. I always take a second to look at my fuel gauge as I'm passing the pits, since the pits are always on a nice straight away section of the track, so I have a second to look at the gauges, plus we also have very clear radio communication in this spot. As I came through on lap four, I looked down and had three bars of fuel showing. I radioed to Anthony and said, I had enough to run that lap and one more. As I finished that lap, I never thought to look down before I passed the pit entrance onto the straight I just referenced. When I looked down this time, I only had one bar of fuel showing. I knew right then, it was going to be close since one lap is approximately ten miles in length and I was pushing the car harder than we have all year with the perfect conditions.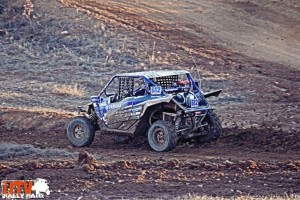 About half way through the lap, the car cut out on me. Needless to say, I was in full panic mode. I radioed to Anthony and told him I had to back the car way down to conserve fuel. I was praying that I could get back to the pits. All I could think of was how stupid could I be to let this happen. I had already cost a win earlier in the year because I didn't put fuel in the car while I was manning the pits, when Keith Little (my co-driver) came in for a repair stop. This would have been 100% my fault, and with all the work Anthony and Curtis Mattei put into the car, I felt like I was letting everyone down.
The second half of lap five seemed like the longest lap I have ran in any race. Luckily, I limped the YXZ into the pits on fumes. That was the good news, what a relief! The bad news, was I lost the lead and put our co-driver Keith in a seven-minute hole. As Keith took off, I told Anthony to tell him, checkers or wreckers. Do what he could because our goal was to win. Plus, if we had a sliver of a chance at a championship, we had to win. As Keith started clicking off laps, he was flying, and I mean flying, it reminded me of some of his incredible charges he had while racing the Pro ATV Nationals. He was turning the same lap times at night as everyone else was during the day. It became obvious he was going to get us back within striking distance for sure, but we knew we were going to have to stop for fuel again and some of the other teams didn't have to, because they run a larger fuel cell than our OEM. He came in on lap ten with about an hour left in the four hour race and had cut that seven minute gap down to two minutes.
When Keith came in, Anthony and Curtis got him fueled up as quickly as possible and he took off. It was a well-executed pit stop. The next two laps were just short of spectacular! On lap eleven he turned an 18:42:823 lap AT NIGHT! The next fastest time on that lap was a 20:53:806. As a comparison, my fast lap (2nd fastest of the entire race) was an 18:15:457. I can't over state how fast he was. Needless to say, that lap put us in the lead and we ended up being able to make an extra lap than everyone else before the four hour time limit.
We finished twelve laps in 3:54:27:902. Not only did we win the 1000 Pro class, but we also won the overall (bragging rights only). Since we knew we won, we became very interested to see where Team TSR was going to finish. Ross had some issues all night, but he kept persevering through them. He was between fourth and fifth place for the second half of the race, so a championship would be decided on his last lap. A the end, he finished fourth, this meant he won the 2016 1000 Pro Championship by one point over us.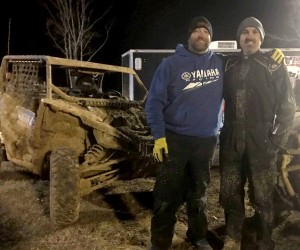 We were so close, yet, so far away. We knew all year long, TSR would be the team to beat and it literally came down to the last lap of the last race to decide the championship. Our whole team couldn't be happier for Ross. As I said earlier, I'm not the kind of guy that wishes bad luck on anybody, especially my friends. This championship also meant a great deal to Ross for personal reasons. For those that do not know, Team TSR was a two-man team (Ross Harrison and Rodney "Kappy" Ristau), – they competed just like Keith and I, both splitting driving time. Last November (2015) Kappy was diagnosed with stage-4 colon cancer. Kappy was a great man and he battled as hard as any human could and he never gave up. He actually split driving time with Ross through round three this year and then became too weak to drive any longer, leaving Ross to drive for the both of them. Kappy passed away at the age of 50 on September 11, 2016. All of our hearts were broken at the news. If anyone has ever been to a UTVRR, you know that it is like family around the pit area and Kappy was a huge part of that. So, Ross, you and Kappy truly deserved this one and I know Kappy was jumping up and down in heaven when you crossed that finish line in fourth, HUGE Congrats to both of you. It was a true honor racing with y'all this season and our whole team is proud to call y'all our friends.
I can't end this without giving a huge shout-out to John Pellan and UTVScene.com. Without him, we wouldn't have had the chance to drive this amazing Yamaha this year. I also can't thank Anthony and Curtis enough for all the work they put in. People always look at racing as fun, but to do it at a professional level is a full time job and these two do more than I could ever explain. I would also like to thank John Capdeboscq of JC Racing and Chris Brian of Brian Motorsports for attending this last round to help with anything they could just to help us have a shot at winning. Finally, I would like to thank Yamaha Motor Corp for believing enough in Keith and I to drive the incredible YXZ this year. It was an experience I will never forget. I truly believe it is an amazing car that rivals no other naturally aspirated car. I'm hopeful it is a relationship that will continue for many years.
It goes without saying, we couldn't do it if it wasn't for our sponsors. Thank you for believing in us and making his happen: Yamaha Motor Corp., UTV Scene.com, Double E Racing, GBC Motorsports, DWT Wheels, Driven Racing Oils, Zbroz Racing, S3 Powersports, ATV Zone, Hess Motorsports, Teixeira Tech, Salt Number, Custom Metal Works, JC Racing, Brian Motorsports and Nstyle Designs.
Comments
comments