Dana Creech 9-26-07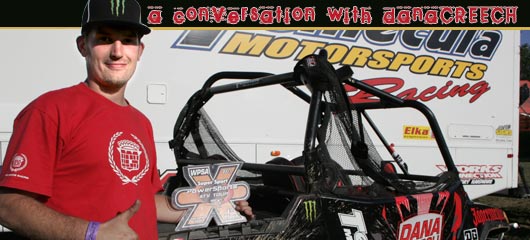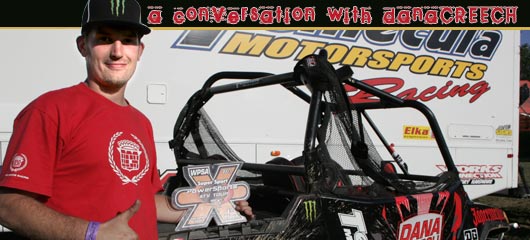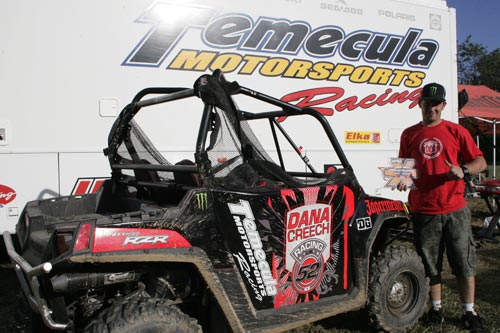 ATV racers miss you. What have you been up to lately?
This year I have been racing SxS full time and working on making DCR [danacreechracing.com] grow, so I can go and race ATVs again. This sport has become so competitive, that you need to have factory support and dedicate all of your time to ATVs. Right now I have too much other stuff on my plate to be a full time quad racer . I'm definitely not done, just trying to get myself set. Lately I have been racing SXS and building turn key race ready rhinos and RZRs, however I do miss the fans and everyone from the races. It was good to see everyone this weekend at WPSA's Field of Dreams, in Boswell PA.
Why are you so interested in the SxS segment these days?
When I was growing up I always wanted an off road go cart. Now that I'm older I want a CORR Truck, but I really can't afford one right now, so SxS seem to be the next best thing. When you have crashed as many times as I have, you begin to appreciate a roll cage. I think that the SxS machines are very marketable to the public, because you don't have to be a top athlete to drive one. You can be old, over weight, or have a disability and still go out and be competitive. If a wife and husband go out and by two quads, handlebars ,axles and wheels they would have just as much if not more in a fully race ready SxS. This makes it achievable to get into this sport for most. Sponsors are very interested in SxS because of all the attention we are getting from the press and the public coming out to watch our races. SxS have more billboard space for sponsors than any other power sport vehicles. Not to mention this is probably really a lot of fun.
You drove across the country to race a stock Polaris Razer at the final WPSA event in PA. You had to know you would end up getting waxed with a stock SxS compared to the $30k modified Rhinos and Razers, right?
After driving my Polaris RZR for the first time, I was pretty confident that I would be competitive with this vehicle at the ESPN race. People kept asking me before the race why I was even attempting to race a stock RZR against these guys. I told them that if I thought I was going to lose, I would really be wasting my time coming all the way out here.
How did the race go for you?
The race couldn't have gone any better for me. I took the holeshot and had to battle with Hans from HMF for the first two laps and then something happened to him. Which left "Office Mike" in second behind me. I started to pull away and then at the half way I almost rolled after the finish line, but I turned into it and gassed it. Luckily I saved it, and kept my chances for the win alive. This put Office Mike right behind me for the rest of the race. My favorite part about the race was going through the whoop section wide open in my STOCK Polaris RZR. This was the main place were I could pull the other drivers.
Not too many people will believe this story. You're saying you won the race? What gives?
Yep. My Polaris RZR, Looney Tuned exhaust, DG bumper, PRP seats, K&N , Kicker, Procraft and DCR machine was completely dominate this weekend. This is just a preview of what is to come for next season. We proved you dont have to spend a ton of money to be competitive in SxS racing.
What's in the works for SxS racing? The WPSA Tour doesn't seem to attract many entries, where are people racing SxSs?
Lake Elsinore Motocross Park is the dominate venue for SxS racing at this time. They have dedicated a complete track just for SxS. They have helped make SxS what they are right now. I live about four miles from the track and I go and practice all the time. LEMX has their own series that goes to their track only and M4SX has a dirt tour series that goes to four different tracks and also CORR has started a SxS series as well. The WORCS Series now has a SxS class and so does ITP QuadCross. There is also another series in Arizona that just started as well. If WPSA gets a purse and guarantied TV time that we can present to our sponsors, there would be a lot more SxS machines at their events as well.

Where do you see the SxS market going?
The SxS market is getting bigger and bigger with all the manufactures coming out with their own SxS this year and next year. This is going to really help explode this sport.

Tell us more about DanaCreechRacing.com.
We have been making a lot of changes over this past year trying to keep our web site on the cutting edge. I'm currently working on a signature line of SxS and ATV parts. I just got done designing a new logo. We should have stickers, posters, graphic kits, tee-shirts and more coming soon. I have been really busy working on what I call "Turn Key SxS race machines" at my Shop in Lake Elsinore, CA. Keep checking out the site for new sections. We will have video section from the events that we go to as well.
Let's see you've done Freestyle ATV MX, ATV Motocross, ATV TT, 12 Hours of America, 12 Hours of Pont de Vaux, Baja 500, 1000, SuperMoto, Dirt Riot, Pro Quad Stadium, now SxS Racing… is there anything you haven't done, maybe a GNCC someday?
Come on get with the scene guys, [laughing] Weston Beach Race two years in row, 1st place and 2nd behind that Ironman guy. I guess it was okay to lose to the National Champion. It's funny you said GNCC because I do want to race a GNCC within the next year as well as some WORCS races. I also want to drive a Monster Truck for Live Nation not picky about which one, and I would like to race CORR and Trophy Trucks some day as well. If the last two ever happen my life will be complete.
If Live Nation (formerly Clear Channel) decides to bring back the Pro Quad Stadium Series will you defend your title there and run the series, or are those days over?
If Live Nation brings back Pro Quads, I will definitely be there. I really like a tight technical track and those races were a blast.
Any Peace-Outs?
I would like to give a special thanks to the following for helping make this year possible…
Thanks to my Fans that have stood behind me and supported me through out the season. I can't do it with out you.
Temecula Motorsports-Thanks for letting me use the Funmover to travel out to this race. Mike Findlay, Earl Thigpen, Noa Rawls, Mike Cafro that smooth Desert Fox.
Jagermiester- Thanks Rick for helping out this year.
Polaris- Craig, Amanda, Justin, Karen thanks for making it possible.
Kicker- Thank you Jason for taking such good care of me over the years. Kicker speakers defiantly help keep me up on these long road trips.
Looney Tuned Exhaust-Thanks for all your support Randy, Don and Kristen. That Dana Creech Signature SXS and ATV exhaust are the best I have ever heard or used.
DG Performance-Thanks Preston for taking care of me and look forward to working with you in the future.
Thank you Procraft for helping me out the last two years, you make it easy for me to do well on the track.
K&N-Thanks Johnny for all your support, it's nice having a clean intake tube every time I take my K&N air filter off.
Thank you Aaron at PRP for making me the coolest RZR seats out there.
Thank you Billy at Quad Tech for hooking me up with the best carbon fiber products out.
PWR- Thanks Clint for your help this year.
Douglas Wheels- Thanks Craig for all your support.
A big thanks goes out to John Boy for helping me out this year.
Thank you to my friends and family for putting up with me this year. Yes, this includes you MOTO!!!
Comments
comments