Coastal Racing's Sean Bogdan Top Five at Camp Coker GNCC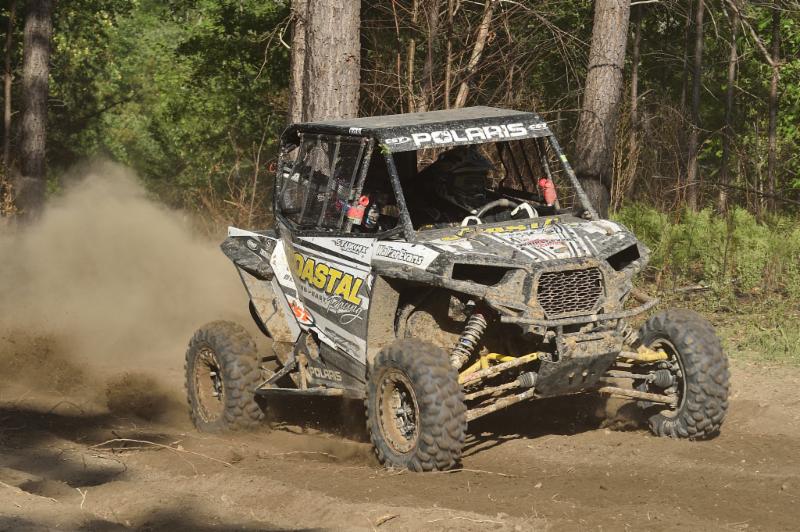 photos by Ken Hill
The Coastal Racing/Answer/Maxxis/Waynesburg Yamaha ATV Team put forth another solid weekend of racing at Round 5 of the Grand National Cross Country (GNCC) Series in Society Hill, South Carolina. Team rider Drew Landers captured his fourth-straight victory in the College A (16-21) class, while teammate Brycen Neal made his fourth podium appearance of the season with a 3rd place finish. Additionally, UTV team driver Sean Bogdan earned a season-best 5th place finish in the highly competitive XC1 Pro class for the second round of the six-race series.
XC1 Pro UTV
Round 2 of the UTV Championship took place on Saturday and team driver Sean Bogdan put his Coastal Racing Polaris machine into a top-five finish alongside his co-pilot Jade Kiger. The duo began on row two in the XC1 Pro class where they rounded the opening lap just inside the top ten. Bogdan eventually worked his way up to the 2nd place position where he put himself within striking distance of the leader.
Bogdan and Kiger were on-track to claim their first podium finish of the season until they ran into an issue on the final lap of the race when they came up on another car rolled over in the main line. Unfortunately they got held up long enough to lose three positions in the overall time adjustment. As a result, Bogdan and Kiger salvaged 5th overall for the day.
"I'm happy with the outcome of the race but bummed of what it could have been. I thought I was finally going to put the car on the box but unfortunately I got held up behind a lapper after he rolled in the last section of woods which caused me to lose a bunch of time right before the finish," Bogdan said. "I couldn't have done it with my Walker Evans suspension soaking up the brutal track conditions and especially my co-pilot Jade Kiger and the Coastal Racing Team out on the track helping me out. This just gives me motivation knowing I can run up front with the top three guys so I can't wait for the next round at the John Penton to see what happens!"
Next ATV Event: GNCC Round 6 – May 6, 2017
Results from the Camp Coker Bullet GNCC – Saturday, April 22
XC1 Pro ATV Results
Walker Fowler
Adam McGill
Brycen Neal (YAM)
Jarrod McClure
Westley Wolfe
College A (16-21) ATV Results
Drew Landers (YAM)
John Glauda Jr.
Boedy Lamoreaux
Tanner Walker
Kalab Hagan
Eli Kiger (YAM)
XC1 Pro UTV Results
Kyle Chaney
Hunter Miller
William Yokley
Cody Miller
Sean Bogdan (POL)
Overall ATV Championship Standings
Walker Fowler (150)
Brycen Neal (106)
Adam McGill (103)
Jarrod McClure (86)
Landon Wolfe (73)
College A (16-21) ATV Championship Standings
John Glauda Jr. (85)
Drew Landers (80)
Eli Kiger (77)
Tanner Walker (68)
Boedy Lamoreaux (67)
XC1 Pro UTV Championship Standings
Kyle Chaney (51)
Cody Miller (43)
Hunter Miller (43)
Cohl Secoy (42)
William Yokley (37)
Sean Bogdan (28)
Comments
comments