2017 Yamaha YXZ1000R SS Ride Review
photos by: Jeff Kardas & Jacob Khan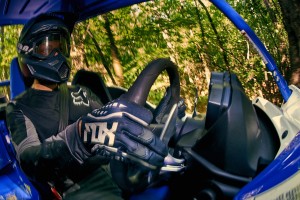 We first learned about the one and only high-performance UTV with paddle shifters when Yamaha pulled the cover off their second year model YXZ in Greenville, SC. I have to say, I sat up in my chair for most of the presentation as I learn all that went into Yamaha's extremely high-tech Sport Shift option, but as good as I thought the new SS version would be, I'm here to tell you after driving the machine for myself, it's much better than I even expected!
Before I go into why this is bar none the "funnest" UTV I've ever driven, let me get a few details out of the way. First off, if you've yet to read or watch my high-def video review of the YXZ, by all means, check that out at this link: 2016 Yamaha YXZ1000R Ride Review. Since a temperature gauge on the dash and CV shields mounted on the Arms are pretty much the only other updates made for this year's YXZ, this ride review will mainly cover the new paddle shifting option available on the 2017 Yamaha YXZ1000R SS.
The Track
The SS eliminates the clutch pedal and the need to take your hand off the wheel to shift. With far less to think about, you're much more focused on navigating through the terrain ahead of you. This is one of, but not the only, reason that I now have a whole new kind of love for the YXZ. It's obvious that Yamaha decision makers understand this stand-out ability of their new SS as well, that's why, after three YXZ ride intros in the vast western sandy terrain of southern California, they invited members of the media to ride test the new SS in the opposite type of terrain on the opposite side of the country. What's more, and this is my favorite part of this particular ride intro announcement – we would be testing the machine on a real GNCC race course! And, not just any either, it just so happens it all went down at my favorite stop of series, the Big Buck GNCC in Union, SC! Let me tell you, if Henry Turner's property wasn't epic it wouldn't have been on the GNCC schedule for the last 20 years.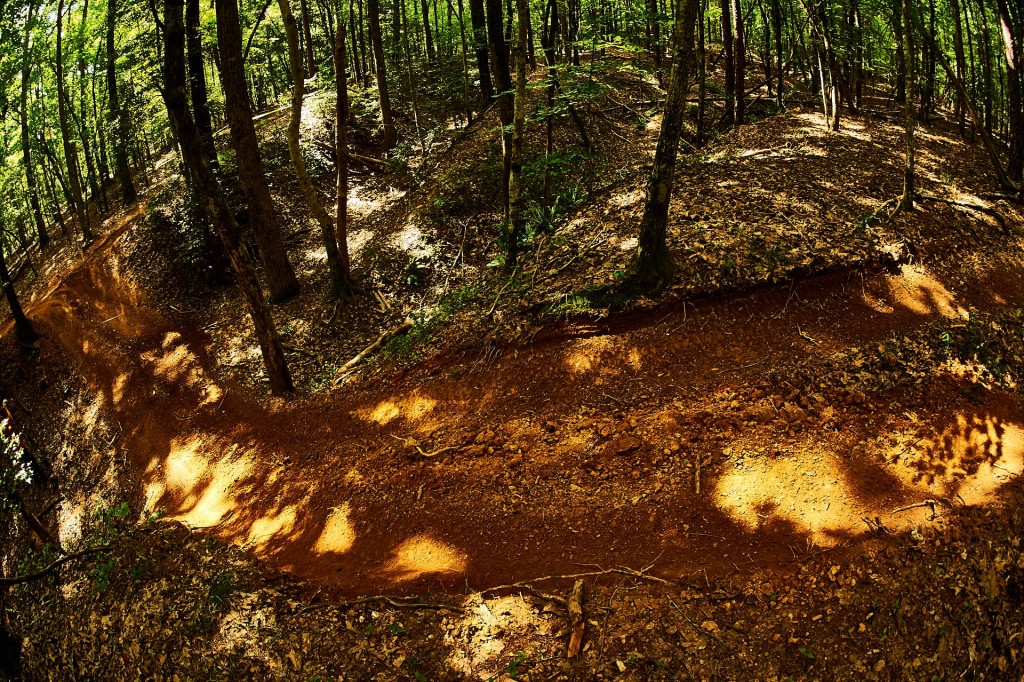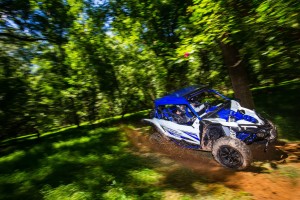 Yamaha's ATV and Side-by-Side Testing Supervisor, Pat Biosli headed a team that created a 6-mile course that I'm sure GNCC official course builders would be proud to call their own. It featured everything that the Big Buck is known for including tight woods, a fast field section, creek crossings, hill climbs and rough ruts and rocks. With the perfect amount of rain the slick clay-based soil within the tight winding track was what I would call the opposite of what most thought the YXZ was meant for.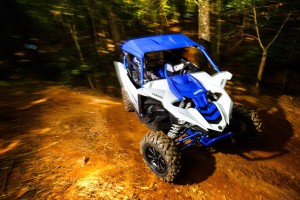 I have to say, I was in my element! This was just like the course that I finished top ten overall on a few years ago while racing the the Stock UTV class at the GNCC Series. And since Pat never lollygags around when he leads the way, we pushed the machines to just about race-pace lap after lap! Because of this, combined with what we've learned with our current YXZ test-unit (which is being successfully raced by George White and Keith Little in the UTV Rally Raid Series), I come with valuable information for anyone out east that may have thought the YXZ wasn't quite right for their kind of riding or perhaps racing.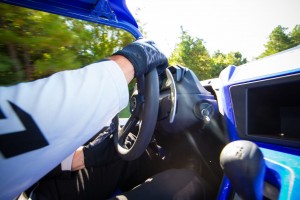 Why I love it
The new YXZ SS uses a 5-speed sequential shift manual transmission. It's technically called a manual indeed, but shifting this transmission couldn't be easier or better in my opinion. It really blurs the line between Manual and Automatic. Big perfectly crafted aluminum paddle shifters are mounted to the steering column, they're very easy to engage at any spot your fingers happen to be at while turning the wheel. The paddles have a real quality feel, the opposite of what you might find if they were made of flexible plastic. The paddles, combined with Yamaha's sturdy tilt column and well-crafted soft grip over-mold steering wheel, give the driver the feeling that he's in the driver's seat of a vehicle that's a step above anything else on the market, which is exactly the case. No other side-by-side machine offers the driver such a hands-on direct connection with the machine. I mean come on, almost effortless shifting is available at your fingertips! Whether you're going to own one or not, this is the vehicle everyone will want to drive!
I was first to tell you that you that the YXZ needed a Rekluse clutch system to help make rec riding or racing the YXZ in the tight wooded terrain found on the eastern half of the country a little easier. But that has quickly changed, the ready-to-tackle-any-terrain-in-stock-form ideal machine for 2017 is without a doubt the YXZ1000R SS. The new SS offers so much more than just the ability to not take your hands off the wheel to shift, and I'll do my best to explain this in the following paragraphs.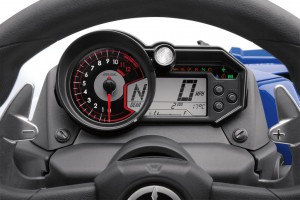 Paddle Shifting 101
Start the machine, put it in gear by shifting the center column shifter forward into Drive, press the gas pedal to move forward, shift up with the right paddle shifter and shift down with the left, simple as that. Actually simpler, if you forget to downshift, the system will do it for you! As for shifting into reverse, there's no longer a lever to activate while you pull back on the shifter. With the SS, you simply pull back on the center column shifter, and the machine shifts into Reverse. I practiced some quick stop and reverse maneuvers since this is an important thing for racers. All in all, I was pleased with how quickly I could get the machine into reverse and going in the opposite direction. In a nut shell, shifting just came natural on the Sport Shift YXZ. I drove the SS all day long but mastered shifting it in less than a minute, even the most novice person off the street that has never driven a stick shift will do the same.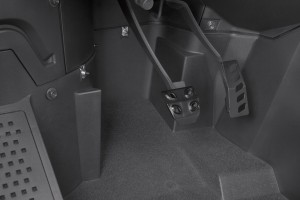 The YXZ SS beautifully combines all the pros of a CVT with all the pros of a manual transmission. As for the cons of this system, after a full day of testing it I truly couldn't find any! Every shift, without exception, was crisp, quick and precise! Unlike any side-by-side that I've ever driven, not once, all day long, did I find myself waiting for power! Besides always being in the correct gear, and putting peak power to all four tires in every situation throughout the six mile course I found that my left leg was in a much better position. With my foot firmly planted on the well-placed raised foot-well, I was able to support my body as I pounded the machine through the rough course all while effortlessly shifting, even within hard turning situations – as there were times I could pick off a gear with my right pinky finger on a hard rough left hand turn and other times I could downshift with my left pinky in hard right hand turns. How's that for perfectly places paddles!
After a day's worth of ride testing the SS, I would happily spend the extra $800 to avoid the need to manually shift the YXZ. The standard YXZ is still available, and there may still be plenty of manual-transmission-lovers out there, the die-hard sand rail guy comes to mind, but I predict that most will want the new SS, especially if they drove one before making their decision.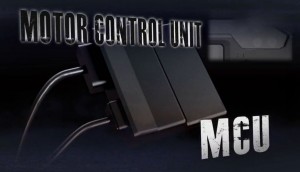 How dos it work?
The SS doesn't use some sort of cable system that simply activates a lever to shift the transmission linkage. What's going on under the hood is quite the opposite and an extremely impressive accomplishment by the engineers in Japan that created the system. The paddle shifters are linked to what I would imagine is the most highly advanced Motor Controlled Unit (MCU) that the ATV and SxS industry has ever seen. The system is called Yamaha Chip Controlled Shift (YCC-S) technology, it's a highly advanced automatic clutch and shifting system that constantly monitors things like throttle position, wheel speed, rpm, engine load and more. The information is constantly being sent, in milliseconds, to the YXZ's auto clutch actuator, which modulates the clutch engagement.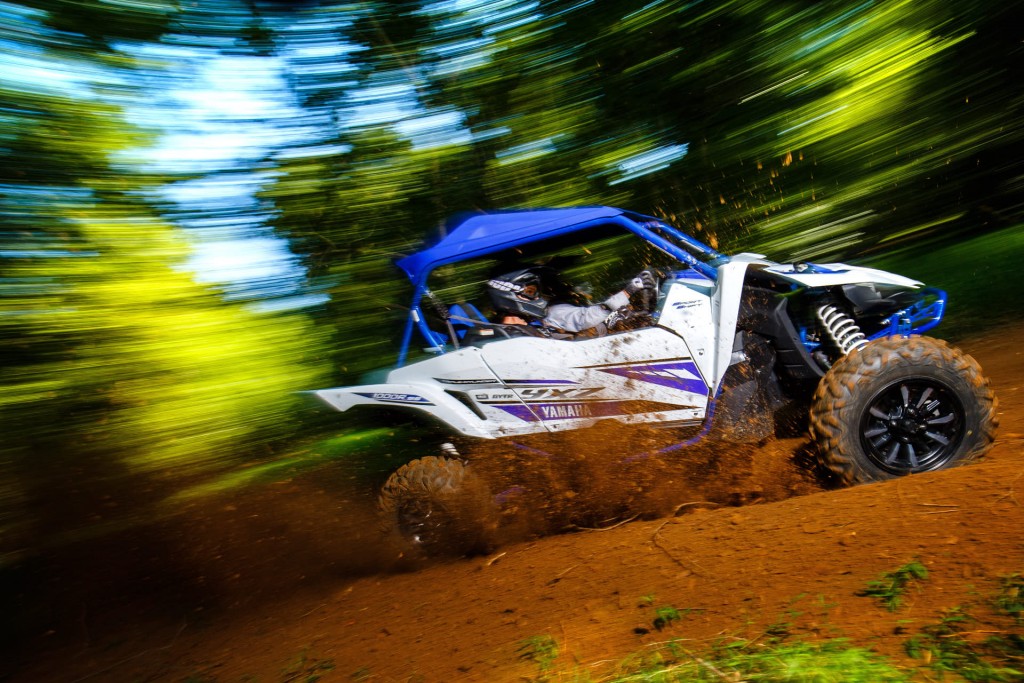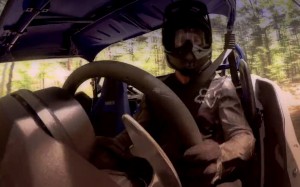 With this system, all the correct clutching is automatically done for you, eliminating the need for the clutch pedal, eliminating the need to take your hand off the wheel, eliminating the need to back off the throttle when you shift and even eliminating the need to remember to downshift! It's done so well that I challenge anyone, even professional racers, to log better lap times with a traditional manual transmission machine. While I'm at it, I challenge any CVT equipped driver, professionals as well, to claim that their stock UTV can supply better power to the ground than this system. What's more, it's too early to know if this is a fact yet, but I have to assume that clutch springs and plates will last longer in an SS with Yamaha Chip Controlled Shift technology, since no human could possibly engage and disengage the clutch less than YCCS can. So by eliminating the clutch pedal, and not having as many clutch plate and spring services over the life of the machine, you just might end up saving money by spending the extra $800 for the SS.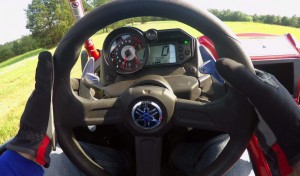 Launch Control
Commencing countdown, engines on (five, four, three). Check ignition may God's love be with you (two, one, LIFT OFF!). Yeah, I happened to think of David Bowies' Space Oddity while prepping the Launch System on the SS. Stop and think about that for a minute, – a Launch System on a UTV!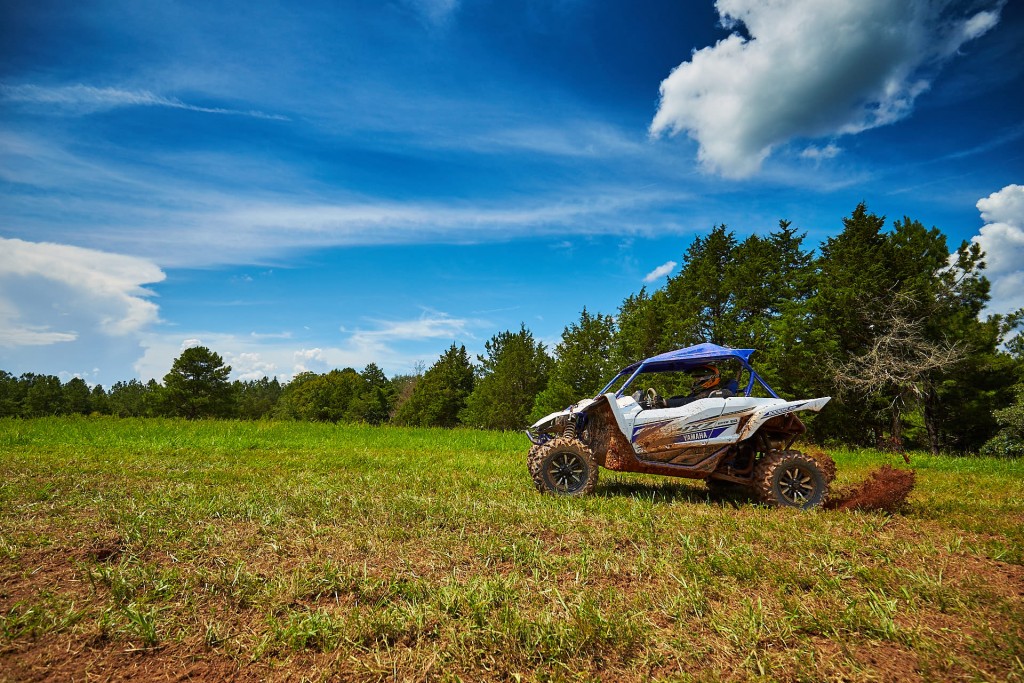 It's true, the YXZ1000R SS is the only Side-by-Side that has such a thing. Since there's no "dropping the clutch" in a non-clutch pedal equipped machine, Yamaha engineers hit the drawing board and came up with something I think you're going to dig as much as I did. From a stop, while in first gear, simply put your foot on the brake, pull back on both paddles, accelerate to whatever RPM you like, even ten grand, and drop the pedals at the same time. You don't even need to continue to hold the brake pedal if you're on flat ground. It's simple and it works! The machine launches out of the hole hard and the race is on. Unless you're racing another SS, I highly doubt any stock UTV will come off the line faster!
Dynamic Clutch System
If you stop on a hill with a manual transmission machine and need to proceed again this can be pretty challenging without a clutch pedal. This is why Yamaha engineers spent a lot of time to figure out a solution that works seamlessly within the Yamaha Chip Controlled Shift (YCC-S) technology. Just take your foot off the brake and push the gas pedal, that's really all you need to do, the computer will sense that wheel speed and feather the clutch accordingly. This sounds like a very complex math problem to me, all I know is Yamaha did their homework well here – it works.
Dead Engine Starts
I was hoping I could somehow engage Launch Control mode with the engine off, and my passenger could reach over and turn the key while I dropped the paddles. If this worked it would have been the best dead engine starting system in the history of UTV racing. Unfortunately this is not possible on the new SS. Fortunately the machine will start while in gear. I tried dead engine starts by just flooring the machine and it did take off pretty well, but didn't accelerate quite as hard as when I used Launch Control. More bad news for racers that start without the engine running (like they do in the GNCC Series), the engine seemed to take longer than I would have liked to fire, so if you're a dead engine racer, getting the holeshot with a YXZ wont be easy unless a few modifications are made, but if your race series starts like a motocross race with engines on, the SS's Launch Control will give you a big advantage in getting to the first turn first!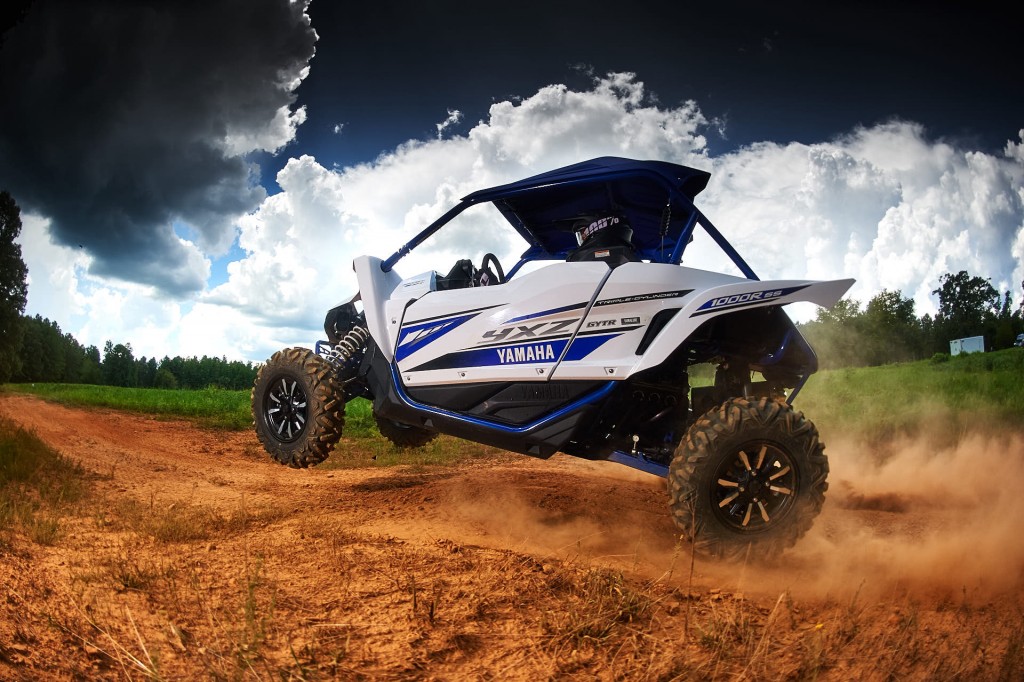 Durability
As I said in the beginning of this article, testing was done all day long on a real GNCC race course. If you've seen what a real GNCC race course looks like after an hour's worth of racing you know the kind of terrain I'm trying to explain. It's rutted, trenched with plenty of square edge tree-ruts, muddy, rough and in my opinion more hard-core than Baja terrain out west. Of the eight machines tested none came back to the pits with broken parts! What's more, the machines went through two full days of this kind of abuse as there were two groups testing the machines. And mind you, a few of us, (me included of course), tested the new YXZ SS at near race pace! This is a testament to how durable Yamaha created the YXZ and important to keep in mind when considering which high-performance UTV is right for you.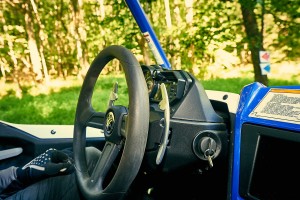 Conclusion
If this is the spot you scrolled down to read, I'll sum it up like this, the YXZ is the most innovative, most durable and best handling high performance UTV on the market. Even though I feel that the new Sport Shift version offers high performance enthusiasts with a better experience than anything available at any dealer, incredibly, at the same time, since shifting is so easy, (and so darn fun), the YXZ SS now appeals to a much wider range of potential buyers. Last year I wouldn't have suggested the YXZ to a casual rec rider, but since Yamaha's new YXZ Sport Shift can be driven around like an Automatic, if you elect to drive it that way, this year that's no longer the case.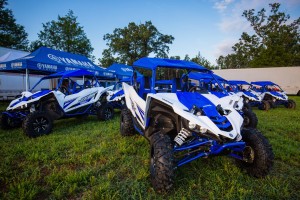 Availability
The new 2017 YXZ1000R SS is assembled at Yamaha's U.S. factory in Newnan, Georgia, for worldwide distribution. All YXZ1000R SS models come with a suntop and now feature colored seat stitching and embroidered seats at an MSRP starting at $20,599. Color options include Team Yamaha Blue / White with a color-matched Team Yamaha Blue suntop and race inspired decals, Blaze Orange / Black, and the new special edition Matte Black additionally featuring painted bodywork, cast aluminum beadlock wheels and all-new FOX 2.5 Podium X2 Shocks designed exclusively for YXZ SE models.
Every Yamaha SxS and full-size ATV is Assembled in the USA at Yamaha's state-of-the-art manufacturing facility in Newnan, Georgia, for worldwide distribution.
Follow Yamaha at www.facebook.com/yamahamotorusa, www.twitter.com/yamahamotorusa, and www.instagram.com/yamahamotorusa/.
Comments
comments