2009 Kawasaki Teryx 750FI Sport Ride Review
By Brad Phillips
photos by Kinney Jones and Adam Campbell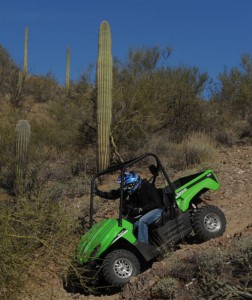 The continuously variable belt-drive transmission with high and low range, plus reverse, took everything we threw at it. And Kawasaki's Engine Brake Control worked especially well on steep down hills like this one. Be sure to check out our initial 2009 Kawasaki TERYX 750 4×4 Side X Side Ride Test, which features much more technical information than this day in the desert review.I walked outside to my truck and began scraping the ice off my windshield. Normally this wouldn't be a fun experience, this time was different. This time my Winter-in-Iowa-moral was greatly improved since I was scraping the windshield so I could drive to the airport to catch my flight to sunny Phoenix to ride test the 2009 Kawasaki Teryx 750FI Sport. All my winter woes seem to go away as my flight took off down the runway.
After a quick one-way three hour flight I was picked up at the Phoenix airport by Kawasaki's Agata Formato and Lauren Oldoerp. After a short drive I arrived at the beautiful Royal Palms Resort in Phoenix, AZ where I was greeted by other members of Kawasaki Motor Corp as well as other members of the ATV media. Like me, they were also appreciative to be in warm weather to test drive Kawasaki's coolest side by side to date, the new and improved 2009 Teryx 750 Sport.
On Tuesday morning the other half of our test riding team, Mike Robinson, who is also my future brother-in-law, arrived from his home in Scottsdale, AZ. Soon after, we all made the drive to the Boulders OHV Park, which is northwest of Phoenix. As we rounded the corner we saw several Kawasaki semi trailers and about 15 brand new Kawasaki Teryx machines gleaming in the desert sunshine. We wasted no time finding our assigned machine and heading into the desert to put the new Teryx through its paces. Not even a mile into our ride we ran into one of those bumps you cringe at. You know the kind, the one that you know could go either way… We had no time to slow down so we clenched our teeth and held on tight. We expected to bottom the machine out at minimum, but it never happened; the machine and the new fully adjustable suspension soaked it all up in stride. We were amazed! It only caused one problem however as we were no longer scared of hitting stuff fast! The Teryx seemed to swallow up everything we threw at it with ease. The only issue we were having was a little bit of bucking in the rear end. This was addressed at the lunch break, and quickly fixed with a simple flat blade screwdriver when a Kawasaki mechanic simply slowed down the rebound on the adjustable shocks. This completely fixed the bucking problem we were having.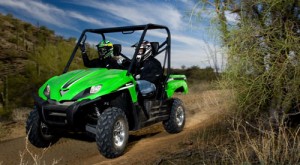 As you can see we were serious about pushing the Teryx to it's absolute limit. We were very impressed with the suspension. Up front adjustable dual A-arms with gas charged shocks that offer up 7.5 inches of travel are used, while the rear uses Kawasaki's Adjustable Independent Rear Suspension (IRS) with gas charged reservoir shocks and 7.5 inches of travel. All combined suspension action performed better than expected. We later took the Teryx through our high speed test in the desert washes. We pushed the Teryx to the limit railing corners at speeds most people wouldn't even think of. When a rut was available for the front wheel to grab the Teryx cornered like it was on rails. However, when no rut was present we noticed a slight push when aggressively charging through a corner. This surprised me because the 2008 Teryx 750 turned perfectly. In fact, that was one of the strong points of the machine. Who knows, maybe Mike and I were more aggressive in the corners than Joe and I were last year.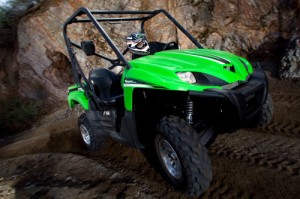 Kawasaki was confidnet that their new Teryx, with its new for '09 Fuel Injection system, which features two Mikuni 34mm throttle bodies and Digital DC-CDI Ignition, would handle whaterver we found in the Arizona desert. The smooth as silk powerband easily handled every steep hill we could find. We were quite impressed. After we found our way out of the washes we decided we needed an elevation change so we took the Teryx up and down some of the steepest slopes I have been on in a side by side. To my astonishment it gladly accepted whatever we told it to do. We were able to stop mid-hill and still get moving without even using 4-wheel drive. The engine braking system worked great during the descents and put my mind at ease even when I was in the passenger seat. I'm very critical when reviewing something, if you haven't noticed. I always try to find one thing I didn't like for each section, but I couldn't here, everything worked great. Well, ok, maybe one thing. The slope on the hills were so big that my half-full can of Monster Energy® Drink that I had in the cup holder was spilling its green goodness everywhere. So I guess my nit-picking argument with Kawasaki here is that they might find some way of incorporating gyros to keep the cup holder level. Just thinking out loud here and having a little fun.
When the day was done and we loaded up to head back to Phoenix for a night of indoor go-cart racing I had a smile on my face that didn't seem to go away. I was thoroughly impressed by Kawasaki's new entry into the side by side market and was happy to see the evolution of these machines going so far so fast. Another great ride on a great machine in great weather. Life is Beautiful!
If there was a rut to fall into the Teryx could corner at a high rate a speed. Just hang on extra tight and dont fling yourself out!
Sporty huh? It's hard to believe this bad boy toy is capable of hauling 500 pounds of cargo in its bed. We like the idea of play riding with a vehicle that can also do some serious work chores. What I liked:
1. Impressive power
2. Great suspension
3. All the available Kawasaki accessories
My wish list for the 2010 model:
1. A steering damper
2. Tire change to prevent pushing in corners
3. A 4 or 5 point harness (the 3-point seatbelt made my shoulder sore)
The first three Kawasaki performance parts I would add:
1. Adjustable ignition to eliminate the speed limiter and allow me to change ignition maps
2. An exhaust to uncork the engine
3. Wider A-arms to help in cornering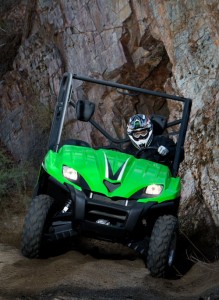 If you're selling your wife on the work vehicle angle, you best not show her this shot, the Teryx looks far too sexy here to be considered a "work machine"..
With plenty of grunt from its 749cc liquid-cooled four-stroke V-twin engine and its shift on the fly 4×4 transmission you can slip the Teryx into 2WD easy enough to pitch the rear end sideways and roost your way through the corners. What a blast!
We really didn't want to give this baby back. Here Mike and I contemplate driving the Teryx 750 test unit to Mike's home in Scottsdale. If you get an opportunity to test drive a new Teryx 750 be ready to fall in love with it and want one, it's that good.
Thank you Kawasaki! This was my view while it was 26 degrees back home.
Comments
comments