Project LSR Rhino x2

Drivers: Brion Bowden, John Pellan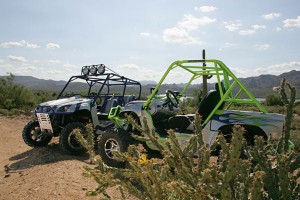 Picture this….Beautiful Arizona weather, breathtaking scenery and two bad to the bone Lone Star Rhinos at our fingertips. "Golf Cart For Sale: heavily modified, many extras, best offer, must sell." That seems to be a popular ad in many newspapers on the left coast these days. Ever since Yamaha introduced the coolest drivable ATV in the industry, more and more people are catching on to the fact that owning a Rhino equates to a whole lot of fun. Whether your desire is to cruise the dunes or go all out and race, modifying the already stout Rhino with hop up parts available from a reputable aftermarket company like Lone Star Racing is a sure way to elevate the fun-factor right off the chart.
We were able to drive two or LSR's best kept secrets when the company's System and Design Manager, Greg Frantz hauled Lone Star's newest state-of-the-art driving equipment to Four Peak Rolls off-road trail system within the Sycamore Creek OHV Area located about an hour north of Phoenix.
After pulling in and cruising around we came to the conclusion that the Sycamore creek and neighboring Four Peak Rolls off-road trail system have to be one of the best places to ride in Arizona. This radical riding area would be the perfect place to test out the suspension and handling of Lone Star's new hard core Rhinos. This place has it all; sandwash areas, mountains, creeks, rivers, cliffs, canyons and more — all available in a heaven-like scenic 75 mile loop.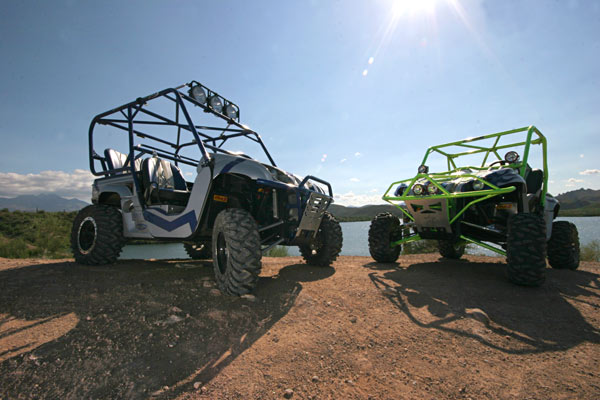 LSR widened the stance while Elka supplied pro-level shocks. The combo offered a ride unlike any Rhino we've ever experienced.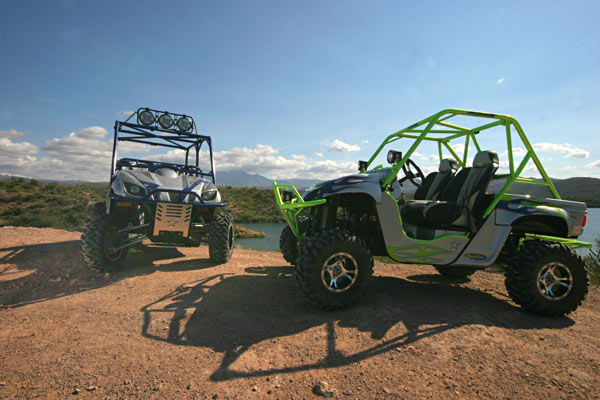 We rode out in style with pimp graphics from Trinity Customs and snug custom seats from Jet Trim.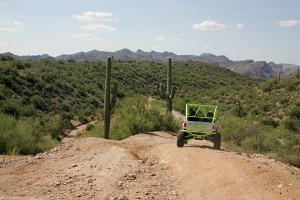 Not to worry, Lone Star's wider stance, Gorilla axles and 15″ of Elka suspension made speeding down any trail a breeze. Thanks to Greg's endless hours of testing, tweaking and honing Lone Star Rhino aftermarket components, combined with quality products from Elka, Gorrilla, Jet Trim and others, handle like no Rhino we've ever driven.
The ride reminds us of what it must be like to drive a trophy truck in the Baja 1000.
After spending a day with two of Lone Star's finest Rhinos, if we had one, we would sell our golf cart too.
Be sure to check out the video below for a much more detailed description of these two incredible machines.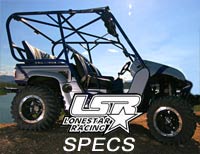 Blue and Silver Rhino Specs:
$20,000 In Additions
Note: This Rhino is For Sale. Contact Greg: 602-697-4255
Tires: ITP 26″ Terra Cross Radials
Wheels: ITP 14″ C-Lock, Black with Polished Ring
Suspension: LSR MTS 3″ over A-Arm kit w/ 9.5″ of travel
Axles: LSR 4340 Extended Axle Shafts Custom Powdercoat
Shocks: Elka Elite High/Low Speed Fully Adjustable
Roll Cage: LSR 4 Seat Cage with Custom Powdercoat Extra Supports and Grab Handles w/ Grips
Front Bumper: LSR Sport Front Bumper Custom Powdercoat with Skid Plate
Leg Protectors: LSR Custom Powdercoat
Leg Prot. Panels: LSR Custom Painted
Rear Bumper: LSR Race Rear Bumper w/ Diff Mount
Misc. Powdercoat: Sway Bar, Pedals, Bed Hooks, Tail Gate Latches
Lighting: Baja Designs Soltek HID 3 Light Bar 2 Driving and 1 Spot Beam
Horn: PIAA Sports Horn
Quick Mount System Graphics/Paint: Custom Metallic Silver, Metallic Blue
Lighted Control Switches w/ Relay Matched Dash and Interior Panels
Shaved tailgate
Seating: Jettrim Custom covers (pair)
Jettrim Custom Rear Bench CDI: Black Rhino
LSR Rear Seat Mt. Cust. Powdercoated
Reverse Rev Black Rhino
Restraints: Crow Grey 4 Point Y style, 4 sets Limiter Eliminator: with light control
Steering Wheel: Billet Equipped Billet Aluminum Carb Kit: Edelbrock 3119
Steer Tube Cover: Billet Equipped Chrome Filter Kit: K&N Filter
Outerwears Pre-filter
Grill Inserts: LSR Brushed Stainless
Exhaust: Trinity Racing Full Kit
Glove Box Knob: Billet Equipped Chrome Knob with Billet Tip and Spark Arrestor
Rear View Mirror: Billet Equipped Chrome Mirror Clutch Kit: KMS Machined Clutch Sheave
Headlight Switch: Billet Equipped Chrome Knob CVT Filter Kit: Black Rhino Foam Filter
Outerwears Pre-Filter
Shifter: Billet Equipped Chrome
Back Up Light: 55 Watt Flood, (auto on when in reverse)
Pedal Covers: Black Rhino Billet Gas and Brake
Buggy Whip: Buggylites 8FT Quick Release
Digital Dash: Yamaha with superbrite LED light
Stereo: Dual 200 watt CD/MP3 Head Unit Switch Panel Black Rhino Panel system Sony Xplode 2 Way Speakers w/ Ipod Hook-up Fuse Block: Painless Wiring Fuse Block 4 switched, 3 hot
PROJECT SUPPLIERS
Vehicle Yamaha Motor Corp.
Roll Cage Lone Star Racing
Bumpers Lone Star Racing
Side Bars Lone Star Racing
Seats Jet Trim
Restraints Crow Enterprizes
Chassis Gussets Lone Star Racing
Suspension Lone Star Racing
Axles Lone Star Racing
Shocks Elka Suspension
Lighting Baja Designs
Paint/Graphics Trinity Customs 480-703-9704
Tires ITP
Wheels ITP
Misc Accessories
Black Rhino Performance
Billet Equipped
Engine Performance Edelbrock Corp.
Trinity Racing
K&N Engineering
KMS Performance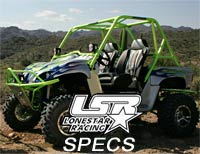 Green and Silver Rhino Specs:
Tires: Maxxis 26″ Bighorn Radials
Wheels: Douglas 12″ Rattlesnake
Suspension: LSR XTR 6.5″ over A-Arm kit w/ 15.5″ of travel
Axles: Gorilla Heavy Duty CV's and 4340 Shafts
Shocks: Elka Elite High/Low Speed Fully Adj. Large Body Dual Rate
Roll Cage: LSR 2 Seat Cage with Custom Powdercoat
Extra Supports and Grab Handles w/ Grips
Front Bumper: LSR Race Front Bumper Custom Powdercoat
with Skid Plate and light tabs
Leg Protectors: LSR Custom Powdercoat
Leg Prot. Panels: LSR Custom Painted
Rear Bumper: LSR Race Rear Bumper w/ Diff Mount
Misc. Powdercoat: Sway Bar, Pedals, Bed Hooks, Tail Gate Latches
Lighting: Baja Designs Soltek HID 4″ Fuego Lights
2 Driving and 2 Spot Beam Graphics: Custom Metallic Green, Metallic Silver
Lighted Control Switches w/ Relay Matched Dash and Interior Panels
CDI: Black Rhino
Seating: Jettrim Custom Suspension Seats
Reverse Rev Black Rhino
Limiter Eliminator: with light control
Restraints: Crow Grey 4 Point w/ Padded Straps Back Up Light: 55 Watt Flood
Steering Wheel: Grant Formula 1 w/ adaptor Buggy Whip: Buggylites 8FT Quick Release
with superbrite LED light
Shifter: Nickle Carbon Shifter Knob
Carb Kit: Edelbrock 3119
Pedal Covers: Black Rhino Billet Gas and Brake
Digital Dash: Yamaha Filter Kit: K&N Filter
Outerwears Pre-filter
Stereo: Dual 200 watt CD/MP3 Head Unit
Sony Xplode 2 Way Speakers Exhaust: Trinity Racing Full Kit
w/ Ipod Hook-up with Billet Tip and Spark Arrestor
Fuse Block: Painless Wiring Fuse Block Clutch Kit: KMS Machined Clutch Sheave
4 switched, 3 hot
CVT Filter Kit: Black Rhino Foam Filter
Switch Panel Black Rhino Panel system Outerwears Pre-Filter
Horn: PIAA Sports Horn Grill Inserts: LSR Brushed Stainless

PROJECT SUPPLIERS
Vehicle Yamaha Motor Corp.
Roll Cage Lone Star Racing
Bumpers Lone Star Racing
Side Bars Lone Star Racing
Seats Jet Trim
Restraints Crow Enterprizes
Chassis Gussets Lone Star Racing
Suspension Lone Star Racing
Axles Gorilla Axle Corp.
Shocks Elka Suspension
Lighting Baja Designs
Paint/Graphics Trinity Customs 480-703-9704
Fenders Fullbore Innovations
Tires Maxxis International
Wheels Douglas Wheel
Misc Accessories Black Rhino Performance
Engine Performance Edelbrock Corp.
Trinity Racing
K&N Engineering
KMS Performance
LONESTAR RACING
1424 E. BROADWAY RD. PHOENIX, AZ 85040
1-800-4LS-RACE
Comments
comments