Nitro Circus at Brimstone Recreation's White Knuckle Event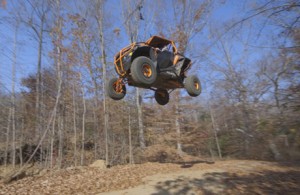 From May 25th – 27th Off Highway Vehicle (OHV) enthusiasts from all over the globe will gather at Brimstone® Recreation in Huntsville, Tennessee for the annual White Knuckle Event™. Nestled in the wilds of the Cumberland Mountains, Brimstone® Recreation features over 300 miles of OHV trails on approximately 20,000 acres of terrain.
The White Knuckle Event™ is the "hold on tight" event of the year as OHV enthusiasts from all over push their vehicles to the limit. This year, the Nitro Circus crew is hyped to be the highlight of Brimstone's WKE and is committed to making Nitro's appearance a stunning apex. Inspired by White Knuckle Event's full throttle spirit, the world's craziest daredevils will jump further than they ever have in a SXS. Adding to the excitement, the jaw-dropping feat will be captured on film for Travis Pastrana's upcoming Action Figures 2.
"I'm beyond psyched for Nitro Circus to head to the White Knuckle Event at Brimstone Recreation park," said Pastrana. "We knew right away that this was the perfect place to film this stunt for Action Figures 2," he added. Pushing the limits of what's possible is what Nitro Circus does best. Now Nitro Circus is going full send by testing the boundaries of just how far a SXS can jump.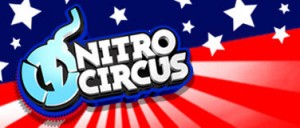 Nitro Circus athletes will enjoy all that Brimstone® has to offer including demo rides, competitive events and endless OHV trails. In addition, attendees will have the chance to experience the Wild Mountain Rampage™ competition and a chance to win the ultimate 2018 mountain conquering SXS creation. The White Knuckle Event™ will also feature live music from country stars Kane Brown, Granger Smith and more. More info and tickets available at http://www.whiteknuckleevent.com.
Action Figures 2 is the highly-anticipated sequel to 2015's Action Figures, Travis Pastrana's directorial debut. A wild ride that is both an ode to old school action sports videos as well as a bold step forward in extreme human performance, Action Figures has resonated with fans across the globe. It debuted as the #1 Sports film on iTunes, worldwide, during its initial release.
Brimstone® to be Official Partner of the Nitro Circus Next Level Tour in the United States
Nitro Circus is beyond excited to have Brimstone® as a partner for the U.S. stops of the North American Next Level Tour in 2018. "So many of our athletes and fans love and use off road vehicles. Having Brimstone Recreation's support is an organic fit with who we are and what we do," said Nitro Circus Chief Commercial Officer, Brett Clarke. Nitro Circus' Next Level Tour will travel across North America in May and June of 2018 with U.S. stops in St. George UT, Reno NV, Eugene OR, Boise ID, York PA, Virginia Beach VA, Myrtle Beach SC, Pittsburgh PA, and Cincinnati OH.
About Brimstone®
Camp, Ride, Kick Back and Cut Loose.™ Open 365 days a year and offers something for every skill level. Nationally recognized Brimstone® manages and promotes the recreational use of over 20,000 acres nestled in the remote wilds of Northeast Tennessee and located in the Heart of Appalachia. Brimstone® also produces and promotes two annual events: The White Knuckle Event™ and Brimstone Paragon™ which combine high level adrenaline filled entertainment with the hottest country music talent in Nashville. We have over 300 miles of OHV trails and roads with numerous overlooks and exploration points of interest. Brimstone® is an outdoor recreation company offering the adventure seeker the ultimate outdoor experience. Brimstone® is committed to
preserving nature through good stewardship and sharing nature with thousands of outdoor enthusiasts every year who seek to experience adventure in its purest environment. Brimstone® offers outdoor enthusiasts the opportunity to explore the untamed wilderness of the Appalachian Mountains while enjoying a wide array of recreational activities.
About Nitro Circus
Nitro Circus, the world's biggest action sports entertainment brand, creates electrifying live events and unbelievable original content that at once exhilarates, captivates and inspires thrill-seeking fans worldwide.  Co-founded by global superstar Travis Pastrana in 2003, Nitro Circus has since grown into a multiplatform phenomenon producing hit television shows, critically acclaimed documentaries and innovative digital offerings. That success gave rise to the Nitro Circus Live tour. Created in 2010, Nitro Circus Live has travelled the globe, playing to sold-out stadiums on five continents. The company introduced an innovative breakthrough in 2016 with the debut of Nitro World Games, completely rebooting action sports competition in the process. With over three million tickets sold to date, television programming that has aired in over 60 countries, more than 20 million engaged fans across its social media platforms and a burgeoning consumer products business, Nitro Circus is at the forefront of action sports and entertainment. For more information visit nitrocircus.com.
Comments
comments