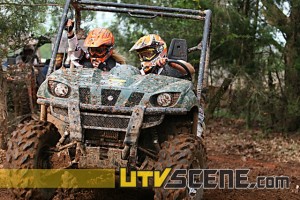 Some call them UTVs (Utility All-Terrain-Vehicles) some like the term SxS (Side by Side) better. Either way, thanks to motorcycle and ATV manufacturers; Kawasaki, Polaris and Yamaha, (who pioneered the movement in 2004 with their Rhino), yesterday's garage project golf carts have evolved into well engineered off-road vehicles capable of conquering the same terrain as many ATVs.
The UTV movement started out West. It wasn't long before UTV classes were added to local race events. In 2006 two UTV classes were added to the World Off Road Championship Series, (the West Coast version of the GNCC Series). And now UTV racers are welcomed at the most successful ATV race series in the world, the Grand National Cross Country Series.
A whopping 54 UTVs lined up for battle for the inaugural round of the GNCC's new UTV Championship last weekend in Union, SC. A virtual who's who of ATV Stars competed in the popular ground braking event, with everyone from retired Pro and Pro-Am riders Tim Farr, Shane Hitt, Josh Starrett, Dustin Shuler to current GNCC stars Adam McGill, William Yokley, Santo DeRisi, Bryan Cook and others.
To say the event was a success would be an understatement, the crowd and competitors all seemed thrilled with GNCC's newest attraction. After all, where else can the average Joe compete with quad racing stars like Farr, Hitt, McGill, Yokley and others? Better yet, never before could a racer share their GNCC racing experience with his wife or girlfriend. Husband and wife teams made up a good portion of the field (Tim and Julie Farr, Shane & Hollie Hitt, and more).
I won't pretend to be a UTV racing expert, but it looked awesome from the side lines and from the many smiles I witnessed from drivers and copilots alike, I would say GNCC officials put together a great track and have a big hit on their hands.
Another interesting point to mention was how well the crowd of spectators seemed to like the inaugural GNCC UTV race. In typical GNCC fashion crowd participation was well appreciated by the UTV teams. If a UTV flipped on its side, no worries, a gang of spectators was likely to jump right in and flip the vehicle back on its wheels while cheering them on.
As for the race itself William Yokley and his mechanic Ronnie Wade teamed up to put their names in the books as the inaugural overall winning team. Tim Farr and wife Julie put together a flawless run to claim the overall runner up spot on the day. What's interesting here is the Farr team out-drove several modified machines to take the overall runner up spot in their bone stock Polaris RZR. Third overall went to Adam McGill and Denny Shadron.
If 54 UTVs competed at the first event will entries grow to several hundreds in the upcoming months? Is there room on the track? Will Team Yokley continue to dominate? Will stock machines continue to be competitive, or will it turn into a rich man's sport? It goes without saying I'm excited to see this season's UTV Championship run and the future of GNCC UTV racing.
Watch out West Coast, the East is now on the map when it comes to UTV Racing.