UTV Rally Returns for Second Year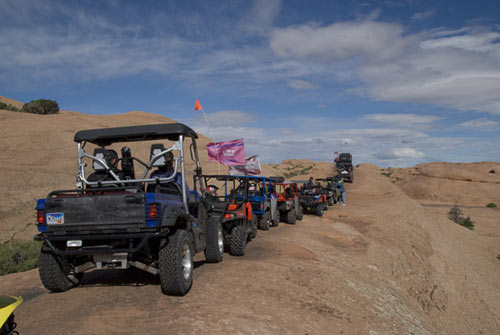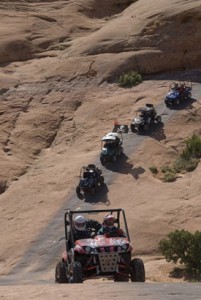 Rancho Suspension Launches Two New UTV Systems at the Recent UTV Rally in Moab & Rigs Survive Hell's Revenge Trail
A Rancho rig heads up the trail.The 2008 UTV Rally was very exciting this past May – four solid days of guided trail rides, hundreds of UTVs and never-seen-before UTV products – especially for the team driving the Rancho Suspension Yamaha Rhino and Polaris Ranger RZR. The 2008 Moab UTV Rally was May 14 through 17.
Led by Rancho's Bob Willis, sales manager for the West Coast, and Chris Batsch, senior staff engineer, the Rancho team rose to every challenge in and around Moab on their rigs, including the famous Hell's Revenge trail. The team went out on this UTV Rally organized trail ride, met tons of enthusiasts, and proved the engineering benefits of the new suspension systems.
The UTV Rally was the team's first true off-road experience with their new systems, after completing extensive testing in southern California during the initial engineering phase. "I can't believe how well the systems articulated and how they handled, obviously that's what we strive for, but it was truly exciting to start out with expectations and immediately exceed them," said Batsch.
"We often make tweaks after doing extensive field testing when launching a new platform. These two systems performed so phenomenally out of the gate that we plan minimal modifications. To an engineer and an enthusiast like me, that's really gratifying!"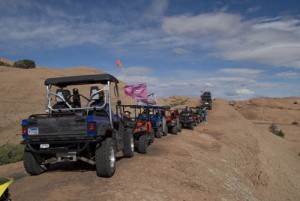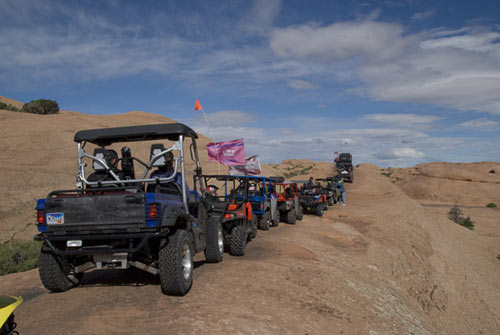 Let's go off-roading! New Long-Travel Performance UTV Suspension Systems from Rancho, Tested & Proven on the Trails of Moab
The Rancho Polaris Ranger RZR system (p/n RS10101) includes billet 6061 aluminum upper control 6-in. A-arms with contrast machining, HSLA steel lower control arms designed for high-clearance, and exclusive self-lubricating control arm bushings. Each Rancho RZR kit also includes high-strength inner tie rod ends, front and rear axle shafts, rod ends with high-alignments, and replacement front and rear brakelines.
The Rancho Rhino long-travel suspension system features billet 6061 aluminum upper control 4-in. A-arms with contrast machining, HSLA steel lower control arms, exclusive self-lubricating control arm bushings, and high-strength tie rod ends and inner tie rod. This system is available for 2004-07 Yamaha Rhino models (p/n RS10001) and 2008 Yamaha Rhino models (p/n RS10011).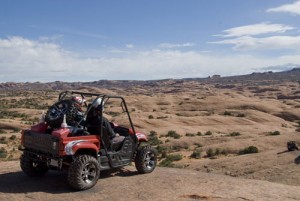 The UTV Rally gave drivers and riders plenty of time to re-organize and make sure everyone was still traveling in the pack.
The UTV Rally Hell's Revenge trail ride line-up. Each Rancho system includes the company's popular fully adjustable RS9000XL™ coil-over front and rear shocks, which feature the exclusive nine- position adjustable MyRide Tuning System. Custom enginered for UTV models, Rancho RS9000XL shocks are individually valved for each application and include premium self-lubricating bearings, an anodized aluminum reservoir with stainless steel braided hose and a custom-rate Eibach® coil spring. Rancho RS9000XL shocks are available in the very popular liquid metallic silver finish.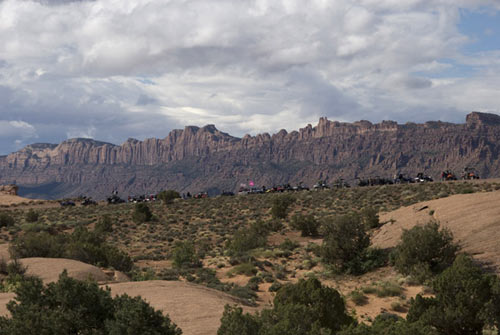 Fore more information about Rancho Suspension, please visit GoRancho.com.
The UTV Rally plans to return to Moab for 2009. For more information, please visit UTVRally.com.
Comments
comments