Ride Testing Can-Am's New Maverick X3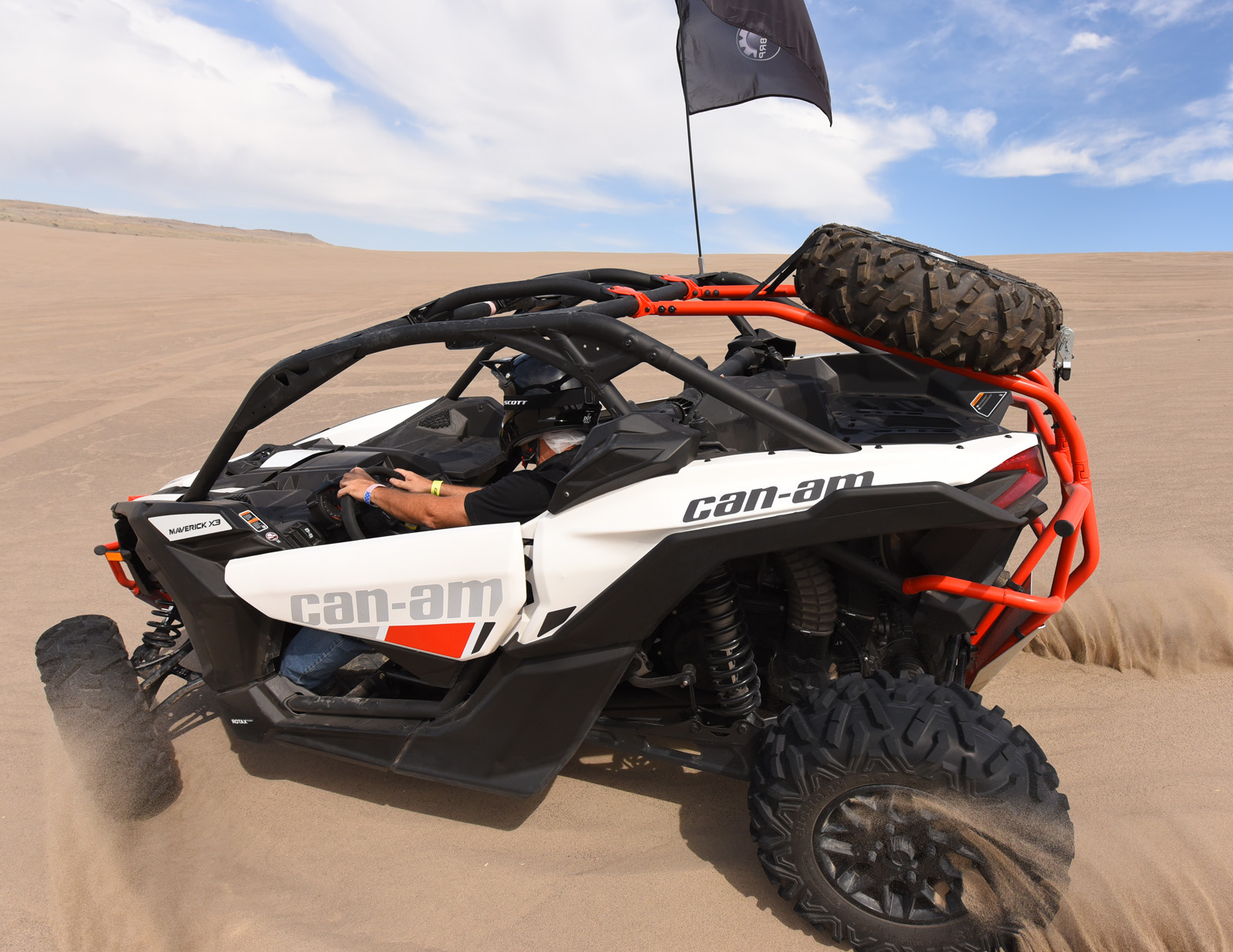 When I saw the first photos released of the X3 I was blown away by the Maverick's aggressive new look. I immediately wondered if the X3 could perform as well as the photos looked on my laptop. After a few phone calls I was on my way to an Iconic destination to see firsthand what this new machine was all about. The opportunity was sort of a pre-introduction to the official test launch in Baja Mexico. Whatever they wanted to call it, I was pumped at the opportunity to be one of the very first to drive the new Maverick X3.
The first mission as soon as my feet hit the sand at Majestic Idaho Sand Dunes in St. Anthony, Idaho was to fully check out the sweet-looking X3 that seemed to be starring right at me, so straight and quick as I could, I went right at the one that seemed to be calling me. As I approached the fleet of X3s that awaited me and a few other members of the media, I felt like a kid looking at my first bike right in front of me. You know the feeling when you're about to start on a new journey, whatever it may be, and it's like your whole world is about to change. Your adventurous mind and what lies before you is about to take you places you never thought possible. New trails, amazing destinations and lifelong experiences await. Yeah, that's how I felt as I approached. All smiles and zoned-in in an all out trance, I imagined climbing into this new machine, firing the engine, revving it a few times then heading out to play in the sand, floating through rough terrain as I press further on the gas pedal and roost my way out to the bigger dunes…
"BEEEP, beeep," then reality set in as the guy behind me beeped to remind me that I haven't even gotten out of my truck and I'm stopped in front of Can-Am's display holding up traffic behind me. I quickly awoke from my trance, scrambled to pull to the side to let traffic pass by and headed to Can-Am's display, this time in real life. There it was directly in front of me, a mean-looking enormous 72" wide Maverick X3 X RS. It looked ferocious and capable of swallowing anything I gave it. I got it together before I went into another trance and marched off to find out the details of the test ride, only to find that we would be riding the following day.
Fast forward 17 hours later and it was finally go-time! No more day dreaming as to what it might be like to drive this ultra-rugged-looking UTV. I arrived early as the anticipation of this new experience woke me up before the sun rose. I suppose I might have been a little more excited than most. I was eager to learn everything I could about the X3 and had plenty of questions. The Can-Am guys appreciated my excitement and were just as eager to give me the low down on their new pride and joy.
As I got in and sat down in the driver's seat, the first thing I noticed was how low you sit inside the vehicle. The lower center of gravity and lowered cage will help greatly in cornering and clearing low hanging branches while trail riding. Also since the X3's height is only 66" it should fit in enclosed trailers that most other UTV don't. Even though you sit low, visibility is fantastic since the front cowling has been dropped substantially. As I fired up the 154hp triple-cylinder Rotax Ace engine, the roar made the hair on the back neck stand up and gave me a double shot of adrenaline. I revved the machine a few more times, then made my way down the access road to the 10,600 acres of epic St. Anthony, Idaho sand, which by the way is now my favorite riding destination.
As we hit the open sand I gave her all the gas my right foot could provide. The motor pulled like nothing else I've driven, despite the fact that I was roosting sand from all four tires as the X3 begged for traction. The first thing I learned is the fact that the X3 is fast, very FAST! This machine goes from 0-60mph in 4.9 seconds with very little turbo lag. By the way this is the same acceleration time as a Porsche 911 Turbo! And mind you the Porsche numbers are taken from flat pavement, not loose soil or sand. Let that sink if for a bit.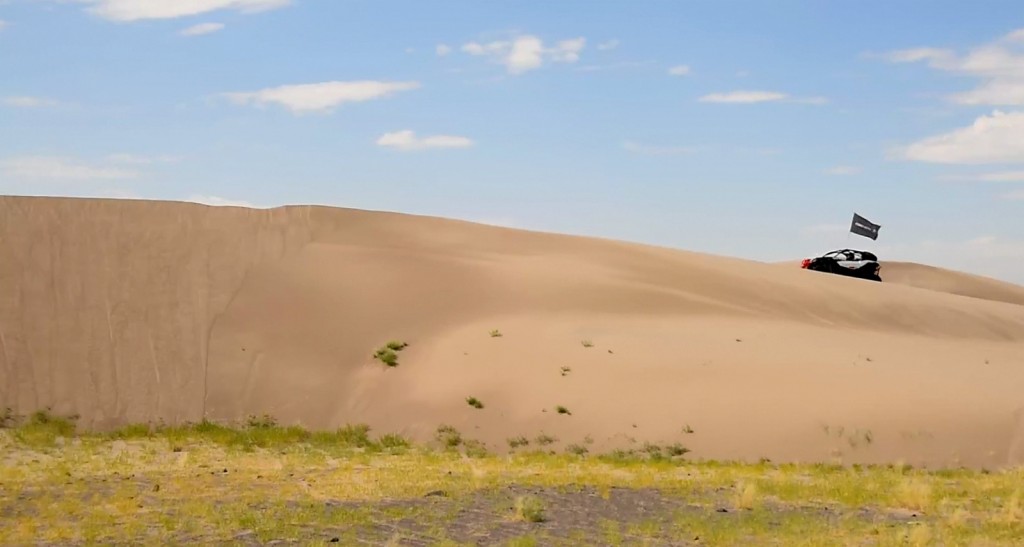 To accompany this new found speed and yank-you-into-your-seat-power, Can-Am completely redesigned the suspension with the new 72" width option delivering 24" of rear wheel travel, and 15" of ground clearance. With its FOX 3.0 fully adjustable Podium RC2 shocks, this trophy-truck-like beast soaked up the whoops at any speed, and I know I hit that last set of two foot whoops at just over 60mph! It was like I was floating over the terrain as the X3's new 4-Link Torsional Trailing-Arm X (TTX) Rear Suspension kept the machine firmly planted and in complete control. There was no left or right dancing to correct, just total control straight-line bump-swallowing performance. In off camber terrain the machine felt planted and very stable. In the 64" width models, you still get an impressive 20" of wheel travel and I hit every G-out, ditch and jump as hard as I could — the suspension never bottomed out. Even when I thought I had a hard landing in store and braced myself for the big hit the suspension soaked it up with ease and seemed to laugh at me for my weak attempt to challenge it.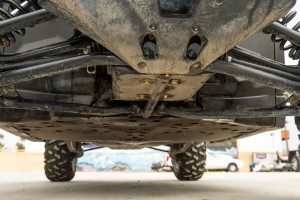 Another major change to the all-new Maverick is its new chassis design. The Maverick X3 comes with a new ultralight fully welded steel chassis. This new design offers 53% better torsional stiffness and is 20% lighter than its closest competitor. This new machine chassis was released along with a full line of official BRP accessories to fully customize to any driver's needs. From bumpers to Beard seats, Can-Am can help you dial in your ideal Side-by-Side.
My test ride was short but oh-so-sweet, the X3 seemed right at home in the dunes, almost like it was made especially for them. I can't wait to get more Maverick X3 seat-time and see how the machine performs on other types of terrain, but even more, I would really be curious to know how this amazing machine would hold up under racing conditions. I would love to get the opportunity to race one of the 64" X3s in a season's worth of cross country racing. The X3 seems like it's ideal in sand dunes and desert terrain, but I have a feeling it might hold its own on a cross country course out east. I just wished Can-Am made a naturally aspirated 1000 Maverick X3 since some racing series don't allow turbos or the turbos change the class a driver is required to run.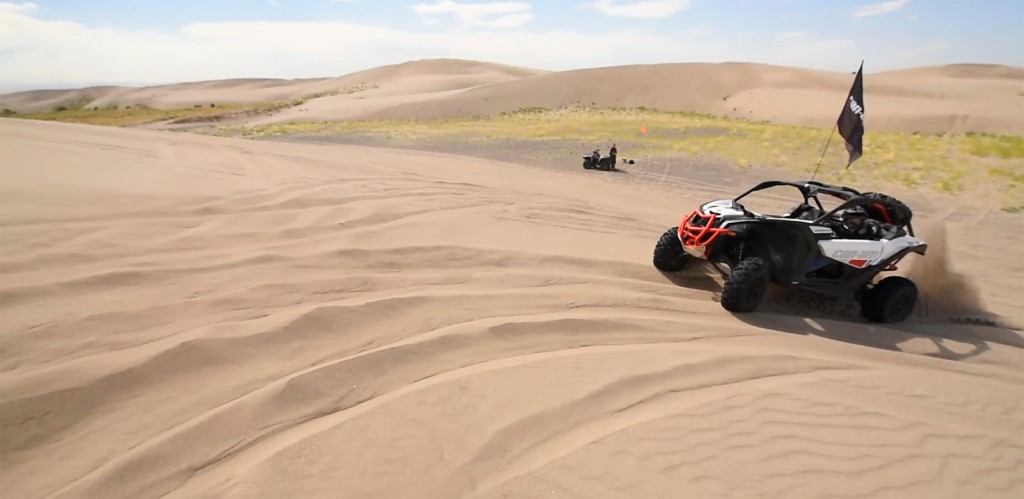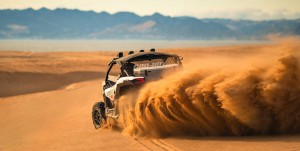 I didn't think that today's UTV scene would have as many high performance machines available, especially since only three or four manufacturers seem to care about this segment. With a limited number of manufactures involved or not, I'm thrilled to see that Can-Am cares enough to completely revamp their Maverick into something that looks more 2020 than 2016. There's no doubt, the new X3 is one heck of a machine, if the photos and information affect you anywhere near they did me, you really need to check one out in person, just don't look directly at it until you've safely parked your truck.
Learn more at can-am.brp.com
Comments
comments