Polaris RZR XP Turbo Project Build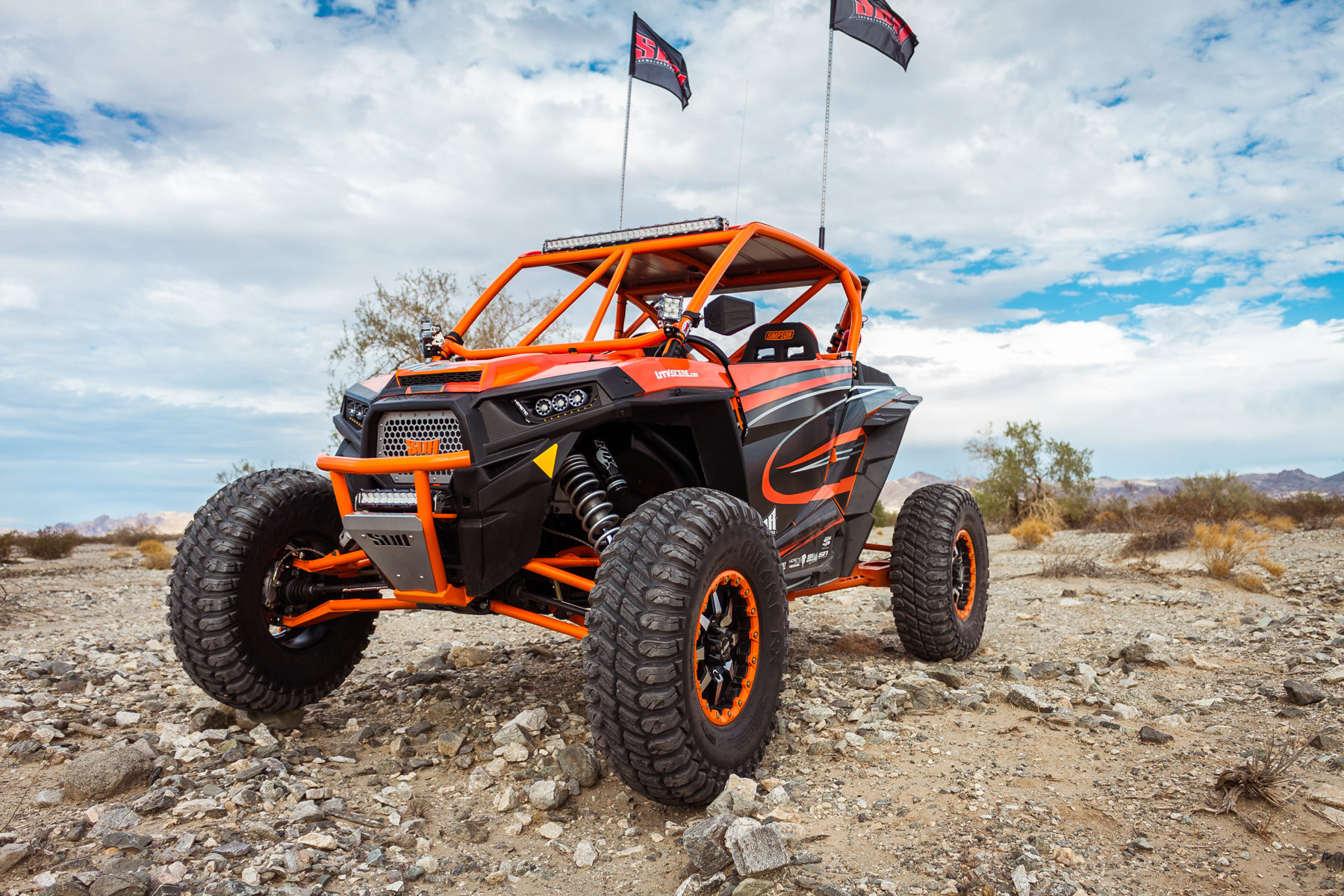 Photos by Liam Mulhall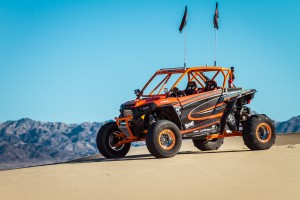 As you know these last few years Polaris has been churning out high performance UTVs as fast as Dunkin makes donuts. The company's top-of-the-line high-performance product is found within the XP line, so guess which of the twenty-some available side-by-side flavors we chose as this year's premier UTV project build. Yep, no doubt, we simply had to get our hands all over the new XP Turbo and do our best to make it the ultimate high-performance sport machine.
We wanted our Turbo to be what we consider the ultimate Desert/Dune High Performance Sport UTV money can buy! That vision led to a call to SDR Motorsports in Corona CA. SDR has long been recognized as one of the industry leaders in style and quality when it comes to custom UTV builds. We wanted to do a top to bottom front to back custom build, but we have to admit we were a little overwhelmed as to where to start. After a short conversation with the experienced experts at SDR the project didn't seem as overwhelming as we first thought.
Starting up top, we opted for a SDR XPR-2 Shorty Cage. This very well thought out SDR cage features a flowing design that uses only the stock cage mounting locations without impeding rear bed access or adding additional weight or length by wrapping around the back of the RZR. SDR's proven design includes a stylish swept back A-pillar that transitions into the radius roof line. With SDR's X bracing, gusset tubes, and optional front intrusion bars, the XPR-2 Shorty Cage is a huge leap forward in safety, looks and style when compared to the stock cage. We also added the full aluminum roof with front LED light pocket, rear 5-light Panel and two whip mounts.
The SDR Hi-Bred bolt-on doors were definitely next on our hot list of must haves. Thanks to SDR's patented vertically placed hinge the doors swing at a consistent height to a full 90-degrees when open. With the included full height and length fitted aluminum panels the doors look like full custom fixed doors rather than the simple bolt-on solutions that we have come to love.
Since the XP Turbo makes extreme in-your-face kind of power, we wanted to add to the stocker's stability. To accomplish this we opted to go with SDR's Hi-Bred Suspension System. This set up increases both the width and wheelbase of the RZR XP Turbo to give us the extra confidence that we were looking for when pinning the gas to the floorboard. The kit increases the RZR's width by six inches and the wheelbase by three inches. The front arms are configured to relocate the hub's axle center two inches forward of stock and the rear arms relocate the rear hub axle center one inch back from stock, thus increasing the wheelbase by three inches. The Hi-Bred kit delivers added strength and lighter weight thanks to being constructed of an alloy that's both stronger and lighter then 4130 chromoly. The kit utilizes 300M axle shafts, front chromoly spindle pins, FK bearing uniballs, and Delron pivot bushings. In the rear the trailing arm pivots are FK bearing uniballs and heavy duty heim equipped radius rods are included. The SDR Hi-Bred kit utilizes the stock shocks without requiring any shock modifications thanks to relocated front upper shock mounts that retain the stock shock angle.
SDR completed our package with a clean and stylish front bumper/skid plate from their Duner series. We paired our new bumper with SDR's snazzy SDR grille, combined the front of our machine simply couldn't look any better.
For the ultimate in driver/passenger comfort and safety we chose Simpson Race Products and Twisted Stitch Seats and restraint harnesses. The latest version of the classic Vortex seat design provides easy entry and exit while maintaining optimum bolstering and comfort for its occupants. With a nearly infinite choice of custom designs and materials we were able to order a set of seats that matched our needs and our project XP Turbo perfectly!
To literally make our RZR XP Turbo rock we contacted SSV Works for one of their RZR XP 1000 complete three-speaker-systems. The system features two 6.5″ 120 watt kick panel speakers and a 10″ 600 watt glove-box subwoofer, 4 channel Kicker KXM amplifier, and MP3 input with volume knob and 2 amp USB charger. We also added the MRB2 weather proof control pad that allows Bluetooth connection to your music device and the ability to adjust volume, pause/play, and forward/back control right on the control pad! This allows you full control while keeping your electronic device stowed securely away. The system also includes a 3.5mm auxiliary input, and 2 amp USB charging port to keep your player charged using its standard charging cable.
To enhance safety, control and visibility we looked no further than Assault Industries to talk us through this very important step in the machine's progression. Assault manufacturers top of the line products that fit our project XP Turbo perfectly! We went with the Ballistic D Steering wheel with a Tomahawk quick release hub. Their Bomber Series UTV Side Mirrors with Orange accents, 3-Piece Aluminum gas cap, Assault Billet Aluminum speedo bezel, Aluminum UTV shift knob and the Assault Industries Quick Release UTV Fire Extinguisher Kit!
To maintain our RZR XP Turbo's performance capabilities after dark we needed to light up the terrain with pro-level lighting kit. Our first call was to the professionals at Heretic Studio. Not only do they produce some of the most powerful lights available, but their products have a style and unique quality that is sure to impress. Our Heretic package begins with their RZR XP Headlights. They feature three LED lights per side with both low and hi-beam settings that are more than twice as powerful as the stock headlights, and include a LED trim strip. On the roof and front bumper we went with the Heretic Wraith 2.0 Light Bars, the 30 inch bar up top and the 10 inch unit out front. A set of Billet Quattro LEDs are used on the A-pillars to aid peripheral vision. To finish the package we went with Heretic's Billet LED tail lights, which feature both LED brake and tail lighting along with integrated and switched 4000 lumen back up flood lights! All total the Heretic lighting package on our XP Turbo produces in excess of 30,000 lumen! It's also worth noting that all of Heretic's products feature Billet aluminum housings and top quality fixtures, hardware and wiring harnesses. The headlights and tail lights are direct plug and play, and all Heretic Studio lights offer unmatched custom options and product quality.
While on the subject of lighting, our project RZR XP Turbo needed the ultimate safety flag set up. For this we turned to Whip Tech. We ordered up two of their 4′ Multicolor LED Whips, two Car Mount Bases & a super bright LED Dome Light. The Whips include a wireless remote that allows you to choose from 20 different pre programed colors and five additional DIY colors. The Car Mount Bases are wired and mount permanently to the UTV. The Whip Tech whips simply hand thread into the bases and you are ready to go!
To enhance our enjoyment and safety while out on rides in the project XP Turbo we insisted on a top-of-the-line complete in-car communications system. For this we contacted PCI Race Radios and ordered their California Ultimate 2-Package and XP mounting bracket. The communication system includes the Four Link Pro Intercom, Icom 50 watt 128 channel radio, antenna and coax, two push to talk buttons, two helmet wiring kits and a 6′ audio input cable. Using the PCI mounting bracket to locate the Intercom and radio in the XP under dash storage compartment location makes for an incredibly clean installation. The quality and clarity of the PCI system is unrivaled for both in car driver/passenger and car/car or car/base communications. The difference in safety and enjoyment of a group ride with an in-car communication system is incredible!
One of the main goals for our project XP Turbo was to create a durable, dependable, well-performing high performance UTV that especially excels in desert terrain. Being able to conquer everything from steep soft sand dunes to crawling over huge jagged rocks would require two different types of tires. For the endlessly inhospitable rough and rocky desert we chose STI Tires and Wheels. The Chicane RX was the perfect choice for our needs. Because we wanted maximum desert performance, durability and ground-clearance we opted to go with the big 32/10R-15. The Chicane RX features a unique split-knob non-directional tread design that is also DOT-rated for powerful performance and high-mileage. The 8-ply carcass offers the perfect mix of durability and smooth ride flexibility at a surprisingly light weight. The Chicane RX has already proven itself as a race tire. Several BITD (Best In The Desert) racers have chosen the Chicane RX tires since they deliver top-notch traction and reliable performance. STI's Chicane RX tires serve owners well with high-performance features including a deep rim guard and a reinforced bead/lower sidewall. The result is maximum tire performance and durability over a wide variety of terrain. In short, we couldn't be happier with our tire choice for this project.
As for wheels, we wanted this same performance and durability but with some extra style! The 15×7 machined and gloss black HD5 Beadlock was the perfect match for us. It features unique style and good looks with strong 5/16-inch plated beadlock hardware to handle our extreme desert demands. The HD5 beadlocks are crafted to deliver strength, style and durability. As proof, they are even backed by a Lifetime Structural Warranty. Our Chicane RX tires & HD5 wheels handle everything from soft loamy dirt and deep powder like silt to fast loose rough & rocky trails. The large 32 inch diameter provides a large foot print and optimum traction for slow crawls over huge rocks and blasting down fast roads and trails!
For the abundant sand dune areas of the desert our tire and wheel needs were far different, so when we take the machine to the dunes we want light weight tires that float on top of the sand, so we hit up Skat-Trak Performance Products and ordered the new 30x13x14 Wider Glider 10 paddle rear tires and 30x13x14 Ruff Buff front tires. This combination provided us the lightest high performance set up available. The combination of light weight, high floatation, and low rolling resistance make Skat-Trak the ultimate extreme performance choice. For the customer who is looking to do a custom order Skat-Trak also offers a wide range of tire sizes, paddle heights and number of paddles per tire making them the unrivaled sand tire kings!
As important as the tires, so are the right wheels to provide the ultimate sand tire/wheel package. No company understands this better than DWT. Their extensive wheel lineup includes a full range of widths, wheel diameter sizes and styles. To maximize the floatation potential of our 13″ wide Skat-Trak paddle tires DWT suggested their 14×11 Sector Wheel. Featuring a machined Billet center, standard or beadlock outer wheel half and rolled lip inner wheel half the Sector is a true 3-piece wheel. In the front the 14×8 Sector was the optimum choice. To really set our Sector Wheels apart from the norm, DWT polished the outer wheel halves and we went with orange bead rings! This, in coordination with the Billet machined and black wheel centers, really gives our XP Turbo an eye grabbing appeal. As beautiful as these hand-crafted custom wheels are to look at, their function is the real key to completing our DWT/Skat-Trak sand tire package. The combination of the extra wide tires and wheels and their light weight makes this setup an absolute unbeatable tire/wheel combination.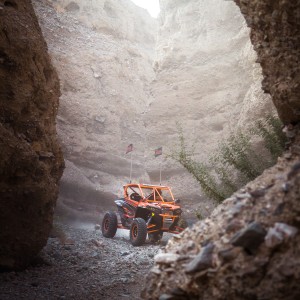 To complete the custom look of our project Polaris RZR XP Turbo we contacted Gatorwraps. They have multiple decal kits in several different styles and colors. All are color and contrast customizable through their in house design staff and complete unique custom designed wraps are also available. For our project XP Turbo we chose the Gatorprints Boomerang Decal Kit. The designers at Gatorwraps integrated the colors and contrasts we picked out and even added and arranged the corporate logos of all of the companies that we chose for this top-shelf project. The pre-designed Gatorprints kits are patterned and cut to precisely fit each specific model. We were impressed at how well everything fit and how easy the quality 3M product was to apply, but if this isn't your thing Gatorwraps has a certified network of professional installers in all 50 states, as well as eight countries. As for the end result, as you can see in the images and gallery below, our Project XP Turbo is a class-act head-turner and we couldn't be happier with how well it looks and performs.
2016 POLARIS RZR TURBO PROJECT DETAILS
SDR Motorsports
-XPR-2 Shorty Cage
-Hi-Bred Bolt In Doors
-Hi-Bred Long Travel Suspension
-Duner Front Bumper
Simpson Race Products / Twisted Stitch
-Twisted Stitch Vortex Seats
-Twisted Stitch Five Point Safety Harnesses
SSV Works
- Three Speaker Audio System with MRB2 Bluetooth dash mounted controller/auxiliary input/charge port
Assault Industries
-Quick Release UTV Fire Extinguisher Kit
-Ballistic D Steering Wheel
-Tomahawk Steering Wheel Quick Release
-Bomber Series Side Mirrors
-Three Piece Aluminum Gas Cap
-Billet Aluminum Speedo Bezel
-Aluminum UTV Shift Knob
Heretic Studios
-Wraith 30" Light Bar (roof mounted)
-Wraith 10" Light Bar (bumper mounted)
-Quattro Pods (cage A pillar mounted)
-RZR XP LED Headlights
-RZR XP LED Taillights
Whip Tech LED
-Multicolor Four Foot LED Whips
-Whip Mount Bases
-LED Dome Light
PCI Race Radios
-Four Link Pro Intercom
-50 Watt Radio
STI Tires & Wheels
-32/10R-15 Chicane RX Tires
-15x7 HD5 Beadlock Wheels
Skat-Trak Performance Products
-30x13x14 Ten Paddle Wider Glider Tires
-30x13x14 Ruff Buff Tires
DWT
-14x11 Sector Rear Wheel
-14x8 Sector Front Wheel
Gatorwraps
Gatorprints Boomerang Decal Kit
PROJECT IMAGES

Comments
comments