Polaris General 4 1000 EPS Ride Review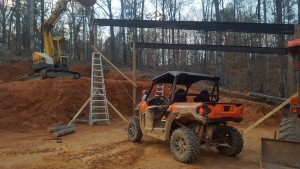 I have made no bones about it (see my initial review of the 2016 Polaris General), the Polaris General is my pick for the best all-around UTV on the market. I have driven it in tight East Coast trails, Southern California desert, and the rock trails of Moab, UT. Anyone that follows me on Facebook, Instagram, or out on the trail has probably heard me preach about this machine. It has performed well in all environments. However, what really makes this UTV unique is its ability to do all of that and still handle utility tasks. I have used the two seat General quite a bit around the property as a work hand, and found that it handles work duties just as well as it does out on the trail. With this, I don't feel there is a UTV on the market that does all of these things as well as the General.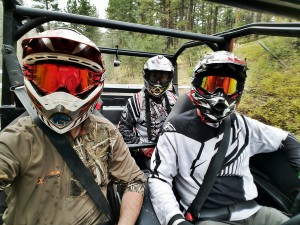 The one thing that would have made the General more of a hit for me would be an extra row of seats. As a two-seater, we are unable to take it out as a family (wife and two kids). The 2017 General 4 solved that problem in a big way.
Almost as soon as the two-seat General was announced, I began thinking how perfect a four seat version would be for the East Coast and our family outings. I have waited an entire year to get some seat time in a four-seat-version. I had been building up the expectations for 365 days, so that being said, this vehicle had a lot to live up to in my mind. To be honest, I'm not a big fan of the performance of four seat UTV's. I owned a XP900 four-seater for a while. The four seats made the machine much more usable as a family UTV for us, but being a racer at heart, I much prefer the performance characteristics of the two seat UTV.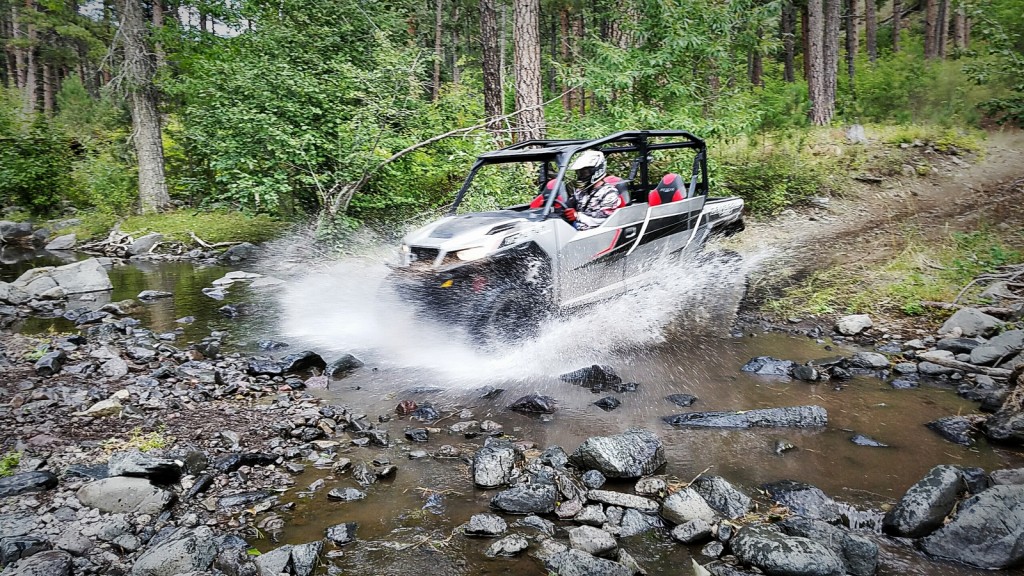 After the first trail ride on the General 4, I could tell this machine was different. The General 4 shares much of the chassis of the RZR 900 4-seater, so if you're familiar with how that vehicle performs, the General 4 is very similar. For me, not spending much time in the RZR 4, this was mostly a new experience. The XP four-seaters tend to float and sway through the rough stuff, resulting in a very plush ride, but not optimal for a trail machine in my opinion. The dual A-arm rear suspension of the General 4 creates a very different feel. It's very stable and gives a predictable reaction to trail terrain. I prefer this chassis setup for trail and East Coast style terrain over that of the XP four-seaters. In short, I was very impressed with the performance of the General 4 out on the trail.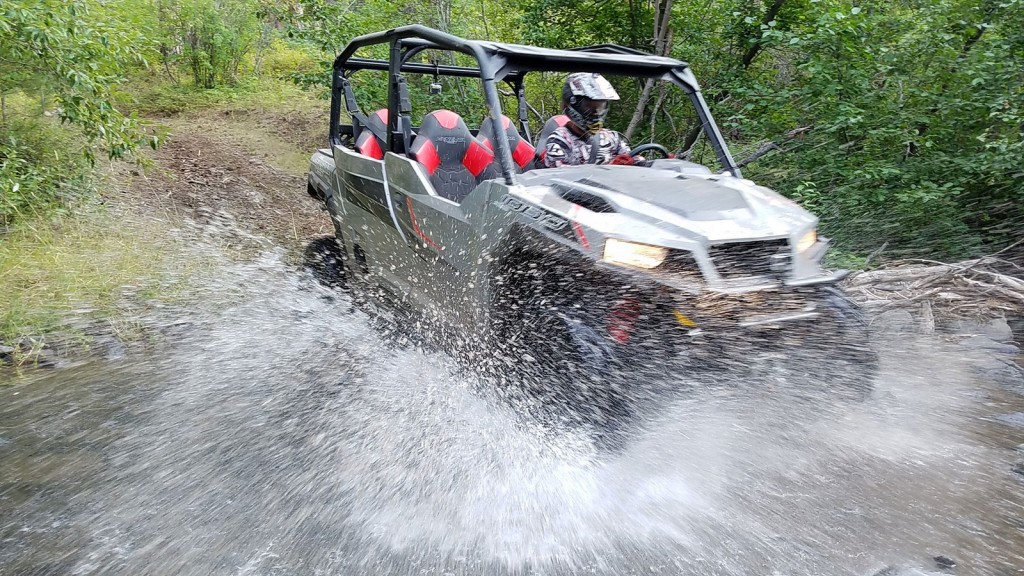 What I Didn't Expect
Knowing that this vehicle was built off of the RZR platform, I expected the rear seating compartment to be similar to the RZR. I couldn't have been more wrong. I was pleasantly surprised to see three extra inches in the rear seating area, pads on the rear of the front seats, and an extremely useful rear console. These three characteristics make it, without a doubt, the most comfortable rear seats of any four seat UTV on the market!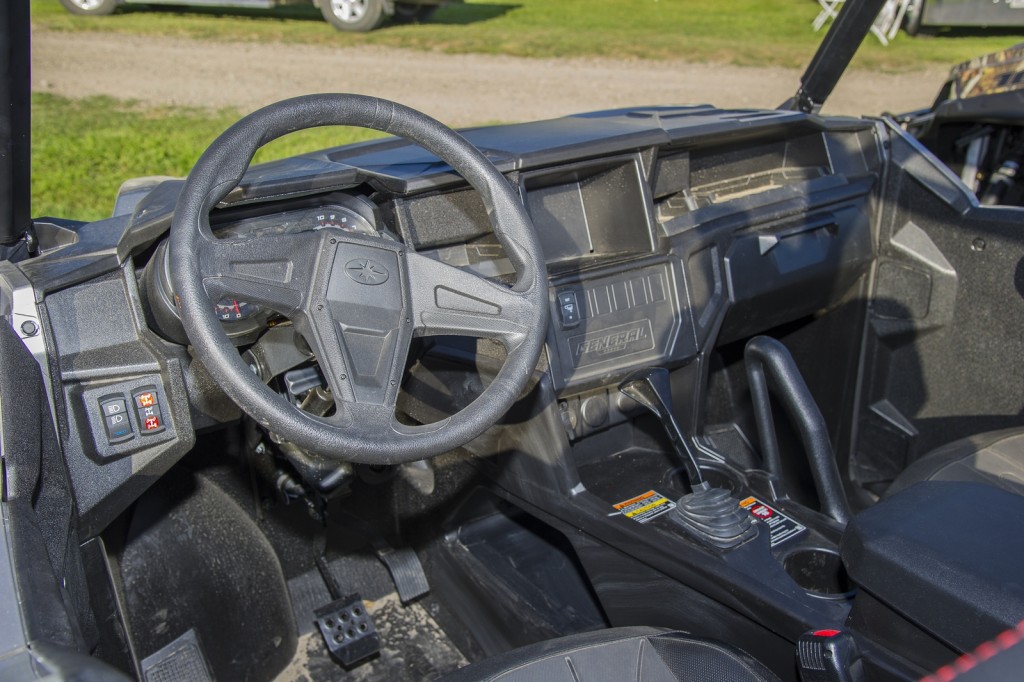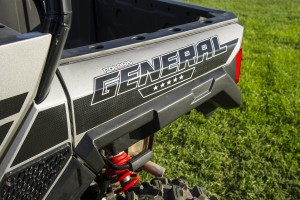 Changes for 2017
There were a couple of changes I was hoping to see on the 2017 model, the most important of which was the addition of Turf Mode, which unlocks the rear axles allowing for tight radius turns without digging into the ground/grass. Thankfully, Turf Mode did make it onto the 2017 Generals, both for the 2-seater and the 4-seater.
One thing I was expecting to see on the 2017 models was the addition of the LED headlights from the high end RZR's. Unfortunately, they did not make it onto the new models. Knowing that most people supplement their front facing lighting with LED bars at this point in the game, I understand why they chose to keep the price lower by including the Halogen lights, but it sure would have been nice to have the nice LED's on the General this year. Other than this minor gripe, I am extremely impressed with what Polaris has done with their two and four-seat General.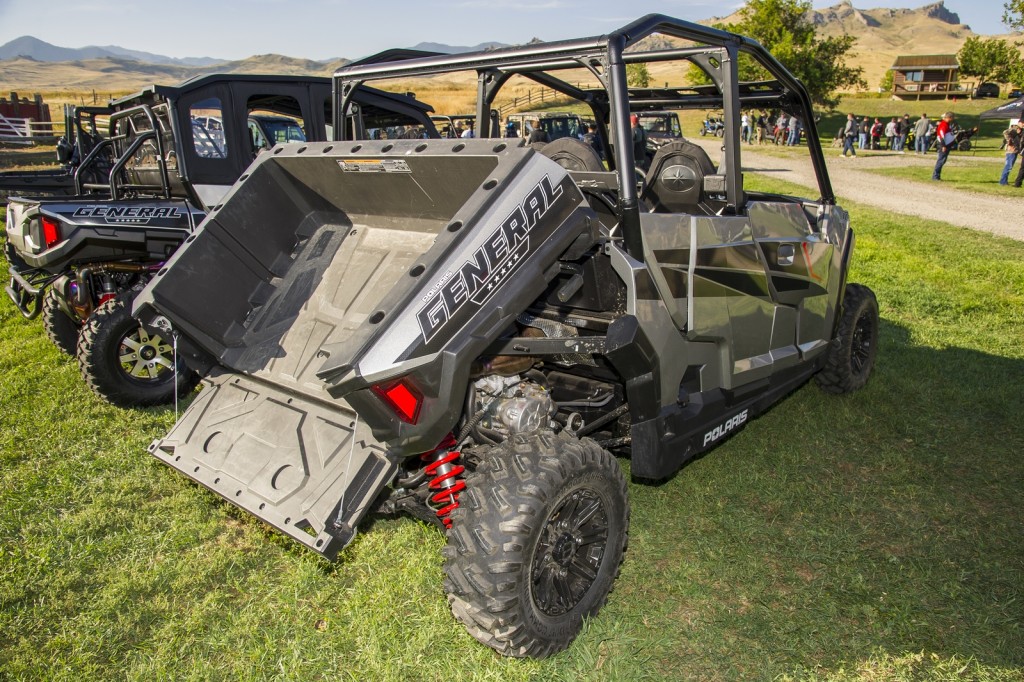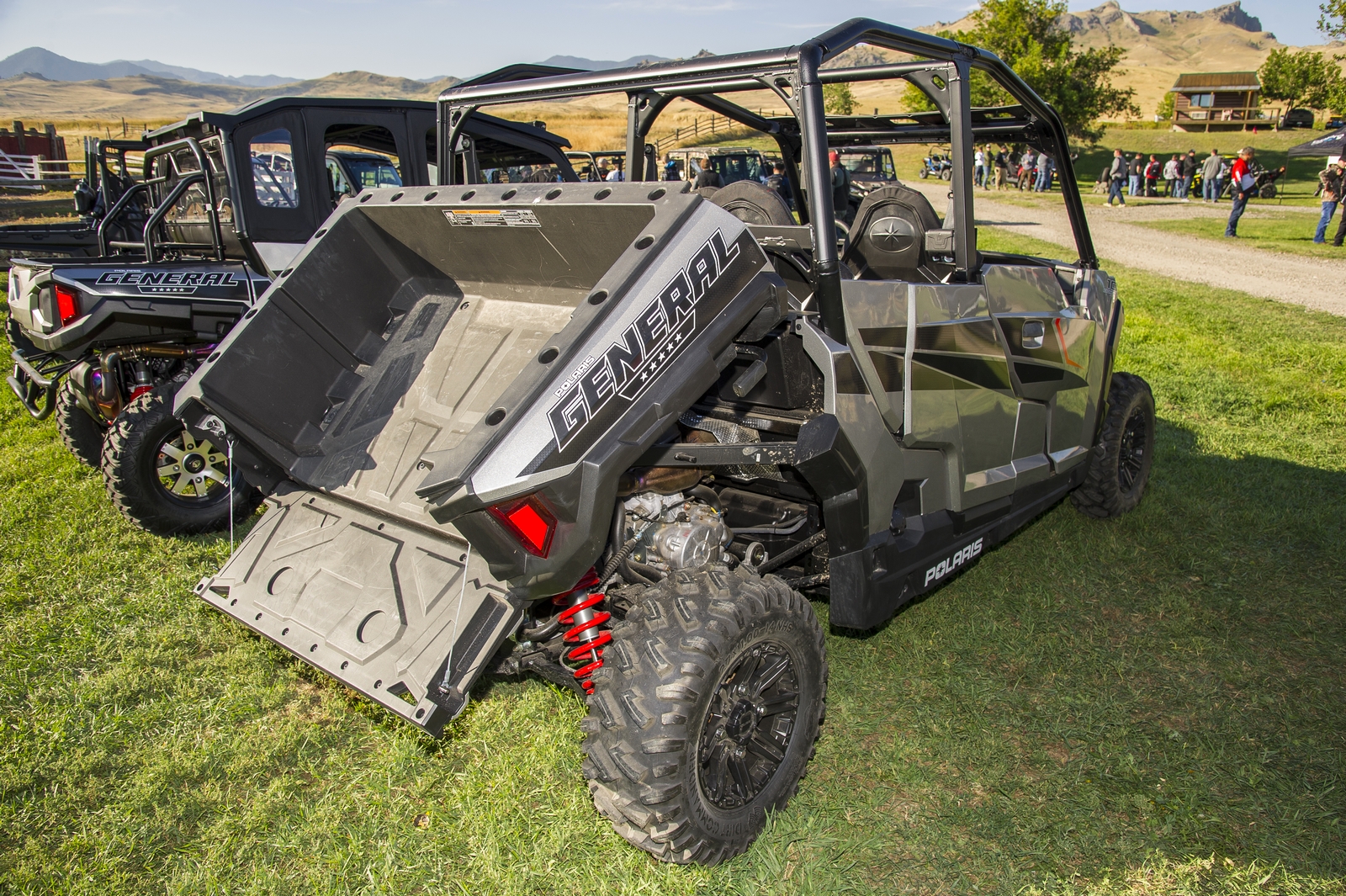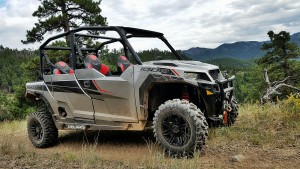 Conclusion
I spent most of a day riding around the hills of Cascade Montana (near Great Falls, MT) in the General 4. I couldn't be happier with how calm it is, yet still packs a mighty punch from its 100 HP power plant. But more importantly I liked how well it traverses trail terrain, yet still provides a comfortable ride for all four passengers. I'm 6'3" and I am 100% comfortable in the rear seat. I spent about 20-30 minutes back there just to test it out. I would have no problems at all sitting back there for an entire trip and letting someone else do the driving (assuming it's not my wife doing the driving, but that's a whole different story).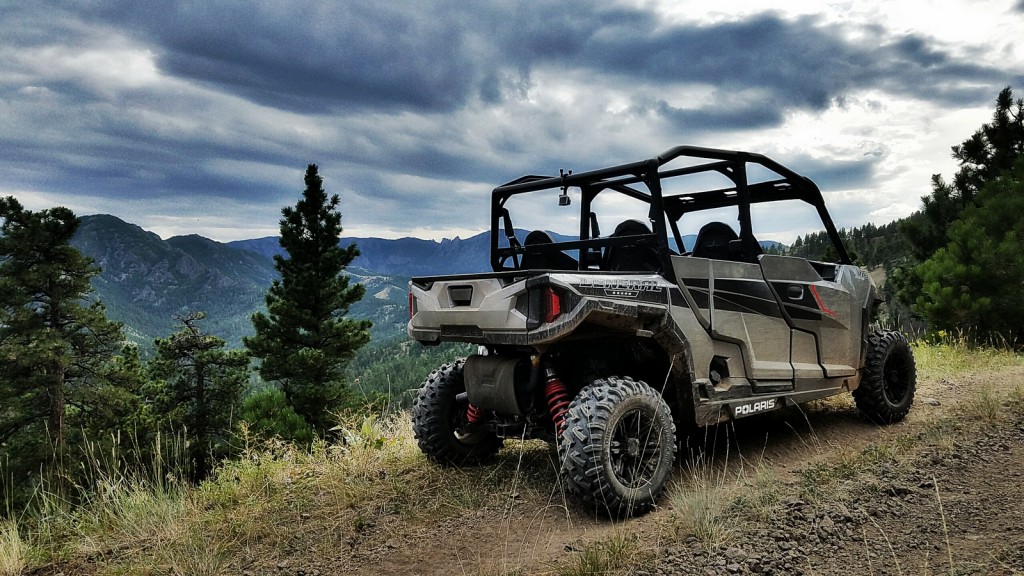 If you have a family of three or more and are interested in a good trial riding machine that you can also use as a utility vehicle, you need to test ride a General for yourself. You should definitely check out a few other vehicles in this category as well; the Kawasaki Teryx 4, Yamaha Wolverine and Can-Am Commander Max come to mind, but if you're like me, you'll fall in love with the General 4's ability to work as hard as it plays, and it just might be the machine you take home with you.
Next Up
We are planning an extended weekend outing in the two-seater and four-seater Generals very soon. These are the perfect camping/expedition machines and we can't wait to get some extended trail time in them.
We'll be starting a long term review on the General 4 very soon and doing a full expedition build on it as well, in much the same flavor as #ProjectXPD using many of the same manufacturers. Stay tuned for build updates and more trail/trip coverage of Polaris' hot new hit soon.
Comments
comments