New 2015 Can-Am Maverick X ds Vehicles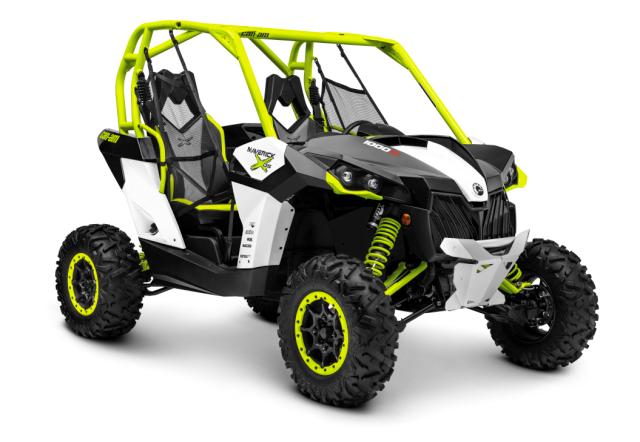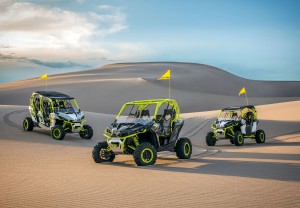 "BRP is once again taking the industry by storm with the introduction of another industry-first, the new turbocharged Can-Am Maverick X ds side-by-side vehicle," said Chris Dawson, vice- president and general manager, Global Sales and Consumer Experience division. "The Can-Am Maverick X ds model brings pure performance to a whole new level, positioning BRP as the new benchmark in the industry."
The Can-Am Maverick X ds side-by-side vehicle boasts industry-leading power with the new 121-hp Rotax 1000R turbocharged option, providing 10% more horsepower and almost 40% more torque than the closest competitor1. It also features a completely new rear end providing a longer, 88-in (223.5-cm) wheelbase, a redesigned TTA rear suspension now featuring 16 in (40.6 cm) of travel and Can-Am exclusive high performance Fox shocks to provide capability, comfort and adjustability. This model soaks up terrain and remains nimble. It is tailored to fit riders and their riding style with its premium rider-focused cockpit and ergonomically positioned controls and adjustments.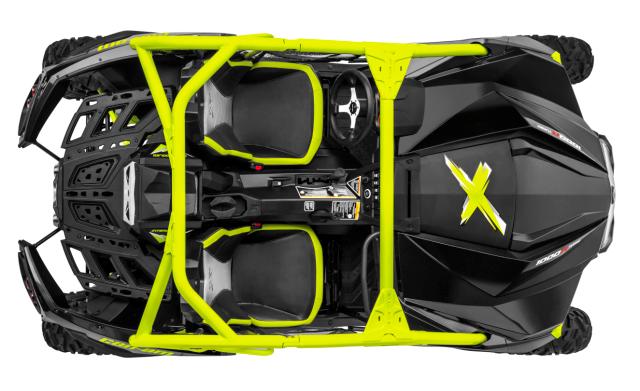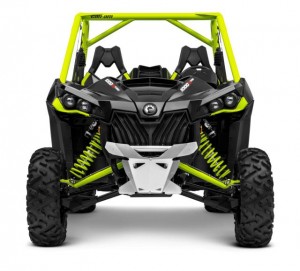 Can-Am Maverick 1000R X-ds Turbo Features:
INDUSTRY-LEADING POWER
Boosting the performance of the proven Rotax 1000R engine with the industry's first factory-installed turbocharger enables the Maverick X ds to produce an impressive 121-HP. The electronically controlled wastegate automatically adjusts boost pressure for optimal performance in any condition and even maintains full performance at altitudes up to 5,000-ft. Paired to the turbo is an air-to-air the turbo is an air-to-air Intercooler with built-in fan to keep cooled air flowing to the engine even in the most demanding conditions. To keep up with the added pressure in the engine, new low pressure forged pistons have been added for long-lasting performance. Finally, the new high capacity injectors ensure a better fuel delivery, providing an optimal air/fuel mixture to improve performance.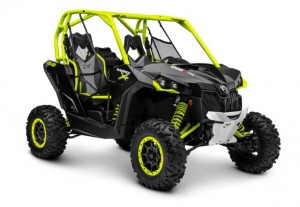 ADVANCED FILTRATION
Keeping the engine breathing cool and clean air is a key factor for high-performance, so a large Donaldson airbox has been positioned close to the engine for maximal airflow. This airbox and filter setup is made for high airflow capabilities to meet the turbo's demand in clean air, even in the most extreme conditions. New plenum efficiently manages turbo compressed air to obtain optimal performance air to obtain optimal performances.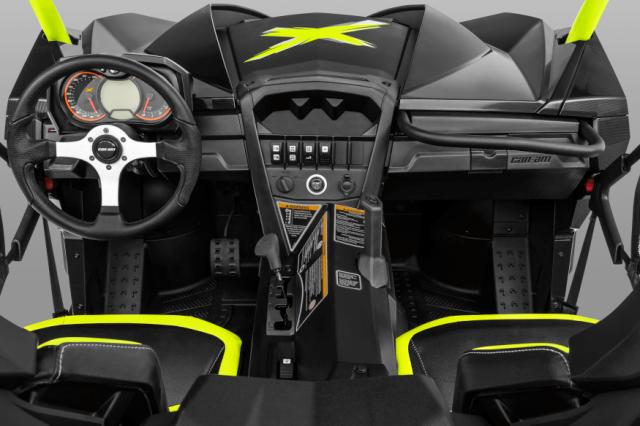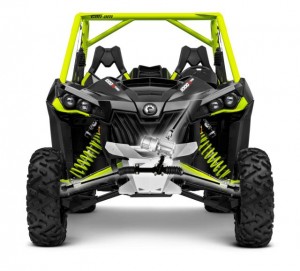 FAST AND EFFICIENT POWER TRANSFER
The CVT system was also reconfigured for the increased power of the turbocharged engine. It features a completely redesigned driven pulley with a new Quick Response System (QRS) and an improved drive pulley. The new design reduces friction, providing an instant response and an optimum belt clamping for better power transfer. The CVT airflow has been improved by modifying the inlets and outlets and by adapting the design of the impellers, re inlets and outlets and by adapting the design of the impellers, resulting in 68 percent more cold air flowing through the pulleys.
BETTER THROTTLE CONTROL
The electronic throttle-by-wire system works in conjunction with the 54mm Bosch∞ throttle body to produce a smooth delivery, even if the driver's foot is bouncing due to rough terrain. The iTC system, which includes a progressive and Sport modes, detects unwanted bounces and filters the input.
Specifications:
•Engine – 976 cc TURBOCHARGED, V-twin, liquid cooled, SOHC, 8-valve (4-valves / cyl), with integrated intercooler and high-performance Donaldson air filter
•GROUND CLEARANCE – 13 in (33 cm)
•WHEELBASE – 88 in (223.5 cm)
•LENGTH – 117.3 in (297.9 cm)
•WIDTH – 64 in (162.5 cm)
•HEIGHT – 74.2 in (188.5 cm)
BRP is also expanding its popular rec-utility side-by-side vehicle line-up by adding the Can-Am Commander MAX Limited model, the most luxurious 4-seat side-by-side vehicle of the industry.
Comments
comments