Introducing the Kawasaki Teryx 750 4×4 LE UTV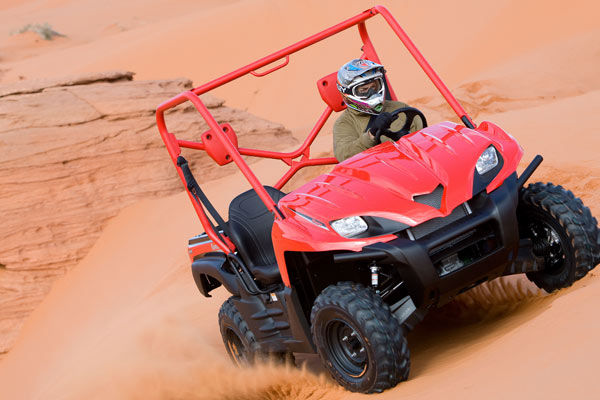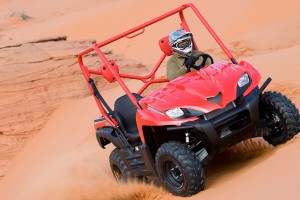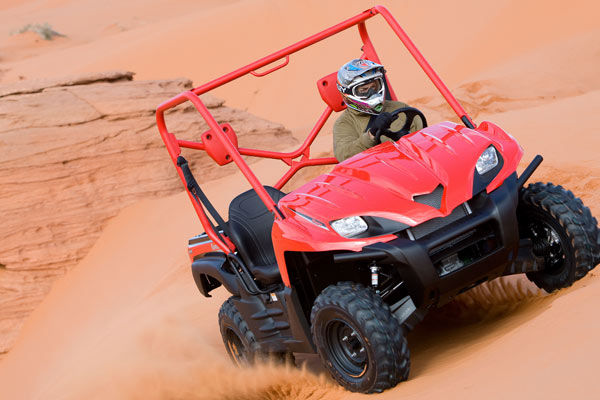 Start with an IRS chassis, bolt on some adjustable gas-charged Kayaba shocks, slam in a first in class V-twin 749cc 90-degree V-twin engine and you have one heck of a ride! According to consumer research the name "Teryx", is synonymous with words "big", "powerful" and "outdoorsy". Well, that's what Kawasaki tells us anyway.
While we're not big fans of the name, Kawasaki definitely did not disappoint with their latest entry into the side by side UTV market. The unveiling of the Teryx will definitely turn some heads. At first glance the Teryx looks almost like a cookie-cutter version of a Yamaha Rhino, but underneath there is a totally different machine.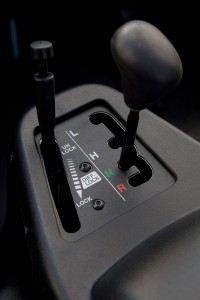 With a push of a button the driver can easily activate 4WD. Further traction management is achieved via an ATV-style front differential control activated with this hand lever that functions like a rear hand brake and lets the driver lock the front wheels togetherThe mid-chassis mounted engine is the same one that is found in Kawasaki's Brute Force 750 4×4. As for getting the power to the ground, Kawasaki did it right by including their velocity automatic transmission (CVT), which transfers the power from the big V-twin to the wheels smoothly and quickly.
The Teryx frame uses large-diameter thin-walled high-tensile tubular steel. Kawasaki said they were able to get necessary rigidity without performance draining weight. The LE version that we tested had plenty of room for our two full sized adults test drivers. It offers a digital meter with dual trip meters, a clock and hour-meter, a half-windshield, a hard top, dual retractable cup holders and a nifty 500-pound capacity gas-assisted tilting cargo bed.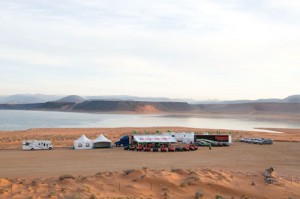 The Kawasaki Teryx handles like it is on rails, it has gobs of sporty power to get you in and out of just about any situation – yet still packs plenty of payload capacity and a 1300 pound towing capacity to get your chores handled.
We spent a day at Sand Hollow Park in St. George, UT putting the Teryx through its paces. We showed up skeptical but left pleasantly surprised. Below are the opinions of Kawasaki's new Teryx 750 4×4 from our test drivers Joe Tolle and Brad Phillips.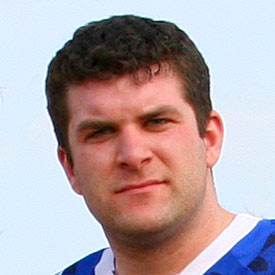 Brad Phillips
Age: 26
Years in the ATV Industry: 14
Profession: President of Premis Industries
Main Discipline: Motocross
Relevant Experience: Kawasaki Mule and lots of experience on a stock 2004 Yamaha 660 Rhino and a full motocross build Yamaha 660 Rhino.
Brad's Impressions
The Kawasaki handled very similar to Yamaha's Rhino and yet had its own distinct qualities. In the sand the Teryx seemed to suffer and get bogged down. I think this problem can easily be fixed by decreasing the air pressure in the tires. From the dunes we moved on to rock climbing. The Teryx had plenty of power and torque to get over nearly every big rock we pointed the wheel at. It was very stable and easy to control. It popped over ledges and the engine braking made declines a piece of cake.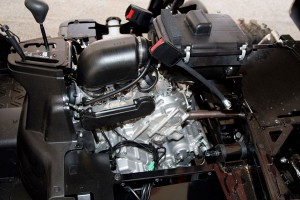 The mid-frame mounted 749cc 90-degree V-twin engine performed well. The Teryx really shined on the fast, winding trails. It cornered like it was on rails, if you come up on a rut or berm there was really no need for a steering wheel. Powersliding was a blast. For our top speed testing we found a 25 MPH speed limit sign with a screen that tells drivers their actual speed. It was plenty fast at 48 MPH and only limited by its governor.
The stability of the machine was incredible; it was very stable and very difficult to roll. In the interest of a thorough test I made sure to roll it at least once, although I succeeded, it was VERY difficult to finally get it to rollover. I think it scores big points for that.
The suspension seemed a little stiff for my tastes. This areas would be the first things I would adjust before using this for any kind of sport application.
Overall this is a great machine, I'll even say I liked it better than the Yamaha Rhino for the average rider looking for an all-purpose machine. Note: I have yet to drive the new 700 EFI Rhino however. I am only comparing my experiences to the 660 Rhino. As for the more sport oriented rider who wants an aggressive dune and/or motocross machine I would call it a straight up tie between this and the Rhino, although the Teryx has more engine I feel the suspension needs some work.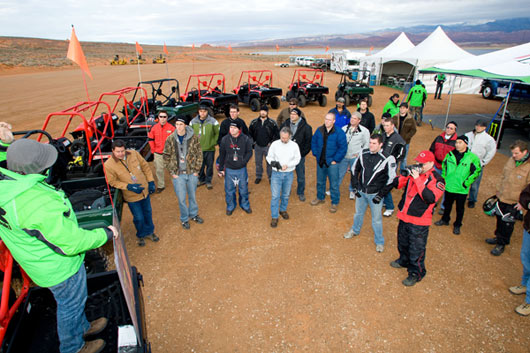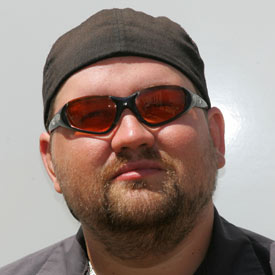 Joe Tolle
Age: 33 Years involved in the ATV Industry: 12
Profession: Head of product testing for ATV Scene.com
Main Disciplin: Recreation, Motocross, Trail Riding
Relevant Experience: Limited Mule and 2006 Rhino 660 experiences.
Joe's Impressions
Heading into a new model intro, I often go in with a pre conceived notion of what a machine will be like based on the machine's specifications and intended purpose. The Teryx was nearly exactly what I expected and the machine did not disappoint.
When cold the Teryx fires right up and warms quickly. Under acceleration the 750 V-twin pulls harder throughout the rpm range than the old Rhino 660. In the deep sand the motor didn't feel that impressive. I think this was mostly due to too much air pressure in the tires, which didn't quite allow the machine to plane out on top the sand. On fire roads and hard surfaces, the motor felt much more impressive. There was plenty enough torque for rock climbing and there was enough midrange horsepower to bring the rear end around on the fast twisty canyon trails, even with Brad Phillips and my 250lb butt on board.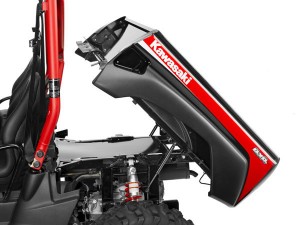 The Teryx LE is equipped with a 500-pound capacity gas assisted tilting cargo bed that is ideal for recreational users, yet versatile enough for work and hauling with tie down hooks in all four corners and comes with a cargo net to keep the goods secure. The Teryx can also pull the load with its 1300-pound towing capacity. Out on the trail I made the mistake of calling Brad a few insulting names for avoiding some of the rougher whoop sections. For the rest of the morning ride I paid the price in a good way! Not only did we cruise the rougher side of the trials, he kept the hammer down in the fast sections. I was surprised how fast we drove into and out of turns. When accelerating hard into turns the rear end would actually begin to break loose and slide. At nearly 50mph and within a few feet of some pretty intimidating boulders and cacti, I kept expecting the rear end to hook up and send us on our lids, but it never happened! Although the Teryx isn't that dimensionally different than the other machines in its class, it is without a doubt very impressively stable in the turns.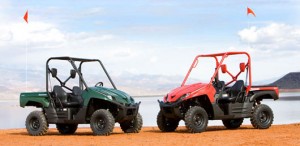 In the suspension department I liked the Teryx more than Brad. Although it wasn't as plush as the Rhino 660, it seemed to make up for it by having decent bottoming resistance, although we did manage to push the suspension to its limits on more than one occasion. Through the whoops the suspension seemed to work pretty well. We did manage to get the machine swapping a few times, but were always able to bring it right back in line. When we did bottom the shocks it was usually from a deep whoop that was much larger than expected. Overall the suspension is pretty sporty and should do a good job for utilitarian purposes. But with the motor on tap and its impressive cornering capabilities, the suspension is the weakest link when it comes to pushing the machine to its limits. Add a set of aftermarket shocks and even without wider A-arms, this would be a decent go fast trail machine.
On our all day adventure hammering through the desert I as nearly beaten to a pulp since Brad only knows two speeds, stop and full throttle. Fortunately, the cockpit was pretty spacious. I never found myself bumping shoulders with Brad and the two handles on the right front and upper frame rails made it easier to hold on for my dear life. While the seats were decently comfortable the seat belt's shoulder strap wasn't. In the rough stuff it digs into your shoulder and collar bone. Most of the time I took the shoulder strap off, but kept the lap belt on. If I had one of these bad boys, I would order a set of five point harnesses the day I ordered my aftermarket shocks. They would be much more comfortable and offer greater safety.
Overall I came away quite impressed with the Teryx. Despite a minor stalling issue, it exceeded my expectations in almost every way. The balance of speed, handling, and suspension were nearly perfect, highlighted by its exceptional steering and turning ability. Yeah, it can do the chores, but it doesn't seem to give up much in the way of sporting form to gain its utilitarian function. So yeah, without a doubt, I liked it.
2008 Kawasaki Teryx 750 4×4 LE Features and Benefits
First in class with a V-twin
Sport performance with gas-charged rear shocks with reservoirs
26-inch Maxxis tires
Sealed rear wet brake
Ample 500-pound capacity cargo bed
Engine:
The 90-degree 749cc V-twin engine is the largest, most powerful engine in its class
Positioned mid-ship for optimum front/rear balance – good for power slides and cornering control
Straight intake tracts and 34mm downdraft carburetors enhance power delivery throughout the rpm range
Radiator is compact and placed high in the chassis for better protection against mud and debris
Ducts located by the cargo bed direct cooling air to the engine
Aluminum cylinders are Electrofusion-plated for light weight, long wear and excellent heat dispersion
Engine can be started in any gear when the rear brake is applied
Electronically controlled Kawasaki Engine Brake Control helps to slow the RUV when traversing steep down hills
Transmission/Selectable Four-wheel-drive
CVT features high and low ranges, plus reverse
Combined with the engine power characteristics, provides instantaneous acceleration
Rider can select two- or four-wheel-drive operation by pressing a button located on the dash
Limited-slip front differential reduces steering effort under normal four-wheel drive operation, while Variable Front Differential Control permits rider to distribute torque equally to left and right front wheels for maximum traction via a hand lever
Rear wheels are locked and always turning together for cornering control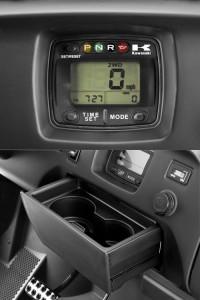 Chassis:
If you choose the LE version of the new Teryx 750 4×4 you'll get the addition of a digital meter with dual trip meters, clock and hour-meter, half-windshield, hard top and dual retractable cup holders. Large-diameter thin-walled tubular steel frame
Meets SAE regulations as a roll-over protective structure (ROPS)
First with sport performance-focused suspension – low-speed comfort not a main design priority
Wide track provides excellent stability and chassis has 11.3 inches of ground clearance
Long dual front A-arm suspension and narrow frame concept provides 7.5 inches of travel and features adjustable gas-charged Kayaba shocks
Independent rear suspension provides the best balance of rider comfort and handling at high speeds, and adjustable gas-charged Kayaba shocks with reservoirs provides 7.5 inches of travel
Chassis offers the right balance of bump absorption while limiting understeer
Able to tackle corners in either a drift or grip style and operate beyond the limits of its rivals
Brakes:
Dual front 200mm disc brakes with two-piston 27mm calipers and Kawasaki's sealed, oil-bathed, multi-disc rear brake system provide maximum stopping power in all conditions
Front discs are recessed in wheels for protection from debris
Tires/Wheels:
Good rough terrain performance and obstacle clearance with 26-inch Maxxis tires specially built for the Teryx 750 4×4
Tread design enables both controlled sliding and forward traction
Brakes:
Dual front 200mm disc brakes with two-piston 27mm calipers and Kawasaki's sealed, oil-bathed, multi-disc rear brake system provide maximum stopping power in all conditions
Front discs are recessed in wheels for protection from debris
Bodywork/Ergonomics:
Bucket seats with retractable three-point seat belts
Foot guards designed into the floor and body
Padded steering wheel positioned low for better control
Body work is made of high-gloss scratch resistant Thermo-Plastic Olefin
Steel floor boards and engine guards for maximum protection
Dual 40W headlights and 8/27W dual taillights
Cargo bed has 500 lb capacity, tie down hooks in all four corners and cargo net standard
Teryx 750 4×4 LE LE additional features
Digital Meter
Dual retractable cup holders
Hard top
Half-Windshield
Tilting cargo bed with gas assist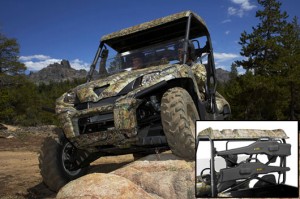 There's a lot to tell from this photo. Obviously you can see the Teryx might be the perfect hunting vehicle as it comes in Camo and offers a sharp-looking gun rack behind the driver and passenger seats. Not so obvious is the fact that the Teryx is built tough with scratch resistant Thermo-Plastic Olefin (TPO) bodywork and steel skid plates underneath to shield the engine from the ride stopping obstacles. Also seen in this shot, besides its ability to navigate through uneven terrain, is the machine's tires, wheels and brakes. Kawasaki opted for a set of specifically designed 26-inch Maxxis tires for their new pride and joy. The big Maxxis meats enable superb forward and sliding traction. The tall tires offer good rough terrain handling and contribute to its class leading ground clearance. As for braking, dual 200mm discs are found up front and a sealed wet brake in the rear. The front brakes are tucked into the wheels for protection from debris and their 27mm twin-piston calipers are rigid-mounted for optimum feel and control. The sealed rear brake should allow for good braking in even the wettest or muddiest of environments.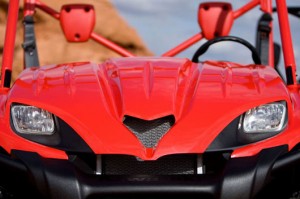 To make sure your journey isn't cut short dual 40W headlights show the way at night while dual rear taillights let it be seen from the rear. An eight gallon fuel tank allows it to operate longer and cover plenty of distance.
A padded steering wheel is positioned low for better control. The Teryx also has foot guards designed into the steel floor boards and body The Teryx has plenty of shoulder and leg room. It features bucket seats and retractable three-point seat belts that keep the driver and passenger strapped in snugly.
Specifications
Engine: Liquid-cooled, 90-degree, four-stroke V-twin
Valve system: SOHC, four valves per cylinder
Displacement: 749cc
Bore x stroke: 85 x 66mm
Compression ratio: 8.8:1
Carburetion: (2) Keihin CVKR-34
Ignition: Digital DC-CDI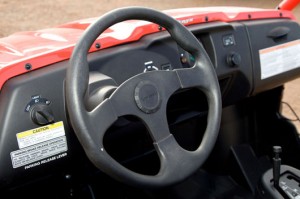 Transmission: Continuously variable belt-drive transmission with high and low range, plus reverse, and Kawasaki Engine Brake Control
Final drive: Selectable four-wheel drive with Variable Front Differential Control, shaft
Frame: Large diameter, thin-walled, high-tensile tubular steel
Front suspension / wheel travel: Adjustable dual A-arm with gas charged shocks / 7.5 in.
Rear suspension / wheel travel: Adjustable Independent Rear Suspension (IRS) with gas charged, reservoir shocks / 7.5 in.
Front tires: Maxxis 26×8-12
Rear tires: Maxxis 26×10-12
Front brakes: Dual 200mm hydraulic discs with 2-piston calipers
Rear brake: Sealed, oil-bathed, multi-disc
Overall length: 115.4 in.
Overall width: 58.7 in.
Overall height: 79.0 in.
Wheelbase: 76.0 in.
Ground clearance: 11.3 in.
Seat Height: 30.6 in.
Lighting: (2) 40W headlights, (2) 8W taillight, 27W stoplight
Cargo bed capacity: 500 lbs, 44.1 W x 32.7 L x 11.2 in.
Towing capacity: 1300 lbs
Dry weight: 1329.4 lbs.
Fuel capacity: 7.9 gal.
Instruments: R/N/P/4WD indicators, water temp and oil pressure lamps, and digital meter
Standard Colors: Sunbeam Red, Woodsman Green, REALTREE™ Hardwoods Green® HD
MSRP LE: $10,399
A large selection of authentic Kawasaki Accessories are available for the 2008 Teryx 750 4×4 LE are available through Kawasaki dealers. More at kawasaki.com
Comments
comments