DragonFire's HiBoy Doors for Can-Am Maverick and Commander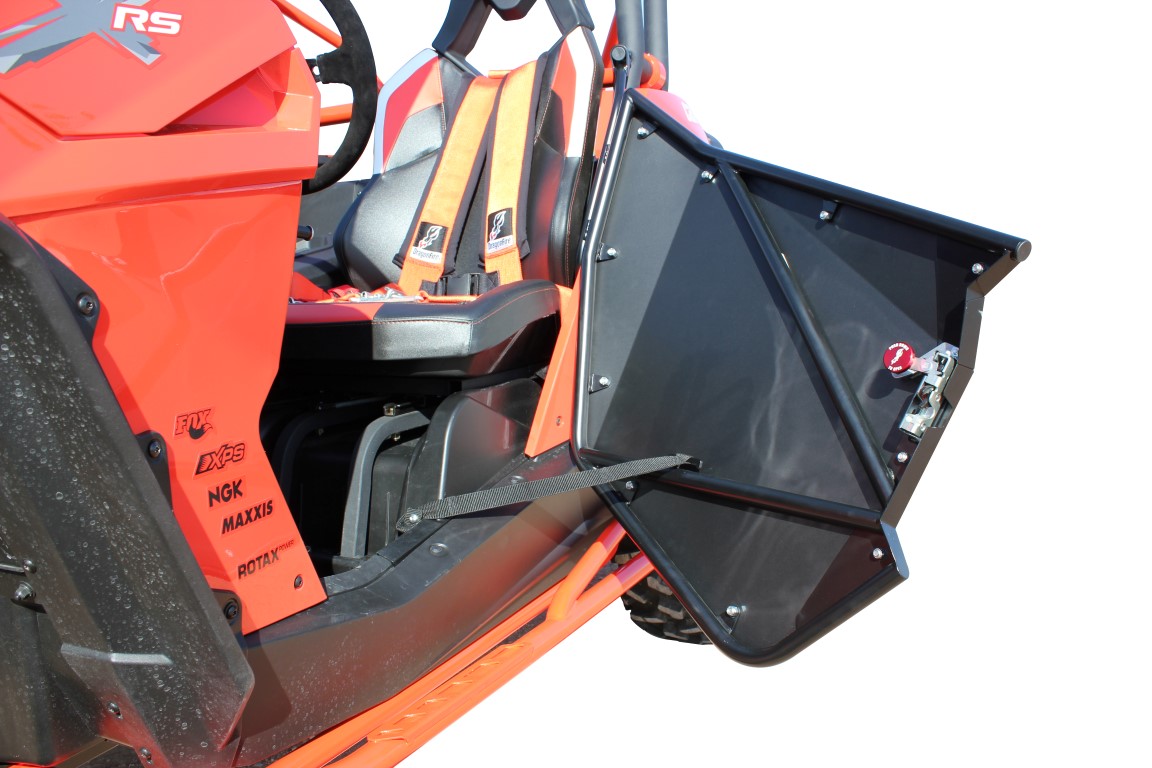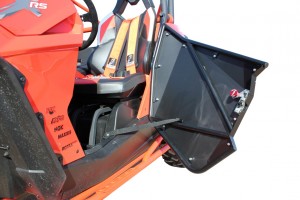 Can-Am's new Maverick has been one of the hottest sellers this spring, but now it is time to really "feel the heat" as DragonFire introduces its popular HiBoy doors for the Maverick and Commander. Precision fit and superior finish at an affordable price makes these doors an open and shut case for any Can-Am 2-seater.
"No question that the Maverick has set the Side-X-Side market on fire and the Commander continues to build on its core audience," says DragonFire Product Line Business Manager, Brice Ginn. "However, as great as these Can-Ams are, we can make a case for better doors." Hence the HiBoys. "These are not your typical fab-shop doors with a simple aluminum skin roughly cut out to fit the frame. Instead, DragonFire doors have been specifically engineered for a precision fit for the Maverick and Commander in multiple ways."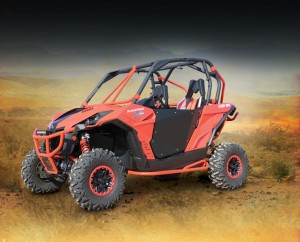 For example, each aluminum door panel is laser cut for a precise fit. All panels are backed by frame braces for strength and added durability. Aesthetically, the custom bends match to OEM lines. "Everything from the solid frame-anchored mounting points to internal support braces and skin angles that coincide with the Can-Am so it looks like these doors came straight from the factory," claims Ginn.
"Then we go one step further by integrating our automotive-style 'Locked & Secured' slam-shut latch setup and incorporating built-in limiting straps," Brice adds. "There is a reason why they are called 'Suicide Doors' and we definitely don't want anyone to find out the hard way." DragonFire doors also feature a stylish black powdercoated finish for anti-corrosion purposes.
HiBoy doors offer an OEM fit and finish level combined with superior functionality for any 2-seat Maverick or Commander Side-X-Side (stay tuned, 4-door kits are coming soon).
Features:
Hand-welded in the USA
Suicide opening doors (sold in sets of 2)
Slam-shut latches with built-in locks
Easily removable doors with upper lock-down hinges
Rubberized backing & delrin striker pin bushings for reduced trail noise
Inner frame support behind door skins
Integrated door opening limit straps
Solid frame-anchored mounting points with built in adjustments
Matches OEM body lines
Pre-assembled for easy installation
Powdercoated all black
OEM-matching graphics kits sold separately
Fits all 2-seat Can-Am Maverick 1000, Commander 1000 & 800 models
Click here for more details: http://www.dragonfireracing.com/product/1391/hiboy-maverickcommander-doors
Also be sure to "Like" DragonFire on Facebook: www.facebook.com/DragonFireRacing while you are online.
Comments
comments